Orchid Nail Spa will be hosting the fourth annual Bermuda Wedding Expo on Sunday, March 4 from 12.00pm to 5.00pm at the Fairmont Southampton.
A spokesperson said, "As one of the 500 annual show attendees, you'll see the latest bridal trends, find the perfect wedding, reception and accommodation sites including venues for bridesmaids' luncheon, rehearsal dinner, pedicure parties and other pre-wedding parties, taste delicious wedding cakes, sample delectable delights prepared by the Best in Bermuda award winning chefs, listen to music performed by talented musicians to the spinning talents of DJs, view photography and videography selections, select Save the Date cards, wedding invitations, napkins and programs, experience fabulous florals and decor, see rental equipment such as tents, tables, chairs, linens, dinnerware, discover the latest in bridal hair and makeup trends, as well as various spas for "The Wedding Weekend of Beauty", "Orchid Spa Pedicure Parties" or for a pre-wedding "Bachelorette/Bachelor Weekend" and for the grand exit from your wedding reception, private limousines to party buses."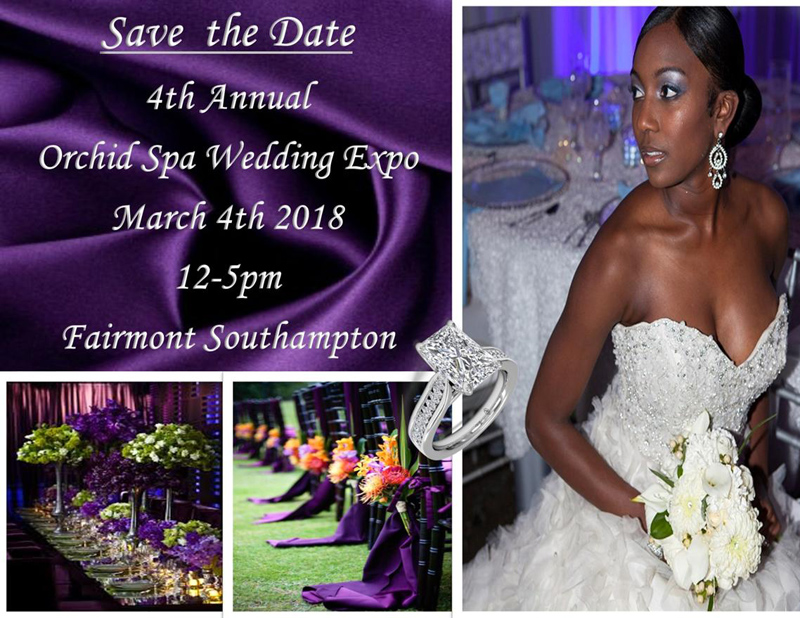 "Attending the Orchid Spa Bermuda Wedding Expo can be very helpful in planning your wedding. You can meet and speak directly with many wedding professionals – all in one location! It can be a really enjoyable day for you and your wedding party, mother, and/or groom-to-be.
"Most vendors offer demos, prizes and also giveaways. Whether you are a local bride or a destination bride, attending the Orchid Spa Bermuda Wedding Expo allows you to gather information, talk with wedding professionals, compare services and prices, book your date immediately, register for prizes, taste and experience delectable delights and wedding cakes, savor the flavor of showcased wines and spirits, see the latest wedding trends, and see unique ideas.
"Tips for attending a bridal show include to be prepared to wait in line to register. Be patient! This is well worth it. Bring preprinted self-adhesive address labels if you have them. This will save you much time and allow you to sign up for anything you want very quickly.
"Bring a pen and print very clearly when registering for anything. Bring your checkbook if you want to actually book any services, or hold dates with a deposit. Be sure to check on refund policies before giving any money, and read the contract carefully before signing.
"Collect any information you are interested in – take it home to look over again when you have some quiet time. If you are out of town, send your mother or friend to register you for prizes and collect information on services you need.
"Be prepared to wear a "bride-to-be" sticker to receive special attention from the vendors. It is nice if your fiancé attends with you if he is interested. About 30% do attend so he won't be the only one there.
"Invite your entire bridal party; who knows which bridesmaid will be next. Have fun and make it a day of fun.
"If you wish to be a vendor at the Bermuda Wedding Expo and have not registered yet email info@bermudaexpo.com or visit bermudaexpo.com to download the vendor application form. With over 500 potential customers standing in front of you, this event will surely boost your client base if you cater to weddings or any other special events."
Read More About