Jamison Firestone and his husband have cancelled their Cunard cruise, with Mr Firestone saying he does "not feel comfortable taking a cruise on a ship registered in a jurisdiction that does not accept my marriage."
This follows after the assent of the Domestic Partnership Act, as cruise lines registered in Bermuda — Princess Cruises, Cunard, and P&O — also adhere to Bermuda law.
This was reported by Buzzfeed, who said Bermuda-registered Cunard Line "told a gay couple who had cancelled their trip in protest that they would not receive a refund on their deposit – and ignored calls to register the ship elsewhere and change its flag."
"Since Bermuda introduced same-sex marriages in May 2017, the Queen Mary 2 has hosted gay weddings on board and, according to a company representative, Cunard employees are 'proud to be strong supporters of the LGBT community," the report said.
"But following the revocation of same-sex marriage, customer Jamison Firestone – who had booked a transatlantic crossing on the liner for him and his husband – emailed Cunard calling on it to register elsewhere and asking for his £600 deposit back.
"I simply do not feel comfortable taking a cruise on a ship registered in a jurisdiction that does not accept my marriage," he wrote.
"But the company ignored his plea to re-flag and re-register the vessel in solidarity with the LGBT community and refused to give his money back.
"A Cunard employee told him via email that the company was unable to refund him 'due solely to any personal opinion of the independent laws of Bermuda' and because 'a cancellation for this particular reason would not constitute a significant alteration to the package as booked'.
Mr Firestone, a human rights lawyer, told BuzzFeed News that in fact this did represent a significant alteration of what he booked.
'That's not what I signed up for. My romantic experience isn't supposed to be sailing on some ship registered to a jurisdiction that has just decided that people like me shouldn't be married," Buzzfeed quoted him as saying.
"The total cost of the tickets was just under £4,000, but as well as cancelling the trip, he thought Cunard would understand the predicament facing him and his husband and also return the deposit."
Jamison Firestone with his husband, photo via Buzzfeed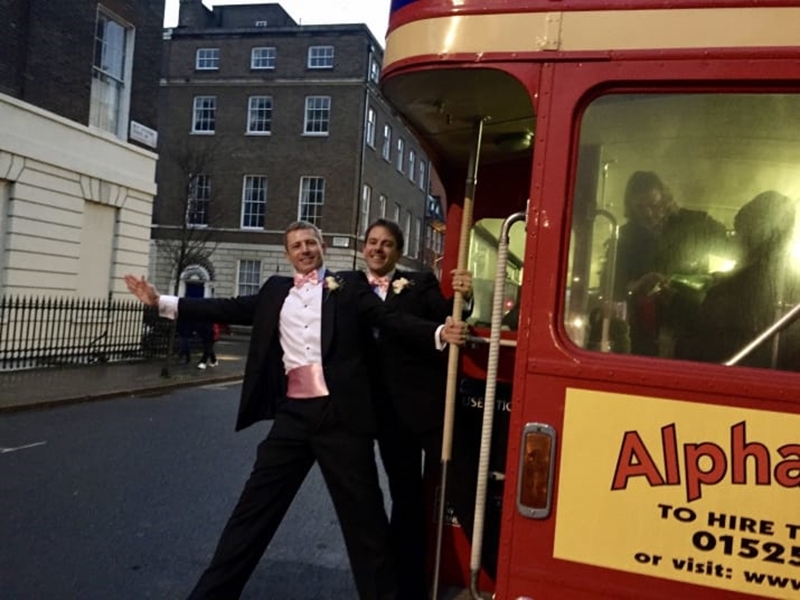 Buzzfeed reported that Mr Firestone has begun discussions with a range of international human rights lawyers, business leaders, and advocates for the LGBT community to "oppose Cunard's stance and to try in turn to make clear to Bermuda that there are consequences to doing this in the 21st century".
He also told BuzzFeed News he also holds British Foreign Secretary Boris Johnson responsible for "not standing up to Bermuda."
"Boris should be saying that not only is this a great step backwards for human rights, but as a member of the British Commonwealth this is unacceptable…and for you to go backwards is going to have consequences," Mr Firestone told Buzzfeed.
Following the Bill being granted assent, British Minister Harriett Baldwin said, "We are obviously disappointed about the removal of same-sex marriage in Bermuda. Less than a year ago, same-sex couples had no legal recognition at all under Bermudian law.
"While the Act withdraws the entitlement for same-sex couples to marry, it replaces it with a provision for domestic partnerships for all couples, regardless of gender. The intent of the Act is to provide domestic partners with the same benefits as married couples, including provision for pensions, inheritance, healthcare, tax and immigration.
"After full and careful consideration of Bermuda's constitutional and international obligations, the Secretary of State decided that in these circumstances, it would not be appropriate to use the power to block legislation, which can only be used where there is a legal or constitutional basis for doing so, and even then, only in exceptional circumstances.
"It is important to recognise that the regime for domestic partnerships implemented by Bermuda in its Domestic Partnership Act can also meet the European Court of Human Rights requirement for legal recognition of same-sex relationships.
"In engaging with the British overseas territories, we have to respect that they are separate, self-governing jurisdictions with their own democratically elected representatives and the right to self-government."
Bernews asked Cunard for comment after assent was granted, and they said, "Having been delighted and wholly supportive of the Bermuda Government's change in law last May, which allowed us to conduct same-sex marriages on board our ships, we are disappointed with this outcome.
"We will now be working closely with the Bermudian authorities to understand the legalities of Domestic Partnership Act 2017 and whether this is something we can offer our guests in the future."
Last week lawyer Mark Pettingill — who represented Greg DeRoche and Winston Godwin in 2017 — filed a motion on behalf of a client challenging the constitutional aspects of the Domestic Partnership Act.
Mr Pettingill told Bernews that Roderick Ferguson, a Bermudian man living in the United States, filed this lawsuit because "the right to have a same-sex marriage has been taken away."
The former Attorney-General maintained that as Bermuda created legislation that removes it, the Domestic Partnership Act is unconstitutional.
The Orginating Summons filed [PDF] is seeking an Order declaring that the "Domestic Partnership Act 2018, in so far as its effect is to reverse the decision in the case of Godwin & Deroche v The Registrar General, the Attorney General et al [2017] SC (Bda) 36 Civ, notwithstanding provisions of the Human Rights Act 1981, is void."

Read More About