The UK's Sun reported that a gay couple had their "dream wedding on a cruise" cancelled after Bermuda-registered P&O cruise line contacted them citing the change in Bermuda law.
The Domestic Partnerships Act passed in the House of Assembly and then passed in the Senate, with the Domestic Partnerships Act [PDF] designed to replace same-sex marriages with a domestic partnership which can be entered into by both same-sex and heterosexual couples.
After it passed in the Senate on December 13th, 2017, the Bill then went to the UK-appointed Governor for assent, which is normal procedure and generally seen as a formality, however it has been a topic of speculation in this case, and as of this time, we are still waiting on official word on assent.
Screenshot of Sun's tweet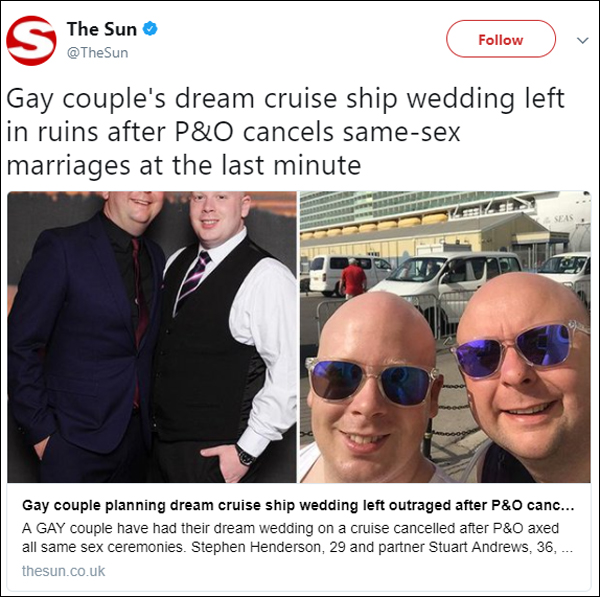 The Sun's story said "A gay couple have had their dream wedding on a cruise cancelled after P&O axed all same sex ceremonies.
"Stephen Henderson, 29 and partner Stuart Andrews, 36, have been going on cruise holidays for the past four years but couldn't find a way to have a ceremony on board.
"But in April 2017 P&O Cruises announced they would be conducting civil partnerships as the firm is registered in Bermuda and the island's Supreme Court had recently legalised same-sex marriages.
"Stephen and Stuart excitedly booked their wedding with the holiday firm in June 2017 and began organising their big day immediately which would have taken place on July 22 2019 in The Bay of Biscay.
"But on December 20 P&O Cruises contacted them revealing that their dream wedding had been cancelled.
"Stephen, from Coventry, in Warwickshire, said: "It is just mad. It is the 21st century. It is the most important day of our lives
"I would understand it if it was booked with a company in a different country but this is like going into to Sainsbury's and them saying, 'you can't come in because you're gay'.
"We were planning so much already. We got everything organised. With me being disabled I didn't want to have to go look at venues.
"It is very hypocritical. They pride themselves on being a British company providing for the British people. It floored me."
A spokesperson for P&O Cruises told the Sun: "On May 5, 2017 a Supreme Court decision was made in Bermuda legalising same sex marriages. P&O Cruises were delighted by this decision as we have wanted to offer same sex ceremonies for many years.
"The Government of Bermuda has now entered into a process to change this recent law on same sex marriage, the new bill will replace or overturn the Supreme Court decision, which legalised same-sex marriage in 2017.
"They will now be looking to introduce a Domestic Partnership which will replace the previous bill.
"Although we are awaiting further information from Bermuda, it is unfortunately likely to be the case that Bermudian law will not permit a same sex wedding ceremony on board our ships after January 2018."

Read More About