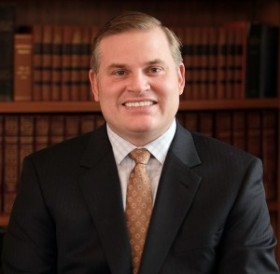 The U.S. based National Organization for Marriage [NOM] stated they played a "significant behind-the-scenes role" in what they termed the "tremendous victory in Bermuda," saying that NOM President Brian Brown traveled here twice "to meet with activists from Preserve Marriage Bermuda to discuss potential strategies."
Founded in 2007, NOM defines itself as a "nonprofit organization with a mission to protect marriage and the faith communities that sustain it."
Their statement follows after the Governor gave assent to the Domestic Partnerships Act, which will replace same-sex marriages with a domestic partnership which can be entered into by both same-sex and heterosexual couples.
Bermuda is widely being reported as the first country to repeal same sex marriage, and the state of California experienced a similar situation in 2008, which NOM was reportedly instrumental in.
The New York Times reported, "The development in Bermuda recalled a comparable sequence of events in California in November 2008, when the State Constitution was amended to define marriage as between a man and a woman, ending five months of legalized same-sex marriage and reversing a ruling by the State Supreme Court in June of that year. That law, known as Proposition 8, was later overturned in the courts.
The Washington Post described NOM as being "instrumental in passing Proposition 8, the state constitutional amendment defining marriage as an institution only between a man and a woman," while another report by Newsweek stated NOM was a "major force in voter initiatives that rolled back gay marriage in Maine and California, contributing $1.4 million and $1.8 million, respectively, to those campaigns."
The NOM website states that Mr Brown has been their President since 2011 after having co-founded the organization in 2007.
"Brown led NOM's work in California helping to qualify Proposition 8 to the ballot, and campaigned throughout the state in 2008 to successfully urge its adoption," the website said. "He has represented NOM in successful ballot fights on marriage in Maine [2009] and North Carolina [2012], and was a key leader in the successful 2010 effort to unseat three Iowa Supreme Court justices who had redefined marriage."
In an article on NOM's website posted on Friday, Mr Brown said, "NOM played a significant behind-the-scenes role in the tremendous victory in Bermuda.
"Our team advised pro-marriage supporters there on strategies to preserve marriage and I travelled there twice to meet with activists from Preserve Marriage Bermuda to discuss potential strategies.
"In 2016, Bermuda conducted a national referendum to advise the Parliament on whether gay 'marriage' should be allowed, with 68% of voters resoundingly rejecting same-sex marriage.
"Despite the overwhelming voter rejection of redefining marriage, in 2017 the Bermuda Supreme Court imposed gay marriage on the nation. This proved to be a short-lived ruling as the Preserve Marriage Bermuda coalition rallied supporters to demand that marriage be restored. This past December, the Bermuda Parliament passed a law repealing same-sex 'marriage.'
"This week the British Government of Theresa May announced that it would not block the repeal of same-sex marriage [Bermuda is a British territory] and Governor John Rankin promptly signed the repeal legislation into law. So much for the arc of history.
"NOM heartily congratulates the people of Bermuda and the leadership of Preserve Marriage Bermuda. Their efforts are a powerful proof point that the 'inevitability' of same-sex marriage is a lie and that the fight for marriage can be won, even when the judicial elite think they can impose their will on a country, as tragically occurred here in the U.S."
"We're in this fight for the long term," Mr Brown added. "Whether it takes two years or two decades, we are determined to restore true marriage to our nation's laws. What happened this week in Bermuda is extremely encouraging, and we hope it inspires you to redouble your support for our work."
Mr Brown also serves as the President of World Congress of Families [WCF], and when he was named WCF President, the Southern Poverty Law Center said "moving to WCF is a logical trajectory for Brown, one of the best-known anti-LGBT activists in the United States.
"Over the past few years, he has gradually refocused his opposition to marriage equality to international work, especially after the U.S. Supreme Court ruled in favor of marriage equality," the SPLC stated.
The U.S Human Rights Campaign — who called for the Governor to "veto" Bermuda's Bill and has been strongly critical of the legislation calling it "deplorable"– has said, "NOM is losing support and donors fast as more people stand up for civil rights and against discrimination. Maybe that's why Brian Brown is travelling all over the world looking for countries more hostile to equality and more open to NOM's outdated views."
NOM, in turn, has criticized the above two groups, with an email from the organisation last year saying they were launching a "First Freedom Initiative which, among other things, will highlight the animus and dangerous tactics of groups like the Southern Poverty Law Center and the grossly-misnamed Human Rights Campaign."
Preserve Marriage Bermuda has not confirmed or responded to request for comment on NOM's statement, however on Friday they said they were "thankful for the decision to reverse the law on same-sex marriage," and while they do "not condone any legal union which may provide legal footing for same-sex marriage" they "commend the Government on being the first and only government in the world to reverse the laws on same-sex marriage."

Read More About