Saying that it is "consistent with its long-standing commitment to transparency," the Bermuda Tourism Authority has released new financial data on its corporate website and to the media this week.
The newly available documents include:
Compensation information from 2016;
Compensation information from 2015;
And previously released staff compensation information from 2014 that has been refined at the request of the Information Commissioner.
The BTA added, "Earlier this month the Bermuda Tourism Authority acknowledged the Information Commissioner's ruling that the original 2015 PATI Request would have resulted in an "unjustified intrusion into the personal information of employees at the BTA".
"Further, the Bermuda Tourism Authority agreed to present the previously released data in a different way. This week that refined 2014 compensation information was released online [PDF] together with the information for 2015 and 2016.
The 2016 BTA salaries and incentives are below: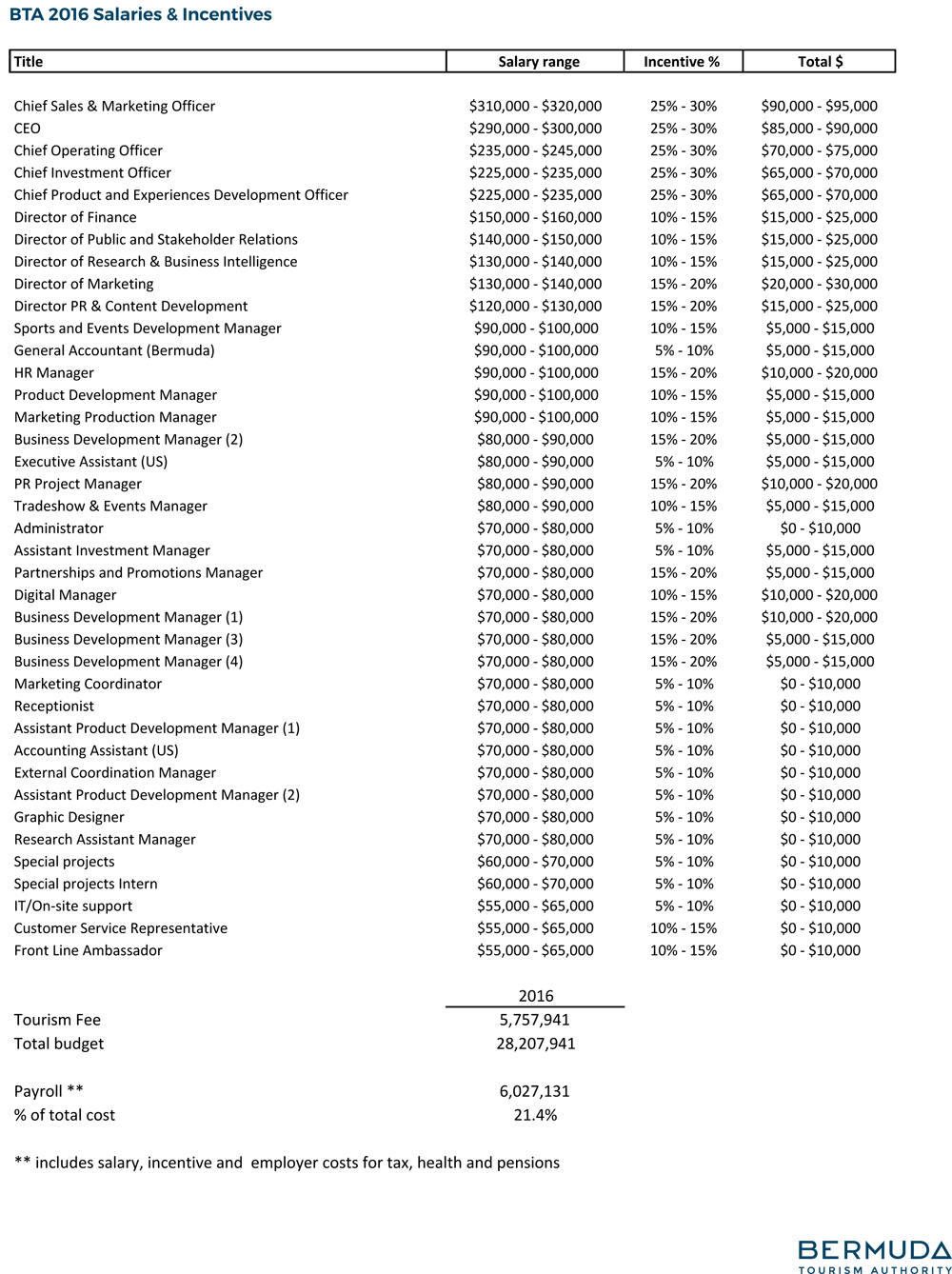 "Additionally, now that the BTA's Audited Financials from 2016 have been tabled in Parliament, those documents were posted online as well. Legislation governing the Bermuda Tourism Authority requires its Audited Financials be put before legislators before they can be shared with the public. In 2016, the Auditor General gave the BTA its third consecutive unqualified audit."
"Since its inception the Bermuda Tourism Authority has provided more information to the public than is legislatively required and again this week has proven itself a leader in transparency by sharing more financial data than the Information Commissioner requested in her recent ruling," said Kevin Dallas, Bermuda Tourism Authority CEO.
"The Bermuda Tourism Authority is a performance-driven organisation with a clear track record of positive results for the country. Each year, performance objectives are adjusted by the Board of Directors to set new priorities that are in the strategic best interest of Bermuda's tourism industry. Our team is meeting those challenges head on."
The BTA noted that "in addition to the recent information release, the Bermuda Tourism Authority also reliably releases corporate activity reports, details of vendor contracts and industry performance statistics online. The latter is released more quickly and reliably than was the case before 2014, putting critical data and analysis in the hands of tourism stakeholders and government decision makers sooner."
"The Bermuda Tourism Authority appreciates the feedback from the Information Commissioner, which has lauded the BTA's transparency as 'commendable' and thanked the BTA for its 'ongoing cooperation, understanding and engagement' with her office."
In delivering today's Budget, Premier and Minister of Finance David Burt said, "The Bermuda Tourism Authority will receive an increase in funding of $1 million. The PLP has always held that we must increase the investment in our tourism marketing, and this Government will hold true to that promise.
"It is the Government's view that the BTA can streamline its management to redirect more resources to the promotion of Bermuda overseas and the development of our local product. Through conditions attached to this year's grant, the Government will ensure that a greater percentage of the $26 million given to the BTA is spent on marketing and product development, not salaries and bonuses."

Read More About