"We will increase access to capital for Bermudians by reforming the 60/40 rule to one that only requires 40% Bermudian ownership in order to operate in the domestic economy," Premier and Minister of Finance David Burt said in today's 2018/19 Budget.
The 60/40 rule generally requires local companies to be at least 60% Bermudian owned, so this revision will see that 'swap', with the requirement to change to 40% Bermudian ownership.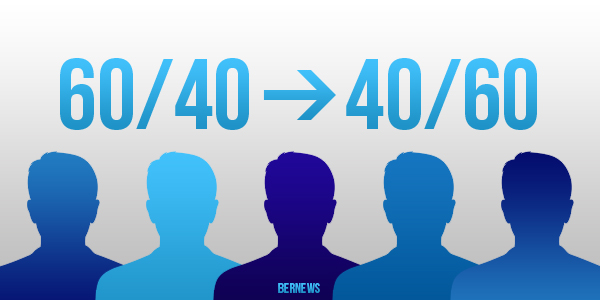 Premier's Comments On 60/40
Premier Burt said, "The origins of the 60/40 rule bear witness to the history of Bermuda and the systemic inequalities to which I referred earlier. The rule is the ultimate in protectionism, which runs counter to the claim of Bermudian entrepreneurship.
"If wealth is concentrated in a few hands, and those hands will never invest in anything that competes with their vested interests, a true entrepreneur is confronted with a policy that essentially tells him or her: "We've got ours; good luck getting yours."
"In 2018, this vestige of our oligarchic past must be ended. We need more economic activity in Bermuda, and that means we must welcome investment from nontraditional quarters and not shy away from the competition it may create. In the truly competitive marketplace, the consumer will always be the winner, as all Bermudians want and seek lower prices for goods and services.
"As I indicated to the Bermuda branch of the Alternative Investment Management Association, Mr. Speaker, 'You can own 100% of a $50,000 business or 40% of a million-dollar business – clearly, most people would prefer the latter.
"For too long, the majority of Bermudians have been spectators of the creation of wealth in this country. This Government is determined to create the conditions and opportunities that usher the "left-behind" from the stands and sidelines to the playing field.
"Bermudian entrepreneurs should not have to rely on their inheritance or banks that often refuse to lend to fund their ambitions. We will increase access to capital for Bermudians by reforming the 60/40 rule to one that only requires 40% Bermudian ownership in order to operate in the domestic economy.
"I recognise that this proposal will face opposition from both sides of the political spectrum. There will be those who want to protect their existing interests, and there will be those who feel that allowing entrepreneurs access to foreign capital enabling them to compete is not consistent with putting Bermudians first.
"However, I want to assure the people of Bermuda that the Government will consult and strike the right balance to ensure that the revision of this rule has the intended consequence of providing more opportunities for Bermudians to become wealth-generating owners and not just employees."
The Premier had discussed this matter during his Pre-Budget Town Hall.
Part Of Plan For Economic Growth
The policy is part of the Government's overall stated plan to focus on economic growth, with the Premier saying today, "As a country with a stagnant economy and an ageing population, we cannot afford to stand still while other countries modernise to compete in the new global economy."
"While many countries actively seek investment to provide opportunities for their citizens, in Bermuda we seem to be comfortable sending potential investment elsewhere."
"We must adapt," Premier Burt said, or "as a country we will continue to fall further and further behind, finding ourselves unable to afford to take care of our seniors, educate our students, fund public services, or pay our pensioners.
"We must grow, and the only path to growth is via increased investment in the Bermuda economy."
The Experts View On 60/40
The 60/40 rule was discussed in Bernews Pre-Budget Panel held earlier this week with Bermuda College Economics Senior Lecturer Craig Simmons, Chamber of Commerce President John Wight, and former Business Bermuda CEO Cheryl Packwood.
"In order for the economy to grow, you need more people," Craig Simmons said, "The chicken and egg is that you do, in order for the economy to grow, you need more people.
"Getting people in from the outside, hopefully attracting more Bermudians back home, and then finding other ways for people to come here and invest in our economy – so now we've moved into the 60/40.
"Is the 60/40, has its day passed?" asked Mr Simmons. "What was the original intention of 60/40 and what is the role of it today? It's my understanding that it was a way for the oligarchy to protect its interest."
"But if you're going to abolish 60/40, you've also got to look at, what are some of the downsides? This economist at the JFK School at Harvard, Danny Roderick, talks about how globalization, as you become more deeply embedded in the global economy, that that sort of exacerbates social cleavages.
"So I can't help but wonder, so if we abolish the 60/40 rule, that means capital coming in to Bermuda, people that we've never seen before starting up businesses, what are some of the unintended consequences of having people that are obviously foreign running businesses on Front Street, on Reid Street, the political shifts that accompany that, and the inequality that may follow? We've got to get used to the change."
Speaking during the panel discussion earlier this week, Ms. Packwood said, "We've had a massive flight of capital due to the 60/40 rule, because it is impossible for foreign businesses to reinvest whatever they've made back into the country, unless you've had special legislation passed, special bill passed, that allows you to keep your profits, reinvest…"
"All of that money, even the exempt companies, the insurance companies, it's going all back offshore," she added.
"It had a place in the 1960s," Ms Packwood said. "In 2018, it doesn't have a place anymore in a global economy, all it is doing is stifling our economy."
On the 60/40, Mr. Wight said, "I absolutely am in favour of the discussion initially being had, like what are the risks, what are the opportunities, but my view is that in 2018, it has to be done away with in a measured basis.
"I just don't think that we have the luxury of being able to say that we want to protect local businesses the way that we could have before the recession hit.
"So I think it did, for better or worse, it protected local business for a long, long time, but in 2018, I really think we have to have a serious discussion about doing away with it and encouraging foreign capital to come to the island."

Read More About