Bermuda's legislation to replace same sex marriages with domestic partnerships was widely reported by international media following the Governor giving it assent this week, and the 'Twitterverse' also reacted, with those tweeting about it including business tycoon Richard Branson, American television host Katie Couric and actor John Leguizamo.
Business tycoon Richard Branson tweeted to his 12.2 million followers:
Mr Branson's tweet was retweeted over 100 times, including by former Premier Michael Dunkley, which then earned a response from the MarriageEqualityBDA account, which 'tagged' Mr Dunkley and replied, "You had the opportunity to right this as leader of the government……but here you are today re-tweeting that we've stepped backwards. You're part to blame! #Politics."
Mr Dunkley then tweeted a reply saying, "We allowed it to go to court and did not appeal the decision vs. the PLP Government who actively sought to overturn the court ruling and legislate against."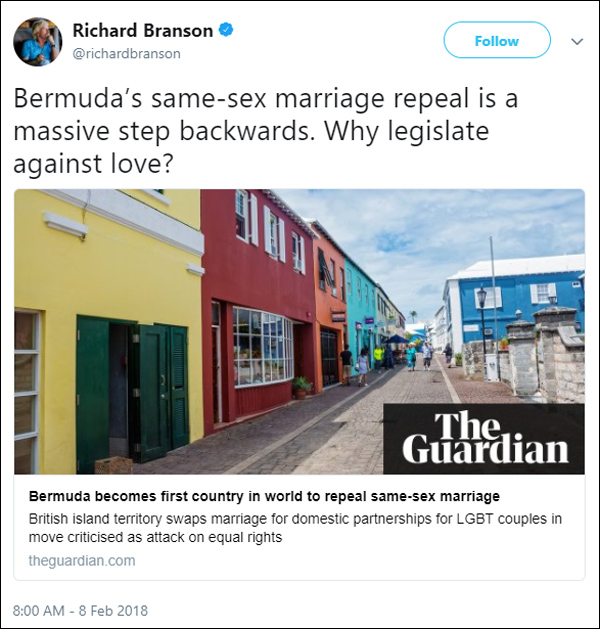 British MP Chris Bryant tweeted to his 54,000 followers
Mr Bryant's tweet earned over 1,500 retweets, over 2,200 likes, and over 100 comments.
One person responded saying, "Interesting to see Labour's view on democracy: Chris Bryant happy with democratic decision to introduce gay marriage in Bermuda, but wants it overturned by the UK as colonial power when later vote goes against it. You can't have it both ways, Chris."
In response, the MP tweeted, "You really don't know what you're talking about. It was a Supreme court ruling!"
The British MP led a debate in the UK House of Commons on this matter last month and also asked an 'Urgent Question' about it yesterday following the granting of Assent — previously told Bernews he is "deeply saddened by this reactionary move" and the "UK government has fatally undermined its reputation for advancing equal rights and respecting the decisions of the court."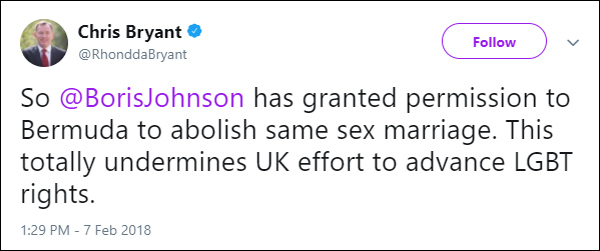 Drudge Report tweeted to their 1.34 million followers
While many tweets being sent in reaction were critical of the legislation, most Twitter followers of Drudge, a conservative news aggregator, praised the move.
"I've been to Bermuda a few times. They seem to be a pretty sensible bunch. More proof to that here," one person said, while another said, "Good for Bermuda," while another called it "great news."
"Finally a country that gets it. Gay couples should have all the same rights as hetro couples but it shouldn't be called marriage," said another person.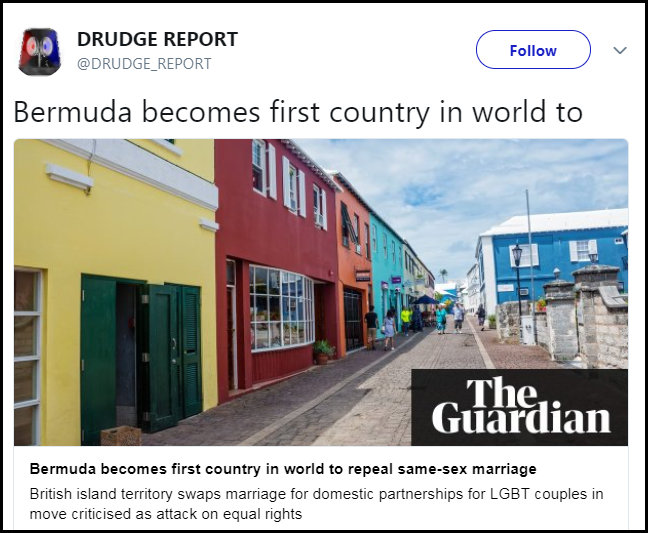 British MP David Lammy tweeted  to his 300,000 followers
His tweet received over 1,500 combined retweet and likes, and a mixed reaction from his followers.
One person replied, "So how would our parliament over-ruling their parliament when they don't have vote here square with human rights? You can't impose liberalism like a colonial power without making things worse," while another person said, "On behalf of LGBTQ+ people everywhere, thank you for trying! It means a lot to know people are standing up for us."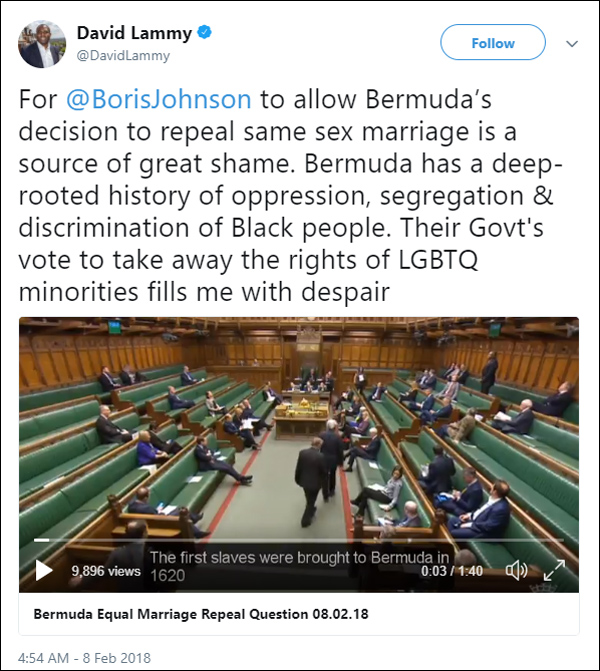 American TV host Katie Couric tweeted to her 1.8 million followers
Ms Couric's tweet earned over 30 likes and retweets, and eight responses, which all appeared to be negative.
"Well, strike Bermuda from my travel bucket list," one person replied, while another person said, "Whaaaat??!!! that is absolutely unbelievable."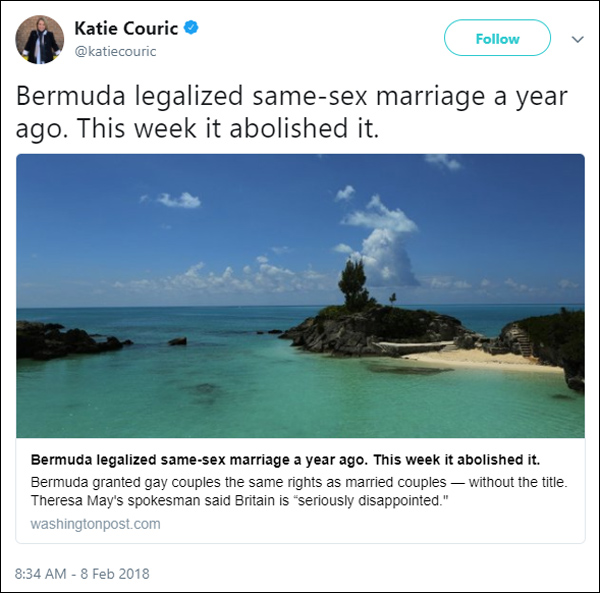 Actor John Leguizamo tweeted to his 740,000 followers
Mr Leguizamo tweeted using the #BoycottBermuda hashtag, attaining around 50 likes and retweets, and five reactions.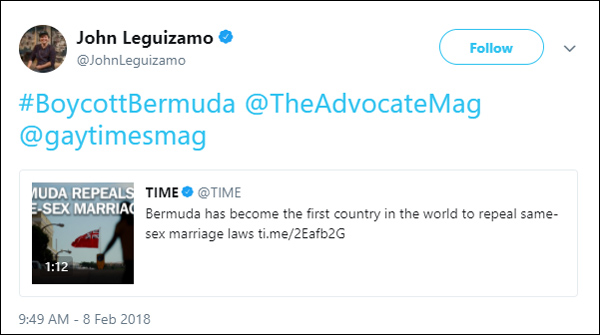 The UK's Green Party tweeted the below to their 218,000 followers
Their tweet calling it "terrible news" received around 250 retweet and likes, and ten comments.
One person tweeted, "What a ridiculous thing to do. With the Tories in power here, Brexit, Donald Trump in America, and more nonsense around the world, this decade will be remember as the one where we became less enlightened as a species, not more."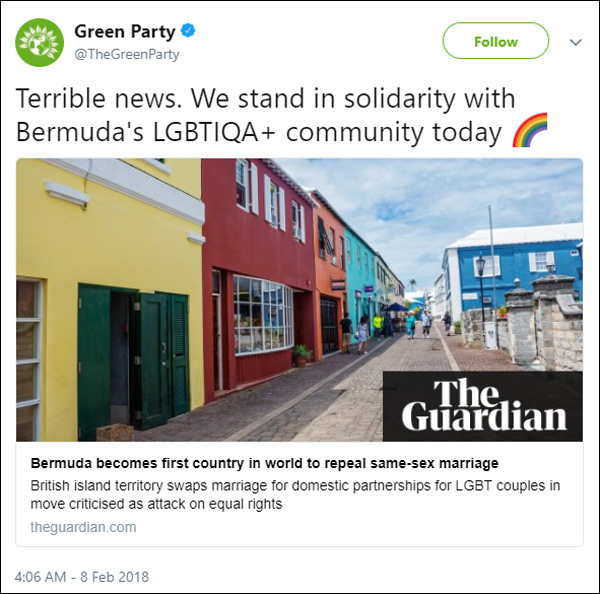 The topic is even being discussed on some Olympic tweets
Buzzfeed tweeted the below to their 6.4 million followers following Bermuda's team walking into the Winter Olympic stadium, and the first responses that show are in relation to the legislation.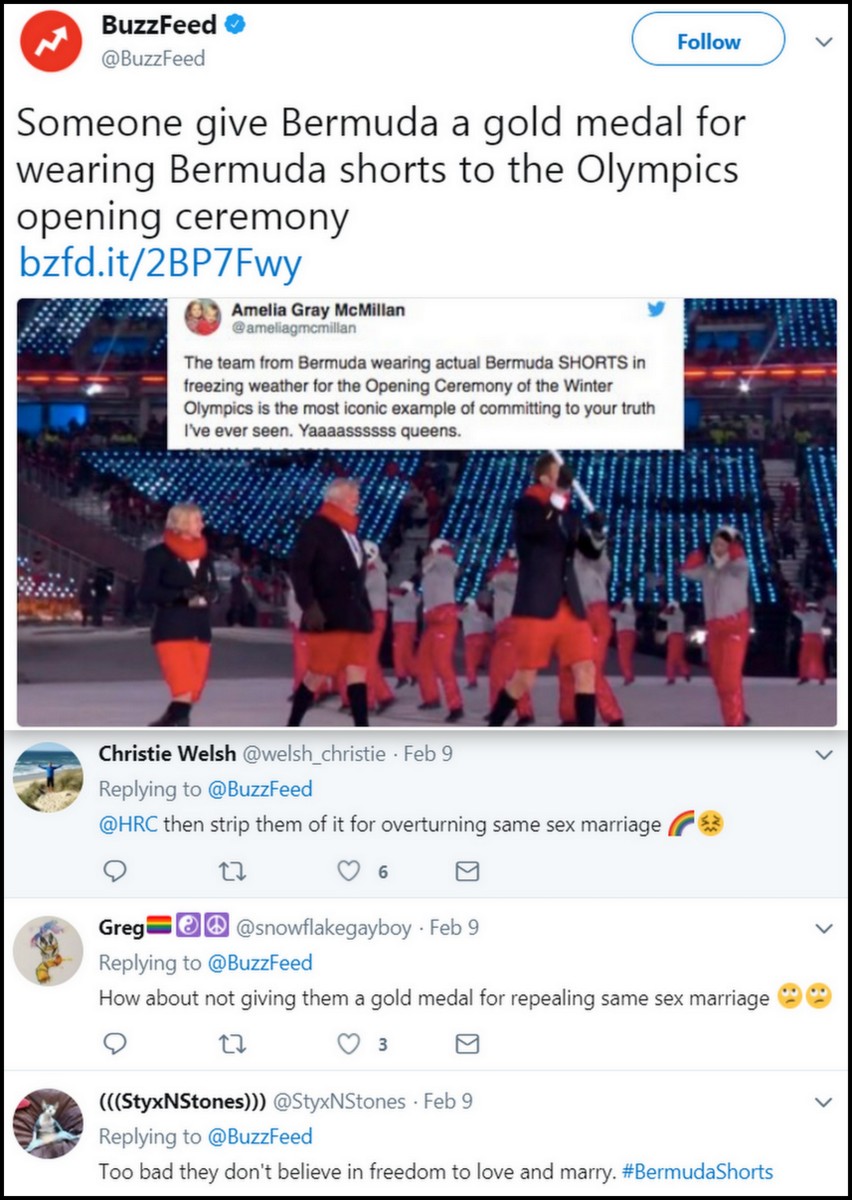 The above is, of course, only a small sample of the tweets sent in relation to the matter.

Read More About
Category: All, News, technology