[Written by Don Burgess]
The world organisation Human Rights Campaign tweeted that the Bermuda Government was "despicable" for trying to repeal same-sex marriage.
That social media message caught the attention of Chelsea Clinton – the daughter of former US President Bill Clinton and US Democrat presidential candidate Hillary Clinton – who then retweeted it to her 2 two million followers.
The Human Rights Campaign [HRC] tweeted "DESPICABLE: @HRC condemns government effort to repeal marriage equality in Bermuda."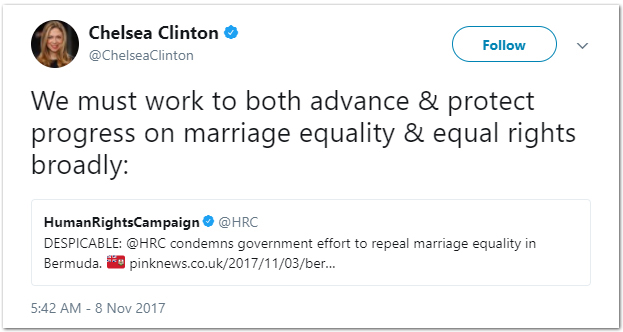 Ms Clinton then retweeted it, adding "We must work to both advance & protect progress on marriage equality & equal rights broadly:"
Her tweet has received more than 3,000 likes, 553 retweets and 96 comments as of 7:30am this morning, while the original tweet had 132 likes.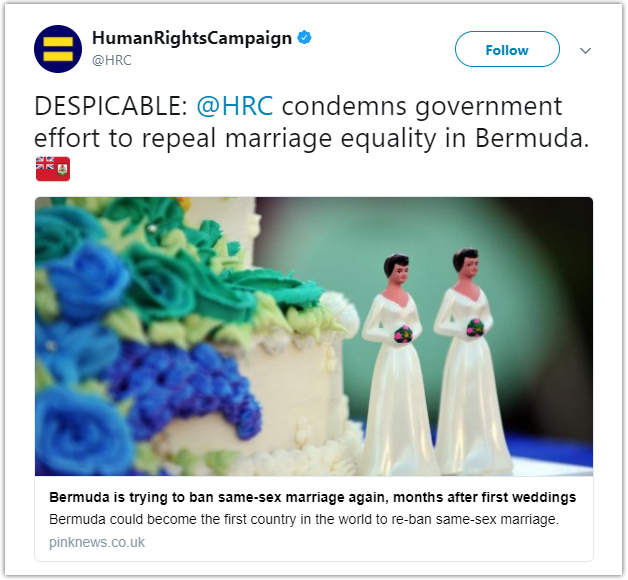 Mr Brannon said "Thank you #HRC – There is a very real and present danger to equality for the #LGBT community in Bermuda due to the new governments [sic] legislation that would strip away same-sex marriage. The 1st country on the planet to do so."

Read More About