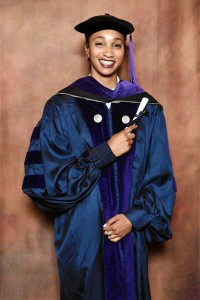 Arantxa King — who represented Bermuda at two Olympic Games — was recently admitted into the New York State Bar.
This follows after Ms. King graduated from Georgetown University Law Center in 2017.
During her time in law school, she served as an Executive Editor for the Georgetown Immigration Law Journal, Vice President of the Black Law Students Association, externed at the NCAA Government Relations Office, represented low income individuals in D.C. Superior Court, and was a legal scholar at the Center for Transnational Legal Studies at Kings College in London.
She is presently employed at a New York City Employment Litigation Law firm that focuses on all employment law matters including "discrimination, wrongful termination, defamation, securities, and compensation litigation and arbitration."
Ms. King attended Stanford University on a full athletic and academic scholarship and graduated in 2011 and 2012 with, respectively, a B.A. in Political Science and a M.A. in Sociology.
She served as captain of the Stanford women's track & field team and was an Athletic and Academic All American in the long jump. A graduate of Medford High School in Massachusetts, she was the USA high school national champion in the long and triple jumps.
An Massachusetts State All-Star athlete in soccer and track & field, she was the Youth World Champion in the long jump in 2006 while representing Bermuda, and holds the Massachusetts state records in both horizontal jumps.
Ms King represented Bermuda in numerous international competitions including the CARIFTA Games, World Youth & Junior Championships, CAC, Pan Am Games, Commonwealth Games and the Beijing and London Olympics.

Read More About