Greenrock held a press conference this morning [March 6] to official announced the 2018 Earth Hour celebrations, which will take place in Dockyard on Saturday, March 24th.
A spokesperson said, "Greenrock is pleased to announce that the Annual Earth Hour Celebrations will take place in Dockyard this year on Saturday, March 24th, 2018, however there will be action in support of the Earth Hour campaign all throughout the island.
"With support from the Government, WEDCO, BELCO, Corporation of Hamilton, Corporation of St. Georges and the Chamber of Commerce, unnecessary lights will be shut off during Earth Hour in numerous significant locations to highlight our islands support of sustainable living and action on climate change."
The 9-minute live video replay is below:
Earth Hour Council Chair Eugene Dean said, "Although we produce an event annually, the goal of the Earth Hour Campaign is to raise awareness by highlighting the impact that our individual actions have on our global community and encouraging behaviours that lead to more sustainable practices in our everyday lives.
"This year we are focusing on plastic pollution and its impact on the marine environment. This has become an enormous challenge globally and any solution will require all of us to participate should we expect to see any positive change.
"Items like straws, coffee pods, microbeads, wet wipes and single use plastics such as spoons, forks, knives, bottles and bags are currently polluting our environment at seemingly uncontrollable rates. At times the reality can seem daunting, however the good news is that and we can all play a role in shifting the tide."
Minister of Home Affairs Walton Brown said, "I encourage members of our community to take part in Earth Hour 2018 – on Saturday, March 24. This annual event gives us an hour to stop and think about climate change. It also gives us a chance to consider Bermuda's role in bringing awareness and action on one of the most important environmental issues of our generation.
"Bermuda may be a small place, but we can be a barometer for the rest of the world and could be an example of stewardship. I encourage all of us to take this hour to examine the sustainability of our lifestyle.
"At the Ministry of Home Affairs, we strive to provide a balance between development and the conservation of Bermuda's natural environment. I would like to take the opportunity to thank Greenrock and its supporters for taking the lead on championing climate change issues in our community, including staging their annual Earth Hour event in Dockyard on March 24."
Greenrock said the "first Earth Hour Celebration in Dockyard will begin at 7pm with live entertainment, food vendors, face painting, educational booths from vendors in the local Green Economy, and speeches from representatives of the key organizations involved.
"The main feature of the event is the 5K Glow Fun Walk & Run which will take place during Earth Hour at 8:30pm. Registration for the 5K Glow Fun Walk & Run is now open so we encourage everyone to sign up on racedayworld.com.
"Special provisions have been put in place to encourage group teams, so if members of your company, gym, school or club are interested, we are ready to assist you with the process. Ferries from the Hamilton Ferry Terminal are also being organized to transport participants to and from the event and we will be releasing more details about the ferry service soon.
5K Glow Fun Walk & Run Route [PDF here]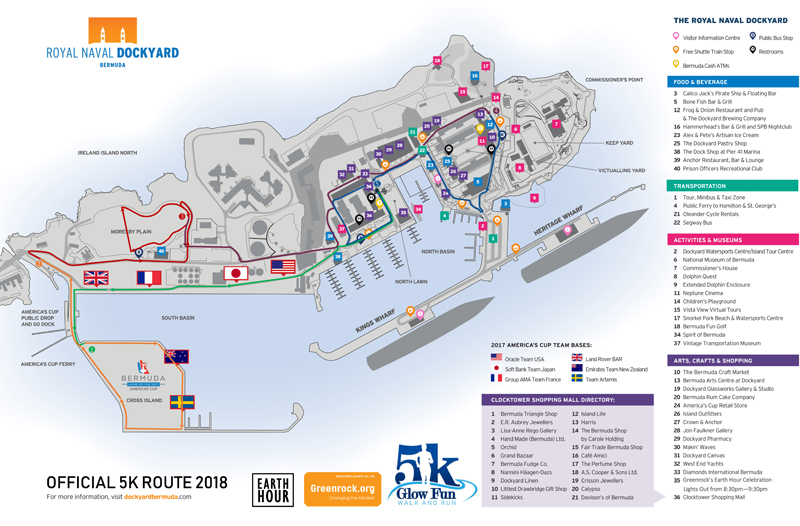 "To reduce waste, we encourage all participants to use reusable glow products to light themselves up during the race rather than single use products that will become waste after the event. This year we have a selection of reusable glow products for sale on the registration website and our hope is that with these options we can reach our goal of making the 5K Glow Fun Walk & Run waste free.
"As an alternative to bottled water there will be free water stations available, so we encourage all participants to bring reusable water containers to the event. We also ask that all participants be mindful of traffic while walking or running through Dockyard. We will do our best to make the event as safe as possible with road marshals and we ask that the public do the same.
"Greenrock is very proud to have expanded our reach into the western and eastern ends of the island due to involvement from both WEDCO and the Corporation of St. Georges.
"Both BELCO and the Corporation of Hamilton have done an excellent job over the years shutting off lights throughout the City of Hamilton and now, with assistance from BELCO, WEDCO and the Corporation of St. Georges will be turning off excess lights during Earth Hour in Dockyard & St. Georges as well.
"This is now the second year that WEDCO has been actively involved with the Earth Hour Campaign and Financial Controller Kent Bascome had the following to say about WEDCO's involvement.
"Earth Hour is now a firmly established annual event in Bermuda and for that we must thank the work of Greenrock and its team who remind us, constantly, of the need to care for our precious environment.
"This year, West End Development Corporation is delighted to host this event in the Royal Naval Dockyard, which we think is a very fitting setting. It is one of Bermuda's busiest tourist attractions and one of its most historic sites and as such, WEDCO is acutely aware of the responsibility it has towards its protection and to ensuring development that is sustainable.
"Hosting Earth Hour is another sign of our commitment to the environment, whether that is our built environment or our open spaces. We very much look forward to the day and hope that as many people as possible come to Dockyard to show their support."
Zoe Mulholland, from the Corporation of Hamilton, said, "The City of Hamilton is once again pleased to participate in Earth Hour on March 24th. The City has partnered with Greenrock for many years regarding Earth Hour and our continued commitment to the Earth Hour message will include the dimming of lights at City Hall, at the Pier 6 complex and in the City parks.
"As a safety precaution, no traffic signals will be affected and lights in all car parks will remain functional, not only for safety reasons but also because the lighting is connected to the pay stations and barrier systems. The City encourages its ratepayers, City bars and restaurants and the greater Bermuda community to join this very important cause by being creative and minimizing their power consumption during Earth Hour and beyond."
Greenrock noted that "Earth Hour is run primarily by volunteer effort and we are still in need of several volunteers for the following tasks: Race Marshalls, Race Packet Distribution & Same Day Registration. For more information, go to Earth Hour Bermuda on the racedayworld.com website and click on the volunteer link.
"Funds raised for Earth Hour are used primarily to support Greenrock's community projects and programs to help create a more sustainable Bermuda. This year we are asking participants to raise pledges in support of our programs and as a result we plan to recognize the top three individual fundraisers, the school who raises the most pledges and the top corporate fundraising team.
"If you would like to know more about Greenrock, volunteer or get involved with the Greenrock Council, please contact 292-5406 or email info@greenrock.org."

Read More About
Category: All, Environment, News, Videos