The Royal Bermuda Regiment and the Bermuda Police Service are actively searching for American college student Mark Dombroski, who has not been seen since approximately 1.00am on Sunday morning.
Speaking at a press conference this afternoon, Acting Assistant Commissioner of Police James Howard said, "The Bermuda Police Service [BPS] is conducting a full investigation into the disappearance of 19 year old American visitor Mark Dombroski. Mark is a freshman student at St. Joseph's University in Pennsylvania U.S.A.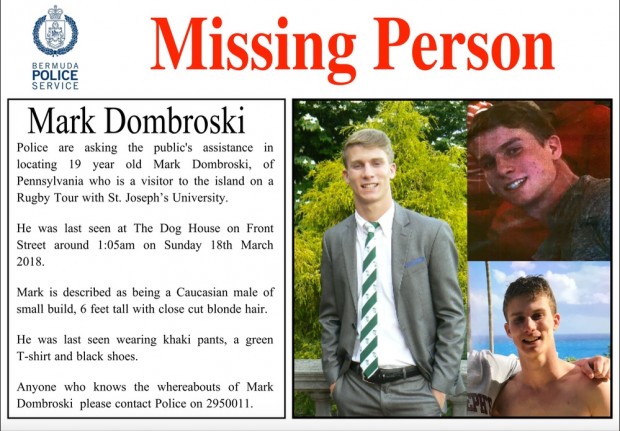 "Mark, is a member of St. Joseph's University rugby team, that came to the island on Thursday, March 15th to compete in the 2018 Ariel Re Bermuda International 7s Rugby Tournament. There were 20 teams, both local and overseas, competing.
"The tournament finished on Saturday afternoon [March 17th]. It then appears that Mark along with friends and family went out to socialise.
Last Seen By Friends Just Past 12am On Sunday
"The last time he was seen by his family and friends was a few minutes after 12am Sunday, March 18th at The Dog House [a local restaurant and bar] on Front Street in the City of Hamilton.
"At 9:39am Sunday, March 18th police were officially notified of his disappearance by a family member. Police enacted their missing person protocols and commenced trying to locate Mark, including a concerted media and social media campaign, which saw updates throughout the day and night.
Police Reviewing CCTV
"As part of the investigation police are conducting an extensive review of the island wide CCTV network in order to ascertain his movements, if possible.
"Police can confirm that CCTV footage now indicates that Mark was seen alone at 1:09am Sunday, March 18th walking east along Front Street just past the junction with King Street. He was wearing a green T-shirt, khaki pants and black shoes. He appeared to be using a cell phone device.
Walking On Middle Road in Devonshire at 1.15am
"The latest indication so far is that at 1:15am he was seen walking east on Middle Road, Devonshire near Shelton Road.
"A coordinated search is being done. Areas of East Broadway and Crow Lane have been checked.
Marine Unit Checked Hamilton Harbour
"The BPS Marine Unit have scoured Hamilton harbour. The police, his family and members of the community have searched the environs of the City including restaurants, bars and hotels – all with negative results.
"We continue to search specific areas as information develops.
"The Bermuda Police Service is working with local and overseas partners to advance the matter, with the primary goal to locate Mark as soon as possible.
"The Bermuda Police Service is aware of the high level of interest in this matter and appreciates all the assistance that is being offered. We are aware of the efforts on social media and thank members of the public for their interest and assistance.
"We urge though, that all search activity be coordinated through the police to capture all information accurately and to avoid duplication of efforts. There is an investigative process being followed and we request the cooperation of the public in this regard.
"We are developing a community strategy that will identify key ways the community can mobilise and assist with the search for Mark.
"Anybody with information that may assist us in locating Mark is urged to contact police.
Do You Have Security Cameras?
"In particular, persons that may have personal security cameras in the Middle Road, Devonshire area that may have captured activity around 1:15am Sunday, March 18th are asked to review their footage for anything that may assist police.
"All information should be directed to the Senior Investigating Officer Acting Detective Inspector Karema Flood on 247-1150, 717-2086 or by e-mail kflood@bps.bm, as well as Detective Sergeant Jason Smith on 247-1218, 717-0864 or by e-mail jsmith2@bps.bm."
Police & Regiment Searching
Police Media Manager Dwayne Caines added that the "Bermuda Police Service along with the Royal Bermuda Regiment will be conducting a search in the Devonshire area of the Island for Mark Dombroski. We are asking for the public's cooperation as we search."
Mark's Family Appeals
Mark's family is on the island and his mother Lisa Dombroski said, "My son, my wonderful son, my cherished son, Mark Dombrowski, is a member of the St. Joe's University rugby team. He's a freshman. He's 19 years old. He was participating in a rugby tournament here.
"As of late Saturday night, early Sunday morning, Mark went missing. We dearly love our son. We cherish our son. My other sons, my husband, we love him dearly. We want him back.
"We thank the citizens of Bermuda. People have been with us, shoulder to shoulder, throughout this ordeal. They're helping us. They're with us.
"The citizens, the police, business owners looking at surveillance cameras for 10 hours are helping us trying to find our son. We dearly want him back. We ask if you could please, if anyone has any bit of information that might be relevant, please, please contact the authorities and help bring our son back.
"Today is the Feast of St. Joseph. My son is a freshman at St. Joseph's University. It will be a wonderful thing if on St. Joseph's feast day if God please would reunite us with our wonderful son."
Please contact police on the numbers mention above, or on 295-0011 if you have any information, and for our ongoing live updates please click here.
Your screen will automatically refresh with the latest updates:
Read More About