An overseas forensic pathologist will be in Bermuda today [March 21] to conduct an autopsy on 19-year-old Mark Dombroski, the police have confirmed.
Mark was last seen by his friends at around midnight on Sunday, he was reported missing on Sunday morning, and following extensive searches and public appeals, his body was found at the "base of a significant drop at Fort Prospect" on Monday afternoon.
Police continue to investigate the circumstances surrounding the tragic death of the young rugby player, and the key aspects of the confirmed information known so far are below.
Photo posted by the St Joseph's rugby team: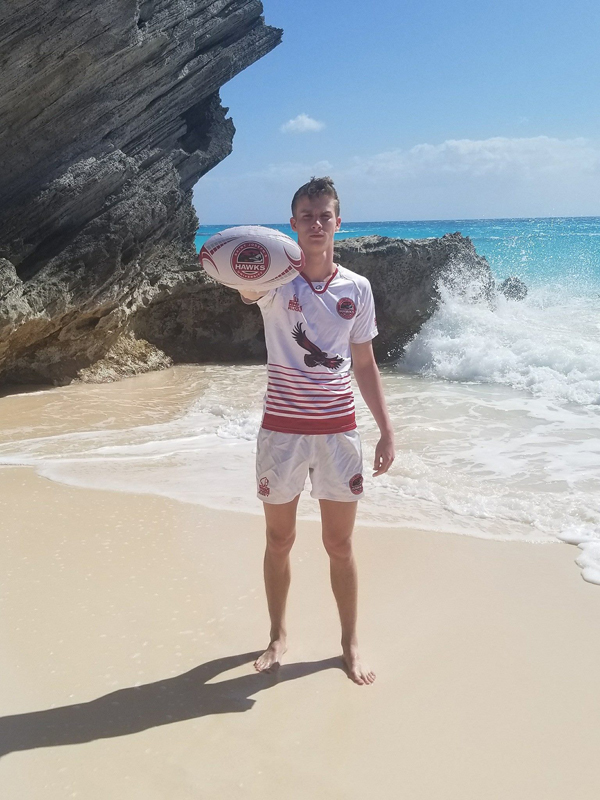 Thursday March 15th
Mark Dombroski, 19, was a freshman student at St. Joseph's University in Pennsylvania, and a member of their rugby team that came to the island on Thursday to compete in a rugby tournament along with 20 other teams, both local and overseas.
Saturday March 17th
The tournament finished on Saturday afternoon, and Mark and his friends went out to socialise.
Sunday March 18th
12.00am: The last time he was seen by his family and friends was a few minutes after 12am on Sunday at The Dog House restaurant and bar on Front Street in the City of Hamilton.
1.09am: Police said CCTV footage indicates that Mark was seen alone at 1:09am on Sunday walking east along Front Street just past the junction with King Street, where he appeared to be using a cell phone device.
1:15am: Police said at this time he was seen walking east on Middle Road, Devonshire near Shelton Road.
1:30am: Police said at 1.30am CCTV images show Mark was walking alone along Alexandra Road in Devonshire, which is to the south of where his body was found.
9:39am: Police were officially notified of his disappearance by a family member at 9.39am, and police enacted their missing person protocols.
10.45am: Local media published the first missing person appeal from the police at around 10.45am, and the police continued to send notices and additional photos throughout the day.
Searches began taking place to try and find Mark, with both official police searches and unofficial searches by his friends and memberd of the community.
Monday March 19th
Continued police appeals were made to the public for help, and extensive searches — involving the Police land and marine units, soldiers from the Royal Bermuda Regiment, Mark's family/friends, members of local rugby teams, drone operators and community volunteers — were taking place.
Police held their first press conference at approximately 2.00pm, where Mark's family, who traveled to Bermuda, also appealed for assistance.
Sadly, the search ended that afternoon with his body being discovered in the moat at Fort Prospect, which is located between Mary Victoria Road and Police Headquarters in Devonshire.
The police said his body was found "at the base of a significant drop at Fort Prospect," his wallet and cell phone were found with him intact, and the police also noted that "contrary to recent speculative social media posts, Mark's body was not bound or tied up. "
Police immediately cordoned off the area and officers from the Forensic Support Unit began processing the scene.
The police held another press conference at approximately 5.30pm, where they officially confirmed the sad news that Mark's body had been found.
Tuesday March 20th
Police continued investigating the matter, the area remained cordoned off, and police held another press conference in the afternoon to provide an update.
Wednesday, March 21st
An overseas forensic pathologist will be in Bermuda today to conduct the autopsy. The police said a further update will be provided following the examination by the pathologist.
Overseas Assistance For The Investigation
The Bermuda Police Service is working with local and overseas partners. As per police protocols with an overseas citizen, they are working with the US Consulate in Bermuda, a forensic pathologist from overseas will conduct an autopsy, and the Bermuda Police also confirm the FBI is involved.
Do You Have Information?
The Bermuda Police Service is specifically asking for witnesses in the Alexandra Road, Devonshire area that may have heard or seen anything between 1am Sunday, March 18th and 4pm Monday, March 19th.
All information should be directed to the Senior Investigating Officer Acting Detective Inspector Karema Flood on 247-1150, 717-2086 or by e-mail kflood@bps.bm, as well as Detective Sergeant Jason Smith on 247-1218, 717-0864 or by e-mail jsmith2@bps.bm.
Police are repeatedly stressing that no matter how insignificant the information may seem, please contact them.
Read More About