Sixteen local businesses have now successfully completed Bermuda's National Service Standards Programme [NSSP], a process created as a collaboration with industry partners and managed by the Bermuda Tourism Authority.
The six businesses that were newly certified this month are Beauty Queen Day Spa, Bermuda Bride, Inverurie Executive Suites, Newstead Belmont Hills Golf Resort & Spa, PTIX and Tuckinn Rentals.
"A higher standard of service is the most impactful way for Bermuda to improve its value proposition," said Bermuda Tourism Authority COO Karla Lacey, who oversees the NSSP.
"The Bermuda Tourism Authority is proud of the 16 businesses that committed to meeting the standards required to become fully certified. They are demonstrating a service commitment to their customers that is unmatched by anything previously attempted in our jurisdiction."
Representatives from the recently certified businesses with BTA NSSP officials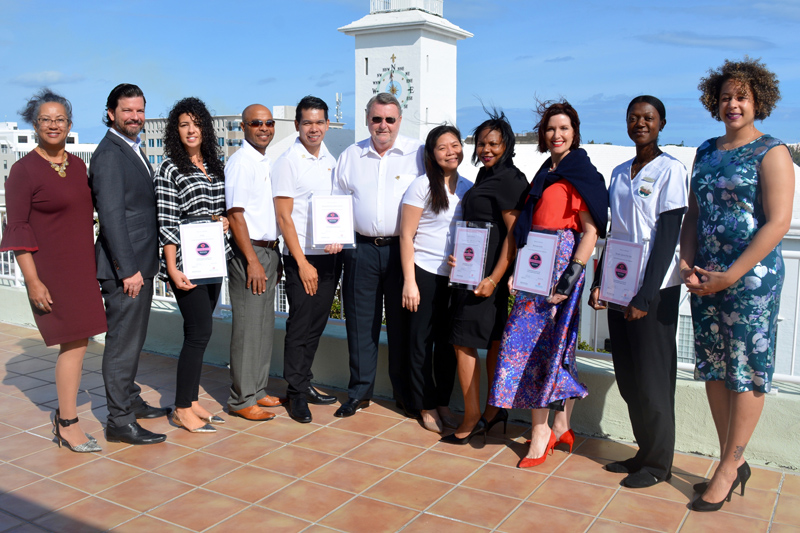 The BTA explained, "Going forward each of the six businesses will be identified on the gotobermuda.com website with a star, making their certification clear to site visitors. Additionally, these businesses are pinned to the top of the list in their respective sectors when a user launches a search on gotobermuda.com.
"Mystery shoppers visited the businesses more than once to ensure standards were being met and now those businesses can place an NSSP seal of approval in their storefronts and on their websites."
Sandra Barnett of Beauty Queen Day Spa said: "I'm honored to be the first beauty industry-related business to be certified. I'm also happy to know about the recertification and the continuous mystery shoppers because that is something that will always keep us on our toes. I just love the challenge that this will bring for our workers."
Phillip Akeroyd of Inverurie Executive Suites, a business traveler property, said: "This certification is one of the steps we wanted to achieve so that if any business person is looking at us online, everything they see is high end and highly recommended. We're very pleased to have achieved this because it's one part of our business development plan."
Nikki Begg of Bermuda Bride said: "I wanted to make our level of service consistent throughout the company, so we now have protocols throughout the office from how we answer the phone to how to do a sales call. Going through this course has opened our eyes and elevated our standards – it didn't hurt to be elevated on the gotobermuda.com website either."
Bermuda Tourism Authority Training and Standards Manager Rasheeda Burgess said: "This is the first time we've had businesses in the destination wedding and travel services sectors which is very gratifying. More importantly though, as travel standards are raised across the island, visitor satisfaction is to rise accordingly as travelers perceive a better value for the amount of money they're spending.
Previous National Service Standards certifications have been earned by:
27th Century Boutique
Alexandra Mosher Studio Jewellery
The Bermuda Perfumery
Bermuda Transit Services
Chopstix Fusion
Dolphin Quest
Flanagan's Irish Pub
Fun Golf
Lili Bermuda
Tobacco Bay/Beach Boys
"Businesses that would like to start the process of certification, the next enrollment period will be this September. In the meantime, questions can be directed to info@service.bm," the BTA said.

Read More About