Greenrock is inviting Bermuda to celebrate Earth Hour this year on Saturday, March 27th, asking people to tune into their live broadcast, turn off any unnecessary lights from 8:30 pm – 9:30 pm, and "take time to pause and reflect on new behaviours you can adapt to reduce your carbon footprint and live more sustainably."
A spokesperson said, "Greenrock would like to invite all of Bermuda to join millions around the world in raising awareness about the challenges facing our planet by taking part in Earth Hour on Saturday, March 27th from 8:30 – 9:30pm.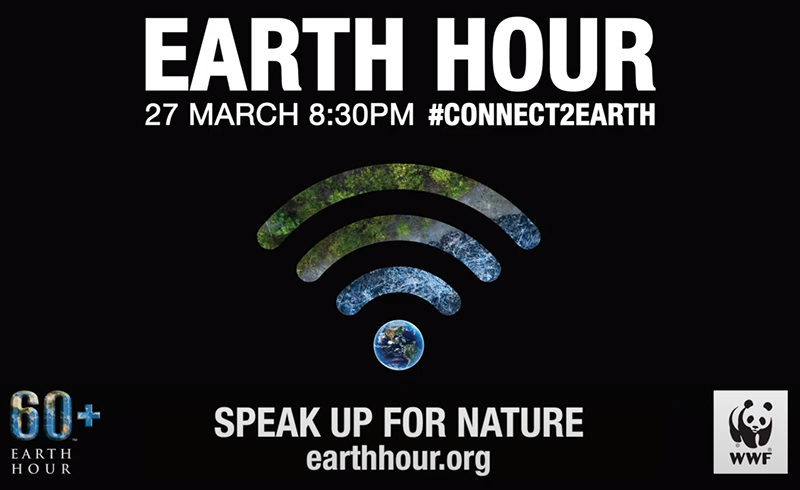 "Greenrock first introduced Earth Hour to Bermuda as a public event in 2008. Since then it has grown considerably and evolved into an annual initiative that brings into sharp focus the need for the preservation of nature, widespread environmental action, innovative methods that use our natural resources sustainably, and the awareness required to live in harmony with nature.
"At its heart, Earth Hour is about generating a global sense of community, of solidarity, showing that people care about the environment and our future – while also demonstrating the power we possess as people to change policies, laws and legislation that bring about monumental change.
"For Greenrock, Earth Hour is also a key fixture in our calendar that helps us raise the funds required to 'go beyond the hour' through our awareness programs and our commitment to remaining at the forefront of public advocacy. As Bermuda's main NGO focused on climate change, we enjoy support from large segments of the community to maintain our educational programs and keep environmental advocacy alive.
A look back at the 2015 Earth Hour celebrations:
"In 2018 our Earth Hour campaign was focused on rallying for the elimination of single use plastics, something we still need to actively advocate for until our government follows through on its promise to legislate a single use plastic ban. In 2019 our campaign raised awareness about the benefits associated with energy efficiency, how it lowers our energy usage, and the money it can help us all save.
"Last year our focus was improving public engagement and raising awareness about the unprecedented loss of nature that has happened over the past 50 years. This year we are pushing for more environmental action and an island-wide commitment to engage in strategies and behaviours that lead to the reduction of our dependence on fossil fuels. There is a lot of work to be done, and even more for us to consider. Therefore, we encourage the community to use Earth Hour as an opportunity to pause and reflect."
"As we shut off all unnecessary lights at 8:30pm on Saturday, March 27th, let's take time to pause, reflect on our contribution to Bermuda's carbon footprint, and envision behavioural changes that lead to us living in harmony with each other and the natural environment that sustains us. We are stewards of the earth and it is important for us to embrace this responsibility, lest all of our shortcomings will fall on the shoulders of future generations," said Chairman, Eugene Dean.
A look back at the 2015 Earth Hour celebrations:
.
"This year there will be a live stream and television broadcast on Saturday, March 27th from 6:30pm to "Lights Out" at 8:30pm featuring a youth segment, a community segment and a segment on the green economy. The program, which will be accessible via various platforms, will include topics such as:
Young Environmental Leaders
Eco-Schools
Fossil Fuel Energy Generation
Trash Collection
Composting & Recycling
Solar PV & Battery Storage
Electric Vehicles
Green Financing & Loans
"We encourage you, your family, friends and work colleagues to tune into our live broadcast at 6:30pm, turn off any unnecessary lights from 8:30 pm – 9:30 pm, and take time to pause and reflect on new behaviours you can adapt to reduce your carbon footprint, live more sustainably, and inspire all of us in Bermuda to do everything within our power to preserve our planet and the wonders of nature for many generations to come.
"During the broadcast Greenrock will raise funds through pledges and donations while encouraging the viewing audience to sign up their families as individual members, and companies they are involved with as corporate supporters as well. Anyone interested in supporting Greenrock or helping with the Earth Hour Campaign should contact us at info@greenrock.org or visit our website | www.greenrock.org."

Read More About
Category: All, Environment