The Bermuda Association for the Education of Young Children [BAEYC] is inviting teachers, caregivers, parents and guardians of preschool, primary, Government and private schools, nurseries and day care centers to participate in their annual celebrations of The Week of the Young Child, with the theme "Embracing Our Golden Gems With Our Future Leaders."
Schedule of events:
Saturday, April 14th or Sunday, April 15th, 2018 – Attend a church of your choice.
Monday, April 16th, 2018 – Official Opening of the "Week of the Young Child" celebrations, City Hall, Hamilton 10:00 a.m. Come out and enjoy the musical selections by children from various schools.
Tuesday, April 17th, 2018 – Be Fit Tuesday – Encourage Healthy eating and fitness at home and school.
Wednesday, April 18th, 2018 – Work Together Wednesday – Work together, build together, learn together. Have a play date at your school with a neighboring school. Mommy & Me Workout – 6:00pm – 7:00pm at Warwick Preschool, $10 for the adult, child free [Bring your towel]
Thursday, April 19th, 2018 – Artsy Thursday – On Artsy Thursday, celebrate the joy and learning children experience when engaged in creative art making.
Wednesday, May 2nd, 2018 [Tentative] – Inter Preschool Sports – Come out and cheer on Bermuda's Top Preschool Athletes! Sign up your school today! Contact Shunna Muhammad, BAEYC [baeycbda@gmail.com or 335-5089] for further information.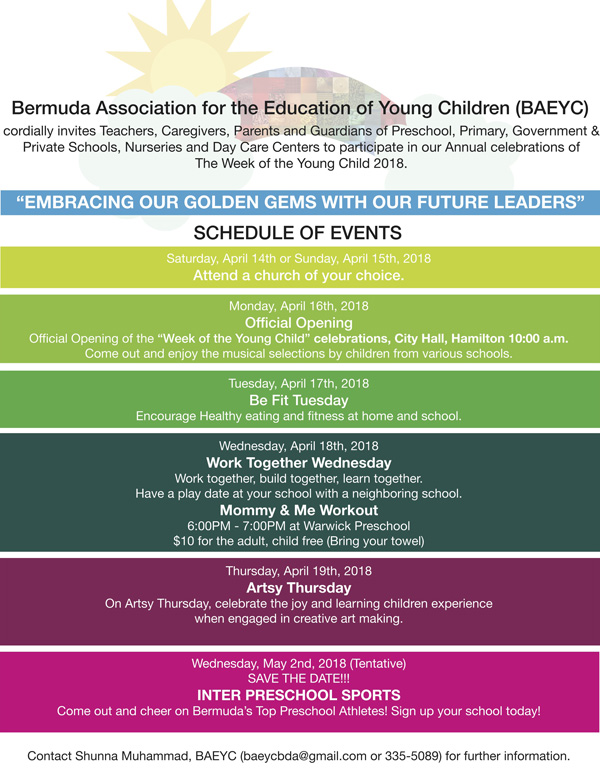 Read More About
Category: All