Eric Wiberg, the writer of the book "U-Boats Off Bermuda," will attend a book signing event tomorrow [April 5] at the National Library, starting at 6.00pm.
An excerpt from the book's introduction says, "During World War Two Bermuda not only sent forth convoys, escorts, and aviators to attack or evade submarines, it also welcomed over twelve hundred survivors from wrecked merchant marine, Royal Canadian Navy, and US Navy survivors to its shores.
"There are also fifteen sailors buried in Bermuda between 1940 and 1944, perished in accidents aboard eleven Allied ships. Overall, nearly 4,657 Allied sailors were thrown into the ocean by German or Italian submarine attack around Bermuda.
"Of those, 1,208 or roughly a quarter perished, the balance finding safety ashore, mostly by drifting for days in lifeboats and being rescued, but some of them by being retrieved from the water by Bermuda-based aircraft.
"This is the story of the nearly 100 Allied ships which deposited hapless and distressed mariners ashore in Bermuda between 1939 and 1945, particularly those whose ships were sunk by German U-boats and a lone Italian submarine. There were nearly eighty merchant marine ships sent to the bottom by U-boats in a 450-mile radius around the island.
"They represent nearly half a million tons of shipping destroyed or attacked—474,795 gross registered tons. About a dozen voyages were destined for Bermuda or originated there, and their loss, particularly of passenger ships, was keenly felt by the island's population. Bermudians were forced to realize that despite their relative proximity to the mainland of America, they were in many ways cut off by sea.
"Some vessels like the merchant ship Anna and its escort the irascible US Navy tug USS Owl encountered the enemy more than once, as did seasoned aviators based in Bermuda who managed to sink two German subs. One of the pilots, killed in action weeks later in Europe, never received the recognition due him until this study.
"When the Germans found their targets at Cape Hatteras—nicknamed Torpedo Junction – tapering off they intentionally moved their depredations east towards Bermuda, to catch vessels using that route to avoid the lethal capes, keeping the Allies tasked with hunting them perennially off balance.
"This is not a study of the social or political or even military situation on Bermuda itself in World War Two—there are others including Jonathan Land Evans who have covered that topic in great detail. In this study Bermuda is seen as a pivotal hub around the activities of over 200 vessels—submarines and merchant ships—revolved.
"One could even think of Bermuda as a rescue ship—a highly welcome destination and landing spot for desperate survivors cast into the North Atlantic and its often cold waters. Most of them were quickly packed off to serve on other vessels in other theaters of the war, also fraught with danger. For most of them, their cherished days in Bermuda were uniquely restful ones.
"There are many tempting distractions from the core story of U-boats versus merchant ships in and around Bermuda in World War Two. There were the early convoys which sent forth the famously brave men of the escort Jervis Bay, attacks by breakout German commerce raiders to the east, the story of accelerated construction of naval air stations and a NOB, or Naval Operating Base in Bermuda, the arrival of Sir Winston Churchill or the Duke and Duchess of Windsor in transit, or the capture of suspected spies on merchant ships, the harboring of the captured and highly secret U-505 on the island, the enabling of a small army of censors, and the utilization of six French submarines as well as eight Italian submarines for use as testing by some 500 Allied ships in Bermuda and the mainland.
"But they all lead away from the core tale, which is submarines and their victims off the island, and resultant arrival on it.
"It is precisely because of the relative invisibility of these victims—the fact that the attacks all occurred hundreds of miles from land and were unseen by anyone except the participants—that the author strives to have these stories heard.
"That men and women of all races and religions—crew from the Far East and India, passengers from Europe, and North and South America, made it ashore in Bermuda is extraordinary. A coterie of women who ran various benevolent organizations graciously opened their homes to the survivors, as did hoteliers and the indefatigable Dickie Tucker, who founded both the Bermuda Sailors' Home as well as the Guild of the Holy Compassion. This is their story.
"U-boats off Bermuda deals also with U-boat attacks and survivor stories from Bahamas and New England. In that sense, Bermuda is pivotal. The area covered herein is roughly 400,000 square nautical miles, and since the Bahamas area covered one million, there is some overlap in vessels. However, aside from survivors who found themselves taken from Bermuda to New England, there is little overlap with New England.
"Canada, New York, Cape Hatteras, the Gulf of Mexico, and the Caribbean are not covered because other authors have already ably done so. By contrast, the topic of the war in Bermudian waters has not been addressed, and nor was it likely to be.
"The reasons this story has not been told are manifold: we do not tend to move activities which were far beyond our horizon of sight and knowledge into the forefront unless it is done for us; the loss of half a million tons of shipping and over 2,000 Allied sailors represented a black eye for the Allies; Bermuda was essentially 'out there'—a colony of Great Britain, not a country of its own, distant and afar from any neighbors; and finally, the story of the German and Italian exploits have been unheralded for the simple reason that for a time it represented an Allied loss, and to the victor goes the privilege, generally, of telling the tale.
"This particular tale will remain no longer omitted or overlooked, and this book aspires to add another 400,000 square miles to the vast and yet growing lexicon of World War Two.
"The goal of this book is to both inform and entertain, and perhaps to inspire empathy not only for the mostly civilian victims of Axis submarine attack, but also for the indubitably brave Axis submariners who were attacked with increasing and fatal ferocity towards the end of the war. Without U-boats attacking, there would be no stories of stoic Allied response and survival. The German and Italian stories bear telling.
"There were 143 Axis submarine patrols to the area resulting in attacks on eighty Allied vessels, including one naval ship [USS Gannet]. The most intense period of attacks was between January and August 1942, and the German offensives during this period were named Operation Drumbeat [Paukenschlag] and Operation New Land [Neuland].
"One of the submarines was Italian and sailed for the Betasom Flotilla, a joint venture between the Germans and Italians based in Bordeaux, France. U-505 was not on a patrol when it came to Bermuda in June 1944; it had been captured and was taken to the island in secrecy for analysis.
"Operation Paukenshlag [literally translated as timpani beat, or drumbeat], was ordered by Adolf Hitler shortly after Germany declared war on the United States on 11 December 1941 [in the immediate aftermath of the attacks on Pearl Harbor by Japan]. In order to reach the US coast off New England, New York, the Virginia Capes, and Cape Hatteras, the most direct route took the submarines through the Bermuda region.
"This applied to their return voyages to bases mostly in France as well. En route to and from the US, the subs, of course, continued to sink lone shipping targets. Overall, these attacks were devastating on the largely undefended US coastline: 609 ships of 3.1 million tons—roughly 25 percent of all Allied merchant ship losses in the war—were sunk at a cost of twenty-two Axis U-boat losses.
"In the Bermuda region, eighty ships were lost at a cost of two enemy submarines [U-158 and U-84]. The first wave of Drumbeat boats—the larger Type IXs—departed France on 18 December 1941, and arrived off Bermuda starting on 20 January 1942. During a few weeks, Hardegen in U-123 sank seven ships, Kals in U-130 took six, Zapp in U-66 five, Bleichrodt in U-109 four and Folkers in U-125 sank a single ship.
"There were five waves of Operation Drumbeat. Operation New Land, which followed, was aimed more to the south and the Caribbean but the U-boats still skirted Bermuda. These included the smaller, more maneuverable Type VII submarines. Looking at a composite chart of all Axis submarine patrols around Bermuda, it is clear that most of them were heading to or from Cape Hatteras, the Straits of Florida, the Windward Passage, the Bahamas, and Caribbean.
"Patrols to the Bermuda area lasted for thirty-two months, from January 1942 to August 1944, with 11 months in that period during which no patrols had begun. The first patrol to the Bermuda region began on 20 January 1942, and the last patrol began 24 August 1944.
"There was only one day—2 March 1942—where four submarines entered the region on the same day. There were five on 8 February 1942, 21 March 1942, 11 April 1942, 17 April 1942, and 9 July 1942, when three subs entered on one day. Subs entered the region in pairs on nineteen occasions. The busiest single month for patrol commencement was April 1942, with twenty-five patrols begun that month—almost one a day."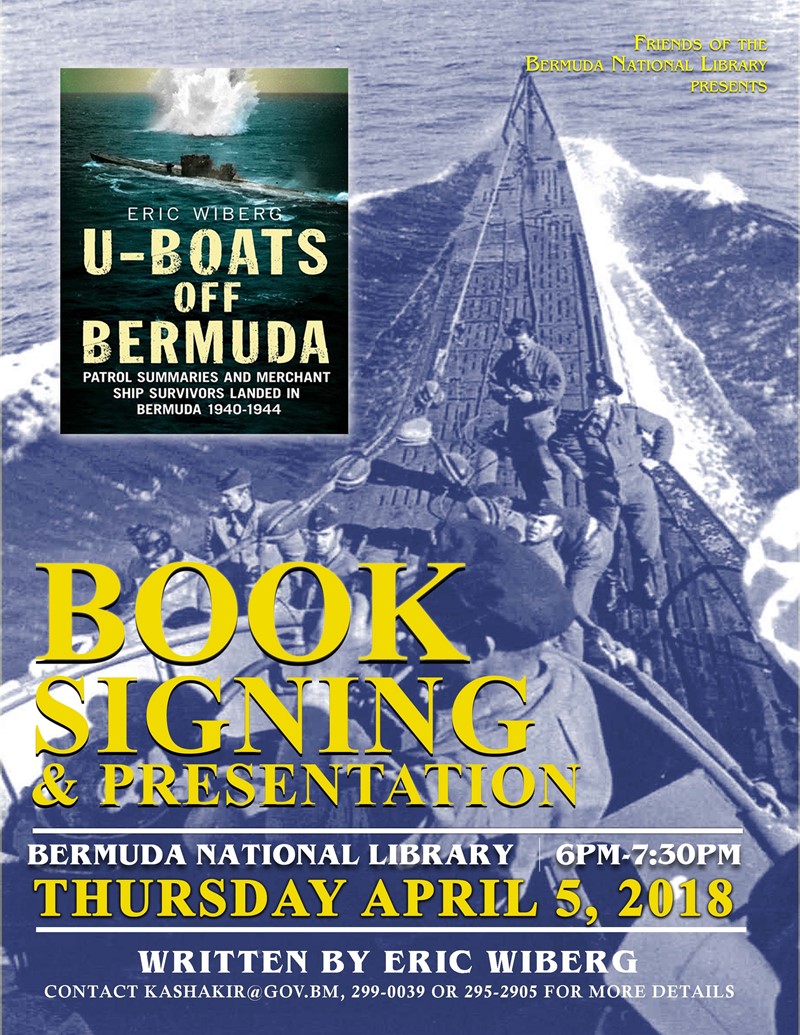 "The most active single day was 28 April 1942, during which there were no fewer than fourteen Axis submarines patrolling the waters around Bermuda.
"Who were these submariners who attacked the vulnerable underbelly of the new world so persistently, and then dispersed for other more fruitful waters—like the Bauxite route of north-eastern South America—as quickly as they arrived? The average commander departed and returned to France, spend just over one week in aggregate in Bermudian waters per petrol, was thirty years of age, and sank an impressive ten ships of 50,000 gross tons.
"It is not surprising that German submarine commanders boasted of working for the largest ship-scrapping effort in the history of the world. The longest patrol in the area around Bermuda was by Hans-Ludwig Witt in U-129 and lasted twenty-four days. There were three patrols—by U-84, U-509, and U-156—which were merely dips into the region for a day or so.
"There were six patrols that lasted over twenty days, twenty-three that lasted from eleven to nineteen days, and nine that lasted ten days. A dozen patrols spent nine and eight days in the area, six spent seven days, fourteen spent six days, fourteen spent five days, twenty-three spent four days, fourteen spent three days, six spent two days, and three spent a single day there.
"There were only two U-boat commanders who patrolled the Bermuda region three times; Horst Uphoff in U-84, who was sunk by Allied aircraft south of Bermuda on 7 August 1943; and Reinhard Suhren [known as 'Teddy' to his colleagues], in U-564. Aside from those two, there were twenty-nine skippers who made two patrols to the Bermuda region, among whom Erwin Rostin in U-158 and his crew, who were lost west of Bermuda on 30 June 1942, also to Allied aircraft based in Bermuda.
"There were seventy-eight commanders who made one patrol to Bermuda, plus U-505, which was under the command of the US Navy when it arrived in Bermuda in June 1944. Overall, there were 108 individual U-boat commanders who led 143 patrols, indicating that thirty-five submarines came back for multiple patrols.
"The ranks used to categorize U-boat commanders were those they attained at the end of their careers. There were seventy-one commanders with the rank of Kapitänleutnant and forty-eight who were ranked Korvettenkapitän. Eleven attained the rank of Oberleutnant zur See and one of Oberleutnant zur See [R]. Nine were Fregattenkapitän and only one [Heinz-Ehler Beucke] was Kapitän zur See.
"Di Cossato, the only Italian commander, was ranked Capitano di Corvetta. Erich Topp in [among others] U-552 sank the most ships during his overall career; thirty-five ships for 197,460 tons, followed by Heinrich Lehmann-Willenbrock in U-96 who sank twenty-seven ships of 194,989 tons. Georg Lassen of U-160 sank twenty-six of 156,082, followed by Heinrich Bleichrodt of U-109 who sank twenty-four ships of 151,260 tons.
"At the other end of the spectrum, Rupprecht Stock in U-214 sank only a single ship of 200 tons, and twelve other skippers did not sink any ships at all over the course of their careers.
"Certain commanders achieved multiple attacks in the Bermuda region in 1942–1944. Di Cossato of the Enrico Tazzoli, Scholtz of U-108, Hardegen of U-123, and Schnee of U-201 all attacked five ships. Bleichrodt in U-109 and Rostin of U-158 attacked four each in the region, and the following each attacked three ships: Von Bülow of U-404, Witt in U-129, Rasch in U-106, Feiler in U-653, Forster in U-654, and Flachsenberg in U-71.
"These skippers each claimed attacks on two ships: Schuch in U-105, Linder in U-202, Würdemann in U-506, Suhren in U-564, Hirsacker in U-572, and Markworth in U-66. The most decorated commander to have patrolled Bermuda was Reinhard "Teddy" Suhren, with the Knight's Cross with Oak Leaves and Crossed Swords with the War Merit Cross 2nd Class with Swords added in 1944 and the U-Boat War Badge with Diamonds in March 1942.
"Erich Topp of U-552 also earned the Knight's Cross with Oak Leaves and Crossed Swords and the U-Boat War Badge with Diamonds. Otto von Bülow of U-404 also received the Knight's Cross with Oak Leaves, as well as the U-Boat War Badge with Diamonds and the War Merit Cross 2nd Class with Swords, very similar to Suhren's but without the Crossed Swords to the Knight's Cross.
"On the Italian side, Carlo Fecia di Cossato of the Enrico Tazzoli was awarded their armed service's highest decoration: a Gold Medal of Military Valor as well as two silver medals for bravery. He also had an Italian Navy submarine named after him in 1980. Kurt Diggins, German commander of U-458 was awarded the Italian medal in Bronze for Military Valor.
"Overall, sixty-one out of the skippers of 143 patrols were awarded Knight's Cross in some iteration, and forty received no decorations over their career. The balance received a variety of awards and additions to the Knight's Cross, including Wounded Badge in Silver with U-Boat Front Clasp, Iron Cross First Class, U-Boat War Badge 1939, Iron Cross 2nd Class, and German Cross in Gold.
"Overwhelmingly, most of the boats—sixty-eight out of 143—were Type VIIC, followed by the Type IXC, of which there were forty-two. There were thirteen IXB, eight IXC/40, and six VIIB and three VIID types. There were three milk cow-type tanker subs of the XIV type and one Italian of the Calvi Class.
"Overall, there were eight classifications of sub; however, three were iterations of the VII type [seventy-seven overall] and three types of the IX class [sixty-three overall]. There were four U-boats that returned for three patrols to the Bermuda area: U-84, U-98, U-129, and U-564.
"It is noteworthy that the submarines did not necessarily have the same commanders for each patrol. There were sixty-three U-boats that returned to the region twice, and sixty-nine for whom there were only single patrols to the area.
"There was a total of nine different flotillas represented by the submarines which attacked the region. However, membership in a flotilla did not necessarily determine which ports the subs sailed to or from, as they moved from base to base, flotilla to flotilla, and repositioned.
"Members of the tenth Flotilla, for example, sailed from Saint Nazaire, Lorient, Kiel, Helgoland, Kristiansand, Lorient, and La Pallice. There were forty-one submarines in the 2nd Flotilla, twenty-five in the 1st, twenty-three in the 10th, and twenty in the 7th. The 3rd Flotilla was represented by eighteen U-boats, the 6th Flotilla by seven, the 9th by five, and the 12th by two—the tanker boats.
"The lone Italian submarine in the region sailed for the Betasom Flotilla based in Bordeaux, France ['Beta' is for Bordeaux and 'Som' for Sommergibili, the Italian word for submarine].
"Most of the Axis submarines which patrolled Bermuda—fifty-two out of 143—left from Lorient. Thirty-one departed from St. Nazaire, also in France, and twenty-nine from Brest. A further thirteen left from La Pallice [near La Rochelle] and two departed from Bordeaux.
"A dozen departed from Kiel in Germany, two from the island base of Helgoland [Heligoland in Danish], and two left from Kristiansand in Norway, using their patrol to the Americas to reposition from the Baltic to French ports. Lorient was the lead port for the U-boats to return to after their patrols, with fifty-four submarines going there, followed by thirty to St. Nazaire, and twenty-three to Brest. There were nineteen U-boats sunk or captured.
"La Pallice had thirteen U-boats return there following Bermuda patrols, Flensburg two, Bordeaux two, and El Ferrol [in neutral Spain] one. U-505 was captured on the high seas in the North Atlantic away from Bermuda but taken to the island, and two submarines—U-158 and U-84—were sunk near Bermuda. Three subs were sunk in the Bay of Biscay en route to France, three off Cape Hatteras, and one each off Panama, Virginia, Key West, New Orleans, the Azores, Cuba, Haiti, and Halifax.
"The age ranges of the commanders of submarine patrols around Bermuda were between twenty-three [Offermann and Carlsen] and forty-seven [Wolfbauer, who had fought in World War One]. There were sixty-three commanders killed in the line of duty or otherwise—one committed suicide rather than face execution, and another dove from the conning tower and struck a saddle tank.
"This study does not account for whether commanders became Prisoners of War during or after the conflict, only whether they survived the war. Perhaps the most striking statistic is that there are estimated to be, at the time of writing in May 2017, eleven commanders who are still alive.
"They are: Carlsen, Petersen, Lauterbach-Emden, Stock, Markworth, Wissmann, Wintermeyer, Hardegen, Siegmann, Geissler, Schulze, Schutze, and Borchert. It is well known that the Axis submariners, particularly German U-boat officers and sailors, suffered death rates of roughly 66 percent over the war—the highest such ratio experienced on either side by any branch of the services.
"This compares with the merchant mariner's death rate of 25 percent in Bermuda. If one compares apples to apples, only two out of 143 Axis submarines were sunk, and thus only a small fraction of their mariners actually perished in the Bermuda sphere; rather, most of them were killed while positioning to or from the Bermuda region or on later patrols."

Read More About
Category: All