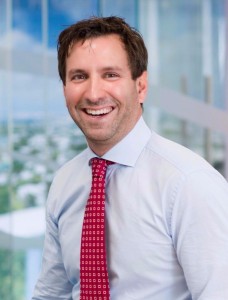 Bermuda Tourism Authority CEO Kevin Dallas has given a wide ranging interview to the Gay Star News website, telling them that "as a gay Bermudian, I feel pretty lucky to have been born here," and "despite this more recent setback, Bermuda's track record on advancing LGBT rights in the last 20 years is pretty good."
The Tourism CEO also stressed that LGBT visitors are welcome in Bermuda, telling the website that "sometimes the law might lag behind. But LGBT travelers can feel safe in Bermuda."
Asked "how did you feel personally when you heard about the marriage equality reversal," Mr Dallas told them, "The only answer is disappointed.
"However, I would say that it was personally complicated for me, because my partner and I were civil unioned in the UK. For us, the Domestic Partnership Act  actually means new rights we didn't have before.
"So on the one hand, I was personally disappointed that something was taken away. On the other, pragmatically, this law leaves my partner and I in a better place.
Mr Dallas explained, "One of the reasons the Tourism Authority opposed the Domestic Partnership Act is that while we recognize that on balance it added more than it subtracted, we also recognized it boils out to a really unattractive headline.
Asked by Gay Star News what he would say to "an LGBTI traveler who has a perception that Bermuda is LGBTI-unfriendly because of the law change," Mr Dallas said, "I would say two things.
"The first is very straightforward. LGBT visitors are safe and welcome in Bermuda. Bermuda's tourism industry clearly is committed to inclusivity and treating all visitors with respect.
"The second thing is a bit more nuanced. As a gay Bermudian, I feel pretty lucky to have been born here and not the many other places where LGBT travelers go looking for a Bermuda-Like experience. Despite this more recent setback, Bermuda's track record on advancing LGBT rights in the last 20 years is pretty good.
"We won same-sex partner immigration rights, we won same-sex partner adoption rights. Gays and lesbians can serve in our military. We have no ban on transsexuals like President Trump is trying to force in the US. And the Domestic Partnership Act gives us, as I said in the beginning, civil rights of marriage.
"It's short of what we want, however, if you take the emotion out of it, and you compare Bermuda to most other island nations, Bermuda actually has a pretty progressive track record."
The BTA CEO added, "There's a difference between reaching out to a community that's got a negative message to reassure them they are welcome and safe, verses actively targeting that community as travelers.
"It would be a rather bizarre thing to do to suddenly launch a big drive for LGBT visitors after passing the Domestic Partnership Act. That's not what anybody here, or [at least] anyone at the Tourism Authority is talking about.
"What we recognize is that the passage of that act left many people confused and wondering. Our ambition is to reassure them that actually, regardless of the law, they are welcome."
The above represents only a small portion of the interview, and you can read the full interview with Mr Dallas here on Gay Star News.

Read More About