Bermuda International Long Term Insurers and Reinsurers [BILTIR] have successfully concluded a 12-week math tutorial programme for students at CedarBridge Academy.
This is the third year that this tutorial programme has been offered to students at CedarBridge Academy, providing weekly study sessions that focus on the school's mathematics curriculum and exam preparation.
The sessions are available to all students who want to attend after school and are led by employees of BILTIR member companies, typically with a finance background.
Students with their BILTIR tutors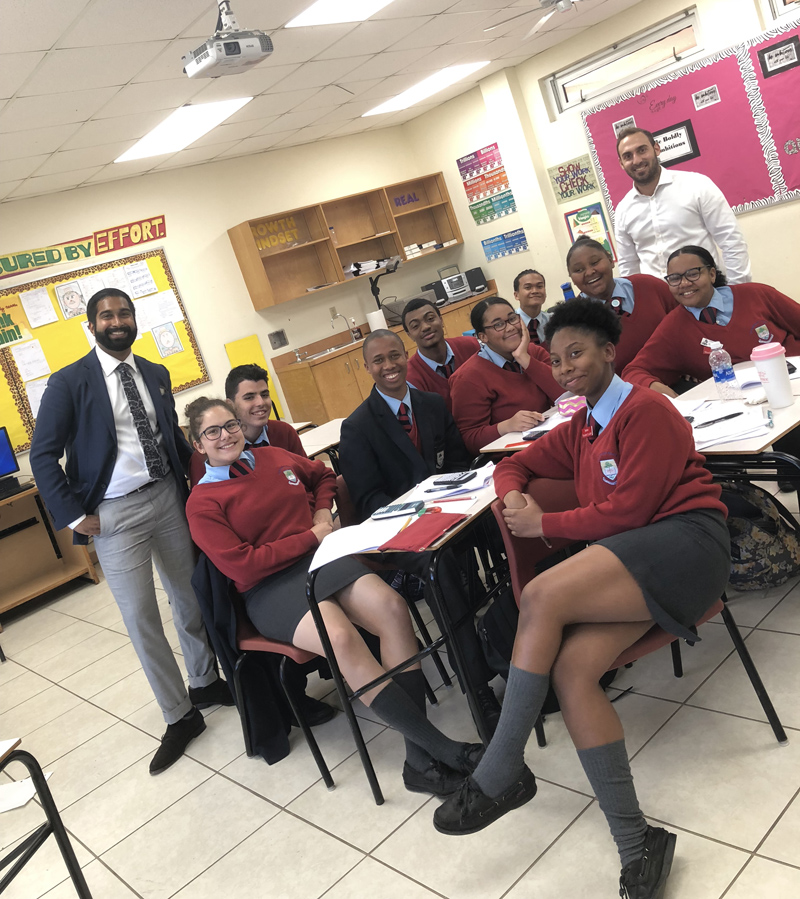 The programme, which began in February, came to a conclusion this week as students prepare to sit for their IGCSE exams in May.
As part of the tutorials, students were provided with real life applications for the maths they were studying, to reinforce their understanding of the subject and to stimulate their interest. Study methods and exam preparation techniques were also covered in the sessions.
One student described the experience as "very helpful in [their] exam preparation" and that it was useful that the instructors were able to "explain how math is used in everyday life."
Robert Steede, Instructional Leader for Mathematics at CedarBridge Academy, said: "We are grateful to BILTIR for their continuing support of the maths curriculum at CedarBridge Academy. The tutors who have given their time to this programme are inspiring role models to our students and provide valuable insight into the real-life application of math."
Andrew Sooboodoo, Chief Risk Officer at Legal & General Reinsurance, coordinator of the programme, said: "It has been a privilege to work with Mr. Steede to enable BILTIR to provide extra maths tuition to CedarBridge students as part of BILTIR's program of community support focused on education.
"BILTIR is committed to cultivating local talent in the international business industry and a strong maths education is a part of that. The BILTIR volunteers have thoroughly enjoyed their time at CedarBridge Academy and we wish the students all the best in their upcoming exams."

Read More About