Members of the Bermuda International Long Term Insurers and Reinsurers [BILTIR] are once again helping CedarBridge Academy students prepare for success in their year-end mathematics examinations.
Now in its fourth year, BILTIR's Math Tutorial Program matches high-school students with life and annuity insurance professionals to provide mathematics coaching before critical exams.
Nine young professionals from BILTIR member companies, each of whom have strong math backgrounds, visit the school for eight weekly sessions focused on the mathematics curriculum. The non-mandatory sessions are conducted after school hours, underscoring students' commitment to their own success.
BILTIR Math Tutorial Program with CedarBridge students Judah Smith-Dyer, Dequan Trott, Jasmeen Codrington-Edward and BILTIR coordinator Kevin Miller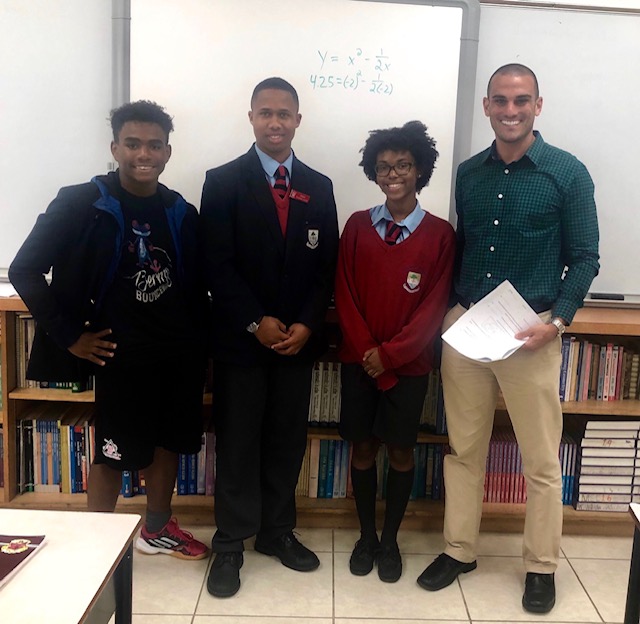 "It was a pleasure working with the students of CedarBridge again this year," said Kevin Miller, a life actuary with Wilton Re Bermuda, and the coordinator and a volunteer himself with the program. "Each week was a very positive experience. BILTIR wishes the best of luck to students on their math exams."
The 2019 program, launched in February, provides students with real-life applications to reinforce their understanding of syllabus content while stimulating interest in the subject. Effective exam preparation techniques are also provided to help reduce student' test anxiety and improve their overall attitude towards test taking.
"The Mathematics Department—particularly teachers whose students attended the BILTIR tutorials every Thursday afternoon—is most appreciative of this partnership forged with CedarBridge Academy," said Robert Steede, Instructional Leader at the school.
"The greatest benefit provided by BILTIR volunteers for our students has been the link between mathematics taught in their regular class and its applications in the workforce, particularly probability and statistics.
"During the sessions, students often receive reinforcement of methodologies used by their teachers, replicated by tutors, and sometimes alternative strategies for solving problems. Another benefit is that tutors have the opportunity to share their career pathways, education, and opportunities with students who may be considering that industry route for their future."
Senior CedarBridge students write the Cambridge International General Certificate of Secondary Education [IGCSE] examinations in mathematics later this month. The IGCSE exams are internationally recognized and accepted by universities and employers as proof of mathematical knowledge and understanding.
"It is very exciting for BILTIR to provide such a service to the community, as it not only facilitates reinforcement of the mathematics curriculum for examinations, but also provides students the opportunity to learn more about careers in the international business sector," said Wenda Roberts, Corporate Administrator, BILTIR.
"BILTIR is committed to attracting more local talent to the global business sector through its BILTIR Scholarship and our Summer University Intern Program."

Read More About