[Written by CedarBridge Academy Business and IT Teacher Latoya Francis]
The quotation, "Iron sharpens Iron," makes me reflect on a discussion with my colleague, Mrs. Dawn Nichols-Marshalls, a Business Studies Teacher at CedarBridge Academy's sister school, The Berkeley Institute.She informed me of a new initiative they intended to pursue, one that sparked a great interest in me. I presented the information to my Principal, Mrs. Kalmar Richards, that summer asking how we would be able to adopt this program that would provide our students with Entrepreneurial Business skills.
It was this spark between sharpening irons that saw CedarBridge Academy [CBA] implementing the new business course entitled, Virtual Enterprise International [VEI], an internationally accredited programme that has been endorsed by local corporate partners ABIC and HSBC in Bermuda.
As the Business Studies Teacher, I, along with business mentors from HSBC, facilitated students' creation and management of their virtual business. This included, product development, production and distribution of marketing, sales, human resources, accounting/finance, and web design.
As you can imagine, even from a mere assessment of its name, the course has remarkable implications to transform students into business professionals, and to prepare them for universities globally through the simulation of a virtual business environment.
With an emphasis on college and career readiness, VEI provides students with a competitive edge by introducing skills in problem solving, communication, project-based collaborative learning, as well as the development of 21st-century skills in entrepreneurship.
Front Row: Gershonae Tait and Khyah Bagley- Pearman [Deputy Head Girl]; From left to right: Azjahnae Simons, Mrs. LaToya Francis [Teacher], Saige Ming, Zyair Scott, Tomiko Douglas, Bishop Zanders, Jhon Besalo [Head Boy], Nadir Young, Danielle Henry, Azre Smith, and Priya Phillips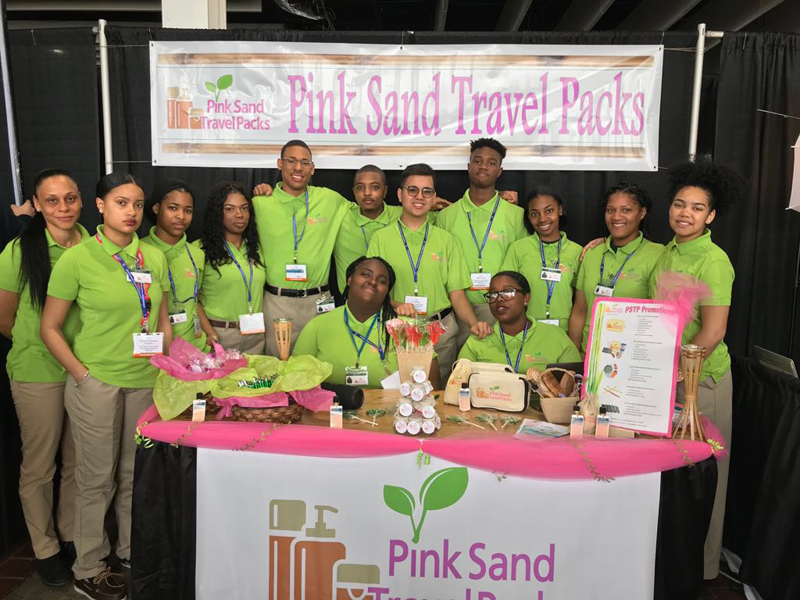 The CBA VEI students created an eco-friendly, bio-degradable travel amenity kit company called, Pink Sand Travel Packs, with an aim to decrease pollution and promote sustainability through the production of customized, fashion-forward travel packs. Students aspired to solve two world-wide problems, the first being pollution and the second, convenience through travel.
Their products are reusable, eco-friendly and biodegradable to sustain the earth, while avoiding pollution that comes with hazardous plastics, and staying true to their mission statement, "To nurture and create a sustainable environment by providing the traveler with bio-degradable bamboo travel packs, that minimize their carbon footprint."
Deputy Principal Kalreta Conyers-Steede, the students and I traveled to The Youth Summit on April 16-19th 2018 in New York at the Microsoft Center. This summit allowed thousands of students to come together with educators, business professionals and leaders to participate in a week of various competitions.
The following students had the awesome opportunity to travel and had an experience of a lifetime: Khyah Bagley-Pearman, Jhon Besalo, Tomiko Douglas, Danielle Henry, Saige Ming, Priya Phillips, Zyair Scott, Azre Smith, Gershonae Tait, Azjahnae Simons, Nadir Young, and Bishop Zanders.
There were several events students were able to participate in with over 150 schools and 4,300 attendees. Key events included:
National Human Resource [HR] competitions – Students had to tender a 5-7-minute oral presentation on the HR procedures of their company and policies, identifying the core values of their company—values governed by the Bermuda Employment Act 2000.
Global Business Challenge – Students were given 90 minutes to analyze and deliberate on a real world business case study. This analysis included identification and assessment of the risks and opportunities, as well as challenges of the business. Out of a total of approximately 30 teams of 7-10 students each, three of our CBA students placed on the top 7 teams. These were Jhon Besalo Human Resource Manager, Danielle Henry, Human Resource Associate, and Nadir Young Accounts Associate.
CEO of Pink Sand Travel Packs, Tomiko Douglas, did exceptionally well as he placed first overall with his teammates. This was quite a proud moment for CBA, with excitement and jubilation among fellow students.
Our star, Tomiko, a true trailblazer, who also is a shining star for the CBA Wildcats basketball team, will make a marked impression on Bermuda's Business world with both his debonair personality and critical thinking skills.
As we develop and create global Business students with habits for success, we should keep in mind wise words from Tim Fargo: "Who you are tomorrow begins with what you do today."

Read More About