The Confederation of North, Central America and Caribbean Association Football [Concacaf] confirmed today the kickoff of the Concacaf Caribbean Qualifiers for the 2018 Women's Championship.
The first of the five groups is set to kick off on Saturday, May 5, with the balance of the matches to be played throughout the month, across five venues across the Caribbean.
Dominican Republic [May 5-13], Haiti [May 9-13], Trinidad and Tobago [May 19-27], Antigua & Barbuda [May 23-27] and Guyana [May 23-27] will each host a group of the championship. The participants in each group were sorted during the official draw earlier this year.
The final round of Caribbean qualifying will be held from August 25 — September 2, among the five first-round group winners. The top three finishers of the final round will qualify to the 2018 Concacaf Women's Championship.
The organisation said, "The United States will welcome the region's top women's national teams for the 2018 Concacaf Women's Championship, which will crown a regional champion and qualify three teams directly for the FIFA Women's World Cup France 2019, plus the fourth-place finisher to an intercontinental playoff. The women's championship is scheduled to be played October 4-17, 2018 in N.C., Edinburg, Texas, and Frisco, Texas.
"As part of a year of women's football in Concacaf that includes the expanded Girls' Under-15 Championship, and the Women's Under-17 and Under-20 Championship, the Caribbean regional qualifying championship will provide access to top level international football to 22 Caribbean Member Associations and over 300 players, enhancing opportunity for development and growth of the women's game in the region. In total, nearly 2000 female athletes will participate in the Concacaf championships this year across the region."
Concacaf Caribbean Women's Qualifiers Schedule [PDF here]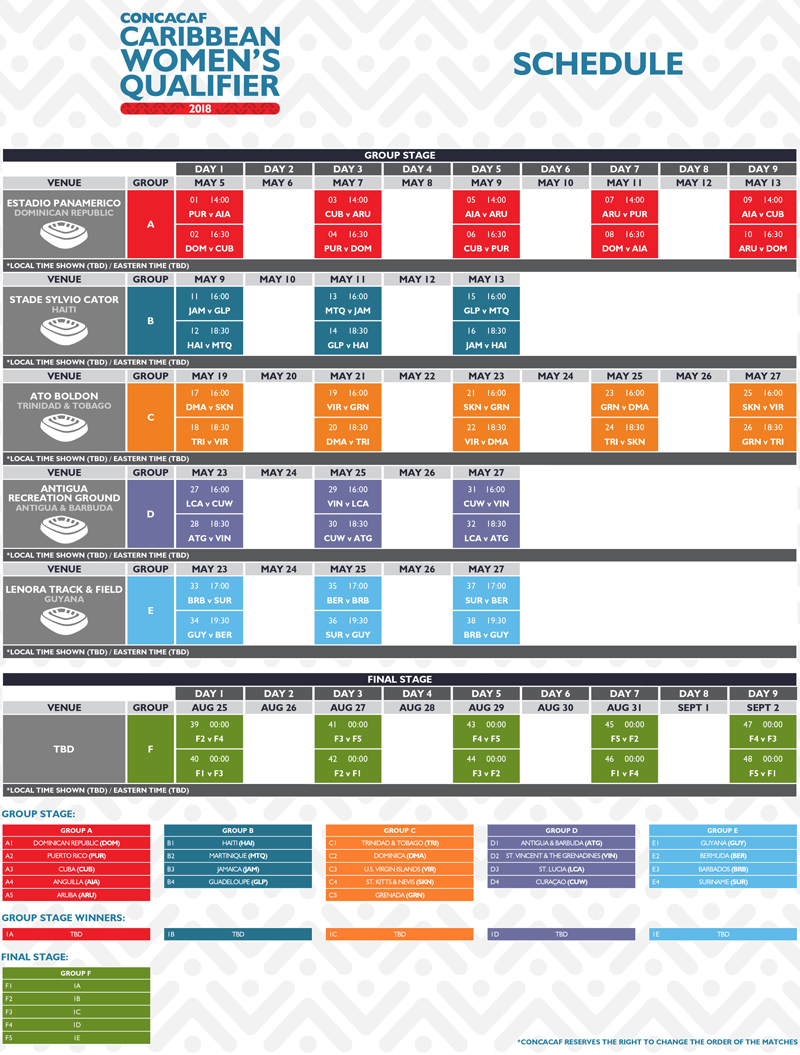 2018 Concacaf Caribbean Women's Qualifier – Match Schedule of Group E, which Bermuda is in
Group E – Guyana, Lenora Track & Field
Wednesday, May 23, 2018
17:00 Barbados vs Suriname
19:30 Guyana vs Bermuda
Friday, May 25, 2018
17:00 Bermuda vs Barbados
19:30 Suriname vs Guyana
Sunday, May 27, 2018
17:00 Suriname vs Bermuda
19:30 Barbados vs Guyana

Read More About