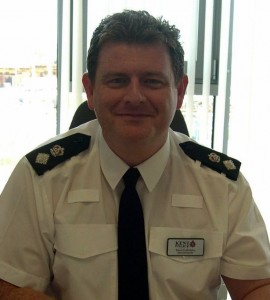 [Updated] Governor John Rankin has appointed Chief Superintendent Stephen Corbishley — who currently serves with Kent Police in the UK — to succeed Mr Michael DeSilva as Commissioner of Police of Bermuda.
"This appointment is made following an open recruitment process in line with international best practice for selecting Chief Officers. There were 6 candidates of whom 3 were Bermudian," Government House said.
"Mr Corbishley, who currently serves with Kent Police in the UK, will be appointed for a 5 year term. He has a strong and deep level of skills and experience, having held command positions in both operational and crime divisions in UK policing.
"He has considerable strategic experience, including a secondment to the National Crime Agency, which will serve the Bermuda Police Service well as it adapts to emerging global security threats.
"Mr Corbishley is widely respected for his strong partnership approach to policing and his commitment to developing capability in the teams he leads. One of his priorities in taking up this Post will be to establish a programme for developing talented Bermuda Police officers with leadership potential to prepare them for senior command positions within the next 5 years."
Governor Rankin said "I am confident that Chief Superintendent Corbishley will serve Bermuda well in his role as Commissioner of Police over the next five years, bringing to the job a wide breadth of skills and experience.
"Looking forward, I am equally confident that there is leadership potential within the ranks of the Bermuda Police Service and I have tasked the new Commissioner to identify and cultivate that talent with a view to strengthening the Service at all levels and creating a clear succession plan for posts at the senior command level."
Update 6.24pm: Shadow Minister of National Security Michael Dunkley said, "The One Bermuda Alliance strongly believes that Bermuda should be for Bermudians first and foremost. The provision of hope, opportunity and empowerment at all levels of service is paramount.
"As a result it was our desire and expectation that another Bermudian would assume the rank of Commissioner of Police upon the retirement of Commissioner Michael Desilva.
"Whilst perhaps unfortunate that this did not happen the One Bermuda Alliance nonetheless respects the process which appears to have led the Governor, in his discretion, to form the view that at this point in time the talented officers who currently serve as Assistant Commissioners and Superintendents do not yet have a sufficient level of demonstrated experience and are therefore not yet ready to take on the role of Commissioner right now.
"It would be our hope that the new Commissioner will consider it a top priority to ensure that under his watch Bermudian Officers at every rank and level receive sufficient training and experience to enable them early consideration as future candidates to fill the two most senior roles.
Update May 31, 7.55pm: We asked Government House why the three Bermudian candidates were not deemed not suitable, and a spokesperson said, "It would not be appropriate to comment on the unsuccessful applicants for the job."
We also asked why there was not succession plan already in place to replace Commissioner DeSilva, and Government House said, "The position was advertised under a transparent and competitive process in line with international best practice. The chosen candidate was considered to be best qualified for the position.
"The Bermuda Police Service has a well-established programme of professional and career development together with an Executive Leadership Development programme. The Governor remains confident that there is leadership potential within the Bermuda Police Service and he has tasked the new Commissioner to create a clear succession plan at the senior command level."
"In the meantime we look forward to welcoming Commissoner Corbishley to Bermuda and wish him well in his new role."
Read More About