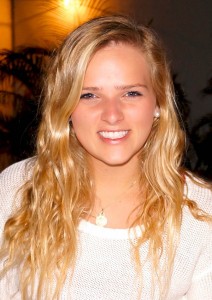 The Bermuda Rhodes Scholarship Selection Committee announced that Ms Deirdre J. Collins has been selected as Bermuda's Rhodes Scholar 2018.
"Deirdre is the daughter of Michael and Nancy Collins of St Georges Parish, Bermuda," their website stated.
"Deirdre attended the Bermuda High School until 2009. She then went to St Paul's School in New Hampshire, USA and graduated Summa Cum Laude and with Distinctions in Science & Humanities in June, 2013.
"In 2013, Deirdre entered Georgetown University in Washington, DC. She graduated Cum Laude in May, 2017 with a B.Sc. in Biology and a minor in French.
"Deirdre was a Chapman Medal Finalist for her thesis on the Juneau Icefield in Alaska and a Member of Sigma Xi, The Scientific Research Honor Society. While at Georgetown, in 2015, Deirdre spent a term at Sciences Politiques in Lyon, France where she pursued a course in African Studies.
"After graduating, Deirdre joined NY Green Bank, a New York State sponsored investment fund, as an investment and portfolio management analyst, researching new clean energy technologies and investment opportunities.
"Deirdre spent 2 months in 2016 crossing the Juneau Icefield [from Alaska to British Columbia], conducting research in glacier mass balance, alpine ecology, glaciology, geology, and climatology with leading scientists from around the world, and collecting samples to perform original thesis research on the succession of soil microbes after deglaciation.
"She also presented original analysis of vascular plant diversity for over 10 sites on the Juneau Icefield at the Earth and Space Science conference in San Francisco in December, 2016. Deirdre was also a research intern with Bermuda Institute of Ocean Sciences where she conducted coral, algae, and fish biomass surveys for the Coral Reef Ecology and Resilience Lab to assess the recovery of coral reefs in Castle Harbour.
"While at Georgetown, Deirdre acted in various roles with the university newspaper, The Hoya, attending and reporting on events in Washington and editing features. She also spent a summer working as an intern with the Royal Gazette.
"At St Paul's, Deirdre danced in a pre-professional ballet program and appeared in various performances, including the Nutcracker, both in school and in public theater. She was also a member of the St Paul's cross country team and competed in interscholastic races with other schools.
"Deirdre volunteered with the Georgetown University Afterschool Kids Program and worked with DC public school students, empowering them to make positive decisions for future success.
"She was also head coordinator & volunteer on a teen court project with the University of New Hampshire Law School to consdier how the New Hampshire court system impacts juveniles and proposing alternative sentences for juveniles.
"Deirdre plans to read for the MPhil Environmental Change & Management at Hertford College."

Read More About