Plastic Tides will host its #BYOBottle Paddle Fest event for the third year, on Sunday, June 3, kicking off Bermuda's annual plastic free weekend.
"Taking place at Snorkel Park, Dockyard, the Paddle Fest will raise awareness of the detrimental impact plastic is having on our ocean beds and ocean life, through a series of fun water-based activities suitable for the entire family, beginners and professional paddlers," the organisation said.
"During this plastic-free weekend, businesses and individuals are encouraged to significantly reduce their plastic footprint. By attending the event, individuals will learn how to tackle the issue of plastic pollution and adopt a sustainable and holistic approach to plastic-free living.
Students from Dalton E. Tucker Primary School take to the water with Plastic Tides founders Christian Shaw & Gordon Middleton and get to grips with the basics of stand-up paddle boarding as part of the SUP'r Kids Program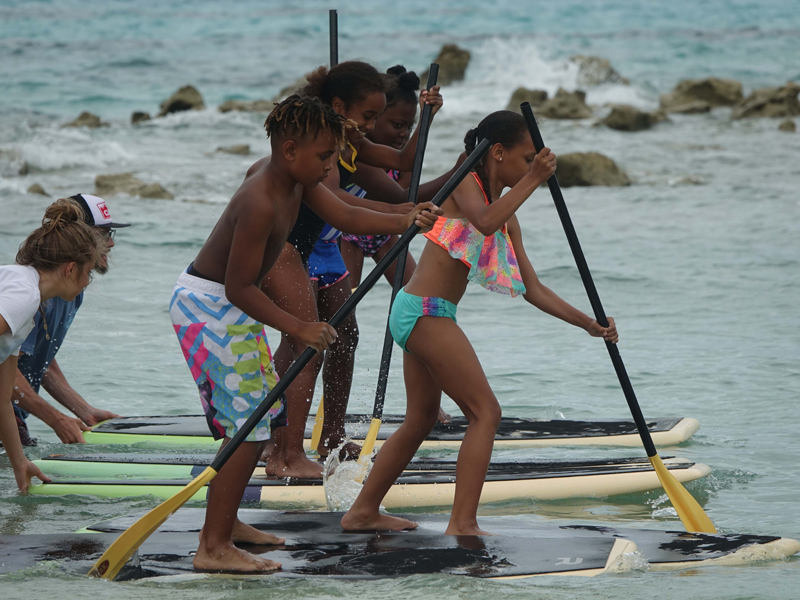 "Donations collected at The Devils Isle Paddle Fest will go to a free paddling programme for Bermuda's youth. The programme gives children access to paddling equipment to learn how to paddle safely, connecting them directly with nature. Last year, the progamme reached 100 kids.
"The Paddle Fest will be host to fun for the whole family, with classic water games like the 360 Challenge, SUP Limbo, and a Tandem SUP Sprint Tournament."
"We're very excited that we can showcase the beauty of Bermuda to the Protect Blue Conference this year," said Gordon Middleton, co-Founder at Plastic Tides.
"We've always felt that Bermuda has the unique opportunity to become a leader in sustainability and we want to show these change-makers just that. We also can't wait for this year's Plastic Tides Paddlefest on Sunday. There's nothing more fun than a day out in the sun, enjoying the water, and spreading the plastic-free message!"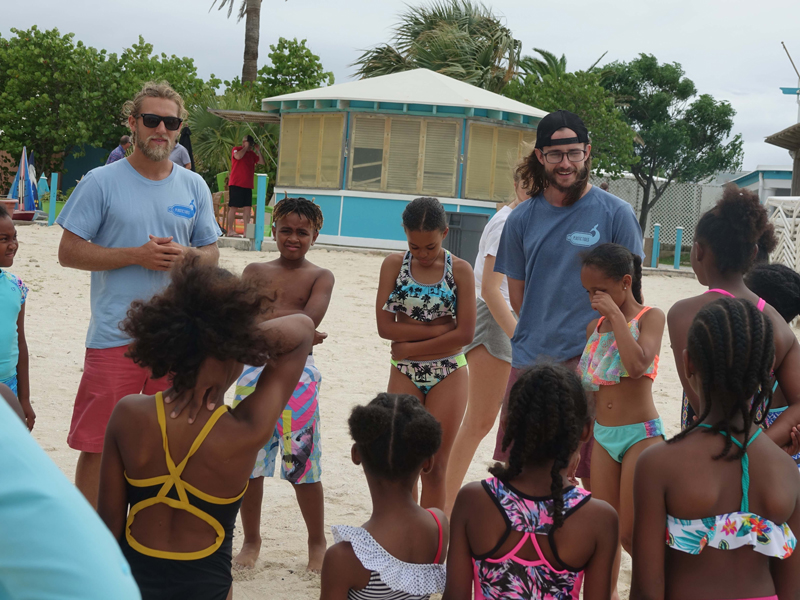 "It's great to be back in Bermuda to host this year's Paddle Fest and Devil's Isle Challenge. We strongly believe the future of our oceans depends on the decisions we make today, as well as fostering the next generation of ocean warriors," said Christian Shaw, co-Founder at Plastic Tides.
"We believe that Bermuda could be a plastic-free island, and just needs the right guidance to do so. We believe Paddle Fest will show the community how good it is to adopt plastic free living."
Paddle Fest takes place at Snorkel Park, Dockyard from 10am on Sunday, June 3rd. For more information on the day's schedule and to sign up to The Devil's Isle Paddle Fest, please visit: DevilsIsleChallenge.com
Restaurants taking part in Bermuda's 3rd Plastic Free weekend include: Devils Isle Café, Village Pantry, Nonna's Kitchen, Rock Island Coffee, Portofino, Beluga Bar, Yo-Cherry, Rosa's, Glaze, L'Oriental, Casa Blanca, Lobster Pot, La Trattoria, The Pastry Shop, Portocall, Little Venice, Bermuda Bistro, Cafe Lido, Mickey's, Seabreeze, Snorkel Park.
Read More About
Category: All, Environment