[Updated with video] The Football Festival Committee's first friendly international tournament is set to be held on May 7, May 9, May 11, and May 13.
A spokesperson said, "The Football Festival Committee has released the schedule for the opening matches of their first friendly international tournament, a tournament designed to give young men an opportunity to match their skills against their peers from other jurisdictions, measure their level of preparedness for international competitions, and to interact with persons from different cultural backgrounds.
"Essentially it should also serve to assist our coaches as they endeavor to prepare local youngsters for overseas tournaments.
"The round-robin tournament opens at the National Sports Centre on Monday May, 7th with the Bermuda Football Association U-19/20 Academy team, going against the visiting West Ham United U-19/20 Academy team. That game will kick off at 6:30pm and will be followed by the match between the visiting Sao Miguel U-19/20 select team and the Bermuda League Select.
"The second round of fixtures on Wednesday, May 9th, will be played at the BAA field with matches at 5:30pm and 8pm. Those matches will be free to students and seniors.
"We have scheduled those matches earlier to allow the visiting teams to experience the cultural mix at Harbor Nights in Hamilton. BAA will also be the venue for the third round on Friday, May, 11th, with kick-off times set for 6:30pm and 9pm.
"The round-robin tournament culminates at the National Sports Centre on Sunday, May, 13th with the First placed team at that stage pitted against the Second placed team to establish the overall winner, and the other match will pit the Third placed team against the Fourth placed team. The teams will arrive over the weekend and will be staying at the Willowbank Resort at the West End."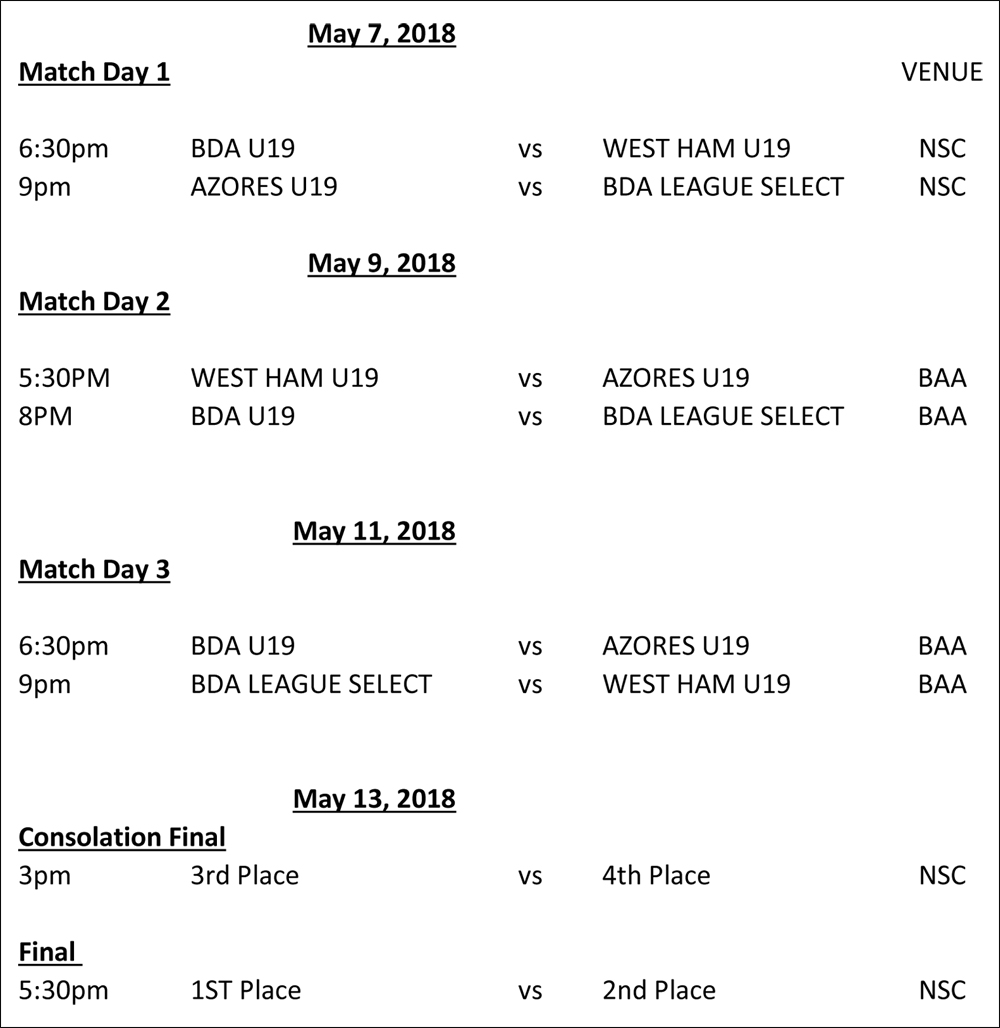 Read More About