[Updated: Scott Pearman will stand in Paget East and Justin Mathias will run in Warwick North East]
The OBA is holding a press conference this afternoon [May 10] where they are expected to announce their candidates for the upcoming by-elections in Constituency 22 Paget East and Constituency 25 Warwick North East.
The by-elections — which will be held on June 7th — were prompted by the resignations of former OBA MPs Jeff Baron and Dr Grant Gibbons, with Dr Gibbons representing Paget East, while Mr Baron represented Warwick North East.
Update: Mr Pearman, Opposition Leader Jeanne Atherden, and Senator Mathias: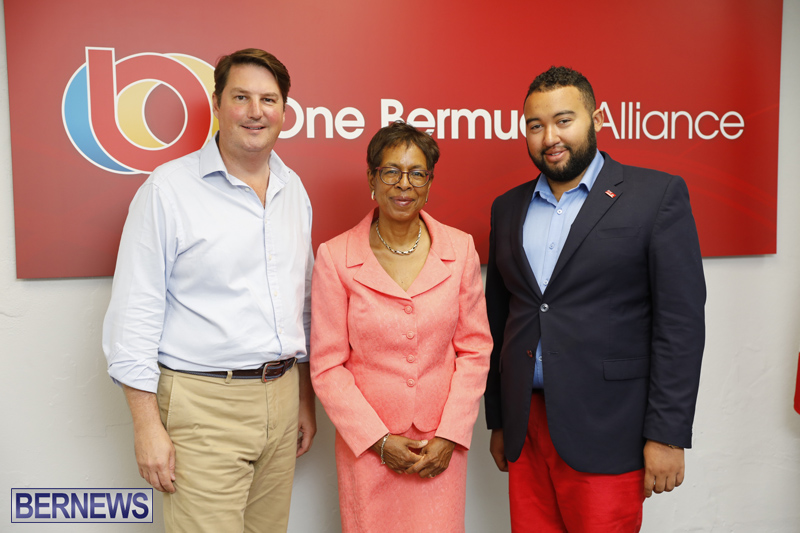 The PLP have already announced both of their candidates, with the party confirming that Curtis Dickinson will stand in Warwick North East and Curtis Richardson will run in Paget East.
Paget East has elected OBA or UBP MPs in the last four elections with winning margins from 64% to 80%, while Warwick North East has elected two OBA and two PLP MPs in the last four elections, with the winning margins ranging from 52% – 57%.
Update: Mr Pearman and Senator Mathias: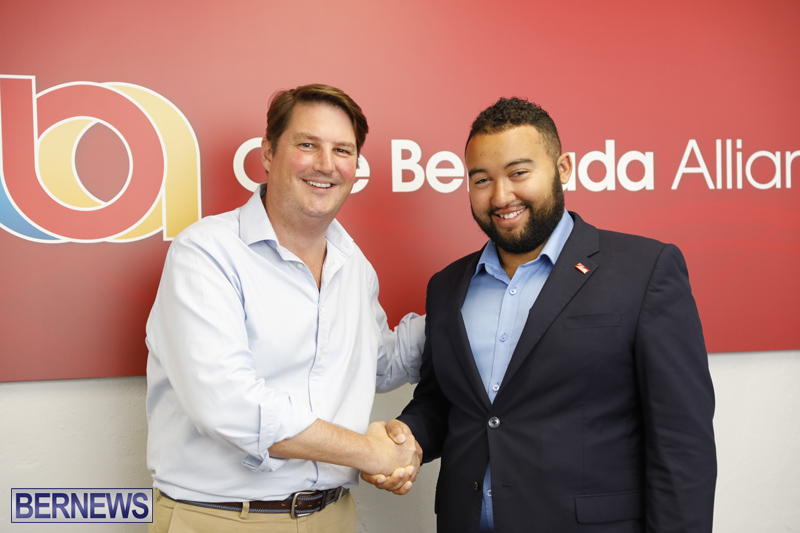 We will update with more information once the press conference has concluded.
Update 2.26pm: Opposition Leader Jeanne Atherden announced that Scott Pearman will stand in Paget East and Justin Mathias will run in Warwick North East.
Mr Pearman, who is a lawyer, will match up against the PLP's Curtis Richardson in Paget East, a seat regarded by many as more of a 'safe seat,' while Mr Mathias, who currently serves as a Senator, will run against the PLP's Curtis Dickinson in Warwick North East.
Update: The live broadcast has ended, and the 25-minute video replay is below
Update 3.20pm: Opposition Leader Jeanne Atherden's remarks:
It is with great pleasure that I present the One Bermuda Alliance candidates for the upcoming by-elections in Paget East Constituency #22 and Warwick North East Constituency #25.

In the last year the OBA has faced a number of challenges and the ultimate result of the last election. We have taken the time in the last months to sit down and analyse were we went wrong and how we will address the concerns of our electorate and members.

Today I am excited to announce that the OBA has now embarked on a new path; a path that embraces our diversity and a path that will make us more responsive to the needs of the Bermuda community. Over the past several months we have taken the first steps to rebuilding our Party and coming up with a common mission that we will all stand for:

"We will lead the promotion of social and economic equity for all Bermudians by providing the opportunity to succeed through quality education, a strong and diverse economy and a secure community."

Through this new mission and through the candidates that we will roll out today and in the future, we will create more opportunities for you to voice your concerns so that we can champion your causes. We want to connect and reconnect personally with you and show you that we represent all of Bermuda, because we are one Bermuda.

It is important to indicate that this just the beginning in our process of rebuilding. This by-election and in general, the focus of the OBA is to strengthen our elected team with new ideas, skills and attributes, which will expand our ability to serve you, our constituents. Both of these candidates do just that.

They were respectively born and raised in their parish that they now want to serve. They have an invested passion in growing our community. They want your input – input about your concerns, hopes and desires. They will be your voice to direct positive action.

Scott Pearman In C22

Scott Pearman, who is standing for Constituency 22, has a proven track record for advocating for children and families. As a practicing lawyer and Director of the Family Centre, Scott understands the struggles many families in Bermuda face and he will continue to fight on their behalf.

Scott is committed to building a stronger Bermuda by creating economic stability, ensuring academic preparation and by breaking down barriers that hinder the development of our people. Scott will advocate for inclusion and fair treatment and he believes, and I agree, that Bermuda is best when we work together.

Justin Mathias In C25

Justin Mathias is standing for Constituency # 25. After returning from university in 2016, Justin was a member of the OBA and the youth wing of our party, the Future Bermuda Alliance. The FBA provided preparation for political service and encouraged him to have a voice in party matters. Justin is now the Chairperson of the FBA.

In 2017, he was appointed as a Senator and is presently the Deputy Chair of the OBA. Justin provides a youthful perspective which reflects an understanding of the changing times and changing needs. Justin brings this perspective to our team along with a genuine commitment to be an agent of change. Justin will champion equality of opportunity and fight to make sure favourable conditions exist for this to happen.

He will be the voice of those who worry about their future and the future of their children and grandchildren Our young leaders are the trustees of our future and Justin's candidacy is a natural next step in his political leadership.

The OBA is committed to being inclusive and acting with fairness and integrity. We are committed to the Bermuda Community, our community.

Over the next month you will see us, at your doorsteps and in the community were you gather. Think about what you want to say to us. We are listening! The more we can connect with you the better we can serve you. Your ideas will inform our action. You can help us help you.

Read More About