[Opinion column written by MP Chris Famous]
It seems to be a pattern of the One Bermuda Alliance [OBA] to constantly attempt to produce "fake news" prior to General Elections and or Bye-Elections. Prior to the General Election of 2017 they spent an enormous amount of funds on adverts to scaremonger the voting public into believing that the Progressive Labour Party [PLP] was going to place a tax on rental incomes.
This was proven to be patently false and the people of Bermuda saw right through that failed attempt and voted the OBA out of office.
More recently, on the eve of the June 7th Bye-Elections former OBA leader and Premier once again took to social media in an attempt to scaremonger the voters of C 25, Warwick North East into not voting for the PLP.
"Voters in C25 complain of constant calls from the PLP and are wondering how they got their phone number" – Michael Dunkley via Twitter June 5th, 2018
This was followed the very next day by then OBA Candidate for C 25 Mr. Justin Mathias via Facebook - "It's the petty truth! We were never given phone numbers we do it the proper way by asking constituents if they would provide us with their numbers."
Essentially, their baseless accusations were that the PLP was furnished with the phone numbers of voters in C25 by the Parliamentary Registrars Office [PRO].
Among the litany of claims by the OBA this ranked way up in the top ten of fake news. Please allow me a few minutes to explain what really goes on in campaigns
Groundwork
I have been directly involved in the canvassing side of every General Election and Bye-Election since 2012. Canvassing requires us to get out and walk up and down this island in the sun, wind and rain. We do this in order to engage with the people face to face in their homes and or in the street.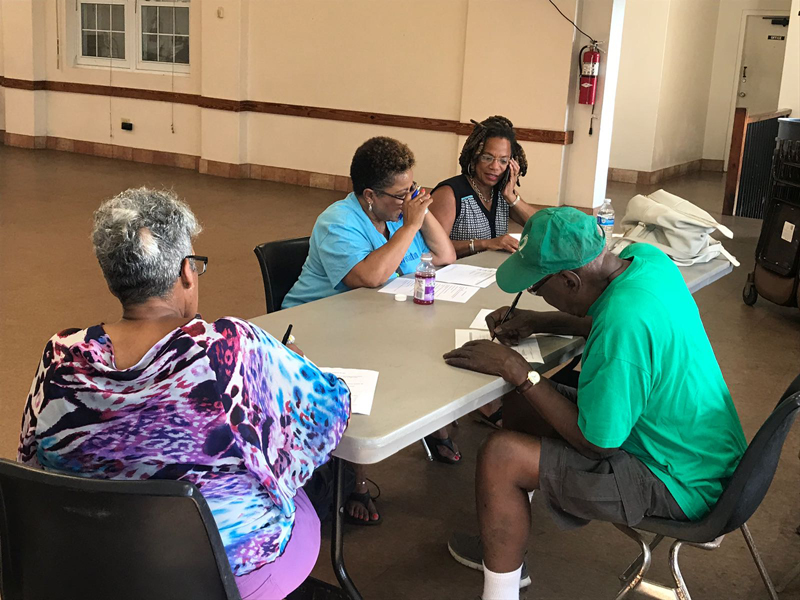 After speaking with them we ask if they would like to share with us their numbers and emails.
In 99 percent of the cases, they happily share the following information with us:
Home numbers
Cell phone numbers
Email address[es]
This information is then entered into our database and there it remains forever until we delete the numbers needed. Simply put, that is how both the OBA and PLP gathers and retains contact info in order to be able to stay in touch with the electorate.
Needless to say, the voters of C 25 ignored the "fake news" from the OBA and voted the PLPs Curtis Dickinson in as their new Member of Parliament [MP]. Conversely the voters of C 22, Paget East voted to increase the PLP vote margin in a traditional UBP/OBA stronghold.
Never ending work
For further clarity, it should be made crystal-clear that door to door canvassing and phone banking is essentially a mammoth task that both parties commit countless time and resources to.
Here is a break down of statistics from an electoral standpoint:
As of May 2018, there are 46,170 registered voters spread throughout this island
On average, most of the 36 constituencies have 1250 registered voters
Roughly 4 constituencies have nearly 1450 registered voters
Each continuency has on average 400 households to be visited
Here are some further realities:
Each of the 46,170 registered voters deserves to be visited by those who seek to represent them
Not one of the 36 MPs are able to visit 1250-1450 persons annually on their own as logistically it is a challenge for one person to do this all by themselves
Each MP/ constituency needs a team of; phone bankers, canvassers, persons to work in polling stations, persons to serve food and drivers to pick up voters needing a ride to the polling stations.
During the Bye-elections and General elections over the last 6 years we have teams, who, essentially have become a family. A family who I would like to publicly thank today.
Indeed, every victory is owed to you.
- Chris Famous, a PLP MP, can be contacted via email at Carib_pro@yahoo.com, Twitter at @ryderz777 or via Whatsapp on 599-0901

20 Most Recent Opinion Columns

Opinion columns reflect the views of the writer, and not those of Bernews Ltd. To submit an Opinion Column/Letter to the Editor, please email info@bernews.com. Bernews welcomes submissions, and while there are no length restrictions, all columns must be signed by the writer's real name.
-

Read More About
Category: All