Calling him an " impressive young man," Deloitte announced that the 2018 Deloitte Scholarship recipient is CedarBridge Academy graduate Nathanael Fubler.
The scholarship award offers up to $20,000 per year for a maximum of 3 years and is available to Bermudians pursuing an undergraduate degree with an interest in accounting, actuarial or business related studies.
Jarita Vickers, Senior Manager in Finance and member of the scholarship selection committee, commented: "It was so refreshing to see a young student that is a Pioneer in every sense go against the norm to chart their own path.
"Nathanael is multitalented individual that has managed to combine his love for music and math in a unique way. He's performed extremely well in his chosen field of study and will no doubt continue to excel as he transitions to University overseas. We wish him all the best and are delighted that Deloitte could help champion his journey to success!"
James Dockeray, Tax Partner and Jarita Vickers, Finance Senior Manager at Deloitte Ltd. congratulate the 2018 Deloitte Scholarship recipient Nathanael Fubler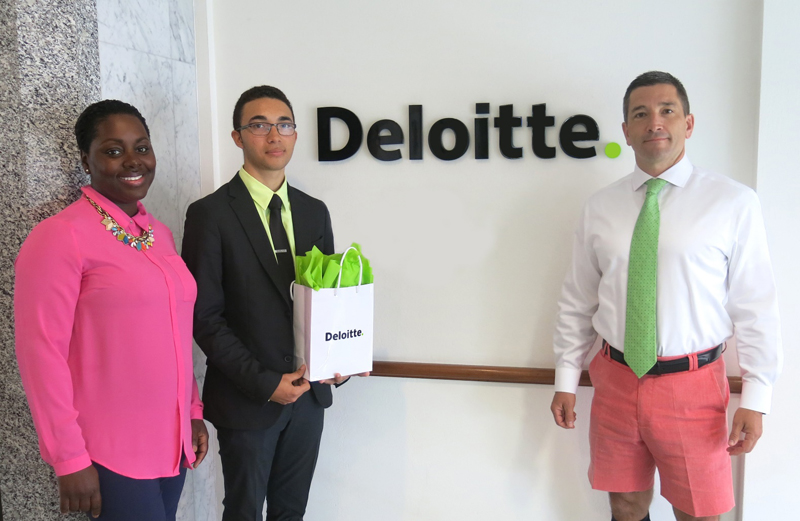 Nathanael was selected by the committee from a group of high-caliber shortlisted scholarship applicants, standing out for his drive and determination to succeed, his outstanding academic achievement which reflects a passion towards his chosen area of study and his commitment to music and the preforming arts.
After graduating one year earlier than expected from CedarBridge Academy due to meeting the early graduation requirements, Nathanael has decided to pursue his Bachelors of Business Administration Degree in Actuarial Science at the Georgia State University.
Nathanael commented: "Upon receiving this scholarship I was elated; I look forward to continuing this journey towards my future career as a life actuary. I will be attending Georgia State University this fall, where I will meet new people and learn new information.
"I aim to attain my first two actuarial exams by the time I graduate from Georgia State. Additionally, I plan on becoming an Associate of the Society of Actuaries by the time I am 24. With the Deloitte Scholarship, I am now able to start attaining these goals."
Nathanael is also musically talented and has a passion for playing the clarinet. He has preformed in multiple CedarBridge Academy productions, participated in the Bermuda Youth Orchestra, and has had the honor of performing for the Premier in the annual Premier's Concert.
He is an incredibly driven individual and has already mapped out his career path in hopes of achieving the ultimate success in his industry. His focus is on gaining valuable experience overseas once he graduates from Georga State University before returning to Bermuda as an actuary. After completing his actuarial exams, Nathanael hopes to contribute to the insurance or reinsurance sectors of Bermuda.
In his personal statement, Nathanael commented, "Music and mathematics are my passions in life and I hope that my talents benefit multiple people's lives in Bermuda; using them for the good of those in the community."
James Dockeray, Partner in Tax stated: "Deloitte is committed to developing the next generation of leaders in Bermuda and this year we are very pleased to announce Nathaniel as our 2018 Deloitte scholarship winner.
"He is an impressive young man and represents the best of Bermuda's future. We congratulate him on his hard work and success to date and wish him well as he continues to achieve his goals and pursue his dreams."
The company said, "Deloitte in Bermuda thrives for ambitious students and graduates who are keen to develop their financial services or insurance experience. We offer meaningful work experiences, attractive benefits, continuing local and overseas training and development, educational support, sports and social events, corporate social initiatives, wellbeing programs and more.
"Student programs include: Highschool Work Experiences, The Deloitte Internship Program (DEEP), Co-op Placements, the Deloitte Scholarship and the Deloitte Graduate Program. These programs provide students with the opportunity to experience a broader global network, and be part of a vibrant and diverse organisation, where you get to work with forward thinking leadership and people who are committed to making a difference.
"At Deloitte, we recognise the value in supporting students to pursue their educational goals. Interested students, parents and teachers should visit www2.deloitte.com/bm/en/toptalent for more information including details on the upcoming student networking event 'Deloitte Invites Top Talent' on July 23, 2018."

Read More About