Savvy Entertainment announced that Bermuda is set to host the Poseidon Games from June 1-3, 2018, with 32 of the world's top hydroflight athletes set for the second leg of the world tour.
Savvy COO Danilee Trott said, "Back in August 2017, Savvy Entertainment introduced the island to the world of Hydroflight competition with Battle on the Rock. Since then, we have developed Poseidon Games and have had a successful inaugural event in Australia.
"An open sporting competition wasn't happening in the hydroflight community and our goal is to create something new and exciting while still being unique and to some, taboo. We are excited to bring Poseidon Games back to the country where the idea originated and look forward to the spectacular competition experience to come."
The Poseidon Games Events will include the below:
Friday, June 1
11:00am-7:00pm Battle on the Rock Qualifying Runs
Saturday, June 2
10:00am-6:00pm Battle on the Rock Finals
6:00pm-7:00pm Battle on the Rock Prize-Giving
Sunday, June 3
Savvy CEO Anthony Blakey said, ""Savvy Entertainment is excited about the immediate growth in the industry and impact that Poseidon Games has introduced.
"Our vision for the brand is to continue to expand into other countries and incorporate additional water sports, creating a watersports competition circuit comparable to X Games.
"The Global Media attention that it has already gained proves that we have touched a niche market ready to embrace something new. We look forward to returning to Bermuda next month as we continue the 2018 season."
Savvy said, "Poseidon Games is free to attend and can be viewed from the event village located in No 1 Car Park Front Street Hamilton. In addition, we encourage the boating community to join us and watch the competition from the water in Hamilton Harbour.
"Those seeking a more exclusive Poseidon Games experience can purchase tickets to the Poseidon Games VIP section on ptix.bm.
"The Poseidon Games VIP Section includes private sheltered seating close to competition zone and opportunities to meet and mingle with the competition riders. VIP access also includes a private bar with signature cocktails along with assorted nibbles and free water. For more information about Poseidon Games visit their website."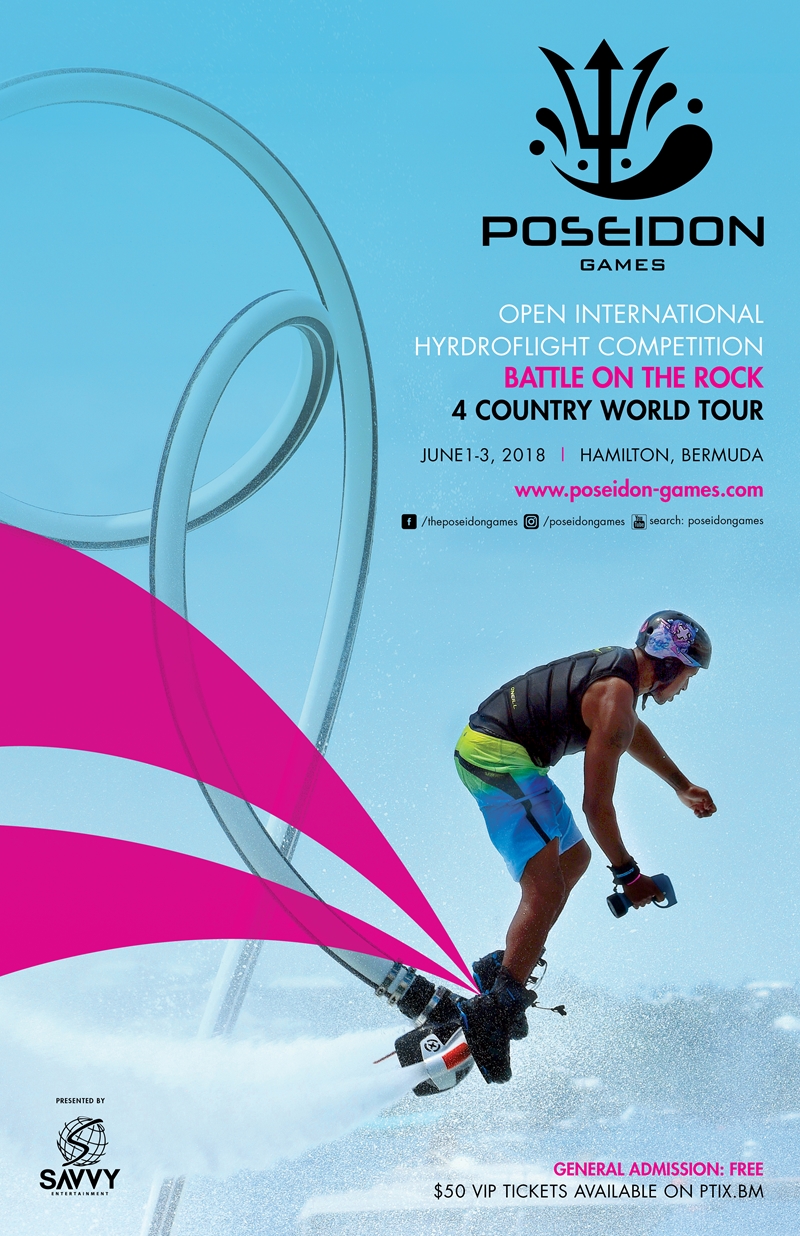 Read More About