On May 12, Women's Legal Network hosted a seminar on emotional intelligence, led by certified emotional intelligence coach Dr. Crystal Clay.
A spokesperson said, "The event brought 25 people of varying professional backgrounds together to discuss emotional intelligence. The themes discussed included how emotional intelligence can enhance one's career, using emotional intelligence in everyday life and the benefits of controlling our emotional reactions in order to better use emotional intelligence when interacting with family, friends and clients."
"Emotional intelligence is all about slowing down your thinking, as we may not know all the facts of a situation," said Dr. Crystal Clay, seminar facilitator and the founder of Olive Branch consulting.
Kimberley D. Caines-Best, Dr. Crystal Clay and Lovette Tannock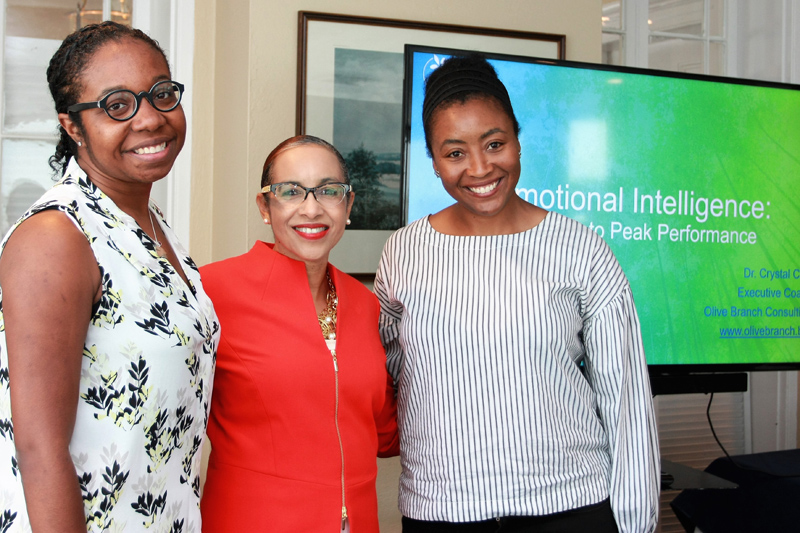 "Even when you don't use the language of emotional intelligence, you can feel the effects of it. Furthermore, 90 percent of top performers are high in emotional intelligence. On the flip side, just 20 percent of bottom performers are high in emotional intelligence."
"Lovette Tannock, one of the co-founders of the Women's Legal Network, noted that the American Bar Association has found that emotionally intelligent lawyers out-perform, in production and revenues, their less emotionally intelligent colleagues, and then, logically, they also get the most promotions and bonuses and emotionally intelligent lawyers communicate better.
"One attendee said that emotional intelligence could make us as legal professionals better able to recognize the needs of our clients beyond what they verbally instruct us to do.
"The seminar highlighted that emotional intelligence is a skill-set that makes for more productive and more successful professionals that are better able to interact with clients, customers and colleagues
"The seminar generated rich discussion and plans are afoot to host part 2 in the fall."
Read More About