The Restructuring and Insolvency Professionals Association [RISA] held an event in the Trudeau Ballroom at the Hamilton Princess on June 12th, with the event attended by more than fifty prominent members of the legal, accounting and business professional community who are members of RISA Bermuda.
The event was held to honour the retirement of four individuals who have made a significant contribution to insolvency and restructuring work in Bermuda, Chief Justice Dr Ian Kawaley, Justice Stephen Hellman, Registrar of Companies Stephen Lowe and Robin Mayor, partner at Conyers Dill & Pearman, all of whom are retiring from professional life in Bermuda this year.
Stephen Lowe, Robin Mayor, Dr Kawaley, Justice Stephen Hellman and RISA Chairman Mike Morrison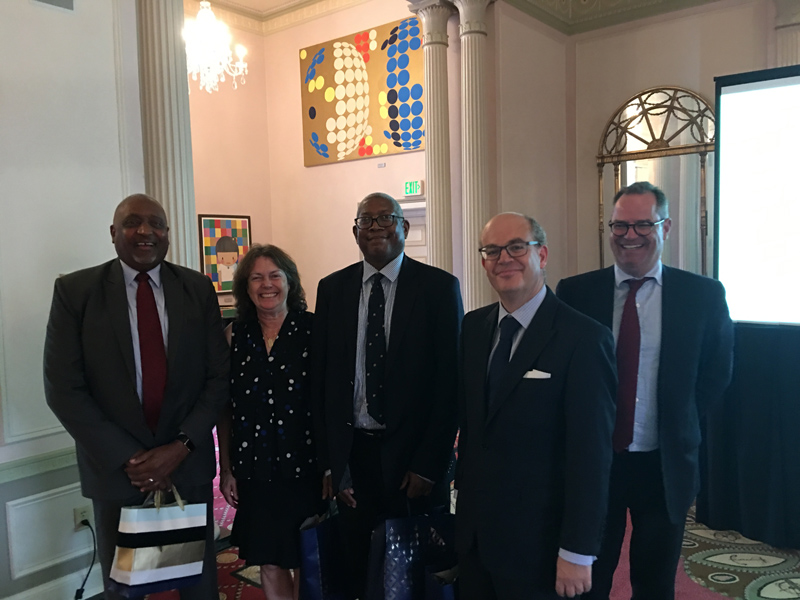 Mike Morrison, the Chairman of RISA, said "These four individuals have contributed a huge amount to the insolvency and restructuring profession in Bermuda and are regarded by the international insolvency and restructuring community as experts in their field.
"RISA, and Bermuda in general, has been very fortunate to have professionals of this caliber working in the insolvency and restructuring industry in Bermuda."
Chief Justice Kawaley spoke at the event and highlighted how he and the other retirees had worked on some important international insolvency cases together.
The event also featured an educational session conducted by Freshfields, an international law firm, with Neil Golding, restructuring partner in the UK and Madlyn Primoff, restructuring partner in New York presenting on Brexit, UK creditor voluntary arrangements and schemes of arrangement and the latest developments in the Chapter 15 process in the United States.
Read More About