Members of the community, including OBA MPs, have donated towards getting the wall built at the Somerset Cricket Club.
The matter came to public attention recently as Minister of Public Works Lt/Col David Burch said that he feels the Governor should not be invited to present the Cup at Cup Match, explaining to Parliament that he told Somerset Cricket Club this, and made it a precondition to fixing a wall.
Speaking in the House of Assembly recently, Minister Burch said, "I also happen to be a member of Somerset Cricket Club, and I have repeatedly as a member of that club made the motion that I find it offensive personally, and also as a Bermudian, that we celebrate this annual historical occasion and then we turn around and invite the supervising power to come and present the Cup."
"If people look at it honestly and sincerely, this is a celebration of emancipation of slaves, and so why would you still accept, in 2018, inviting he who enslaved us to come and not only celebrate with us, but to also be the person who presents the Cup," he said.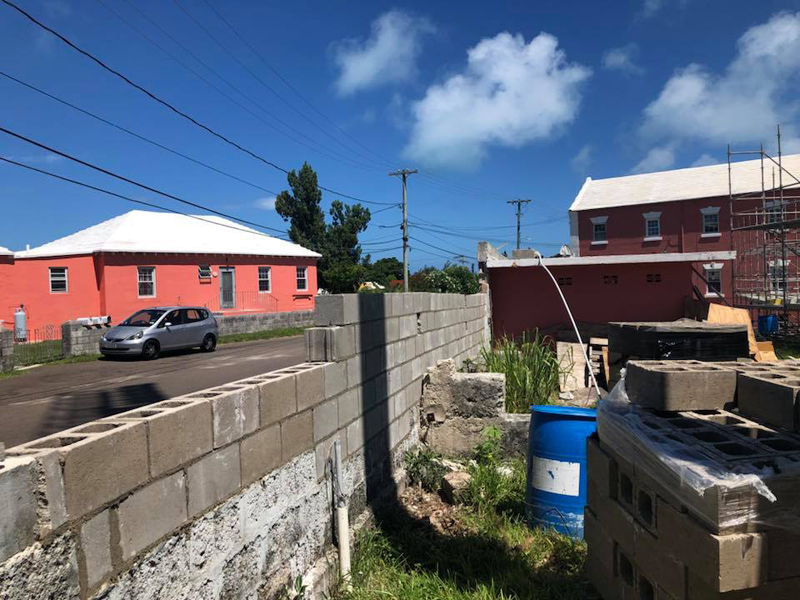 Following that, Shadow Public Works Minister Trevor Moniz said, "The Minister has put Somerset Cricket Club in an impossible position. That is not acceptable behaviour for anyone let alone a Minister who should adhere to the highest moral standards.
"The issue of who presents the trophy to the victorious team is a matter for the Club and making it a condition of doing some work is reprehensible and an abuse of the Minister's power. If it is the Minister's responsibility, then just get on and do it."
Among those that donated were OBA MPs, with MP Michael Dunkley explaining, "When made aware of the challenges faced in building the wall, and the difficult position that the Club was put in by the Government, all OBA Members of Parliament, along with former members Hon ET Richards and Dr. Hon Grant Gibbons, donated funds to purchase necessary materials to help make it happen.
"We understand this has been a community effort and we are pleased to be able to part of the solution," Mr Dunkley added.
Government House said that the Governor is "well aware of the importance of Cup Match and its significance in marking emancipation from slavery.
"The decision on who is invited to present the Cup is a free and independent one for Somerset Cricket Club to make. The Governor will be happy to support the event respectfully and in the way judged most appropriate by the Club and Cup Match organisers," Government House said.
In a post on social media the club said, "October 2016 Hurricane Nicole torn two sections of our perimeter wall apart. Over the past few months members and friends have made repairs. Today we have closed the gap. Thank you for the donations as they continue to come in. House and Grounds Managers are thankful. Congrats to all persons involved."
Read More About