Manders Tennis Management hosted their first adult tournament over the weekend at Fairmont Southampton Tennis Club. The first tournament of the kind for decades, adding the option for women to play with the men in the Open division.
MTM founder Gavin Manders said, "We are here to help grow the game of tennis locally, and believe this new option for women will breathe life into the women's game locally. The women need the opportunity to play more matches, and more competitive matches. We believe this will motivate them to get out and play more."
MTM Singles Championships had one of the biggest draws for the past few years, with many local spectators and Fairmont Southampton guests around to watch the matches. The event ran from Tuesday, July 24th till Saturday July 28th.
Mr Manders said he thinks this is the way moving forward, explaining, "Having a shorter tournament doesn't take as much time commitment, which I believe will get more people out to play.
"We all have busy schedules, so if we can have shorter events, where you play more matches in a shorter period of time, and don't have to commit to a week or 2 weekends worth of tournament. This style of tournament is a win win for everyone.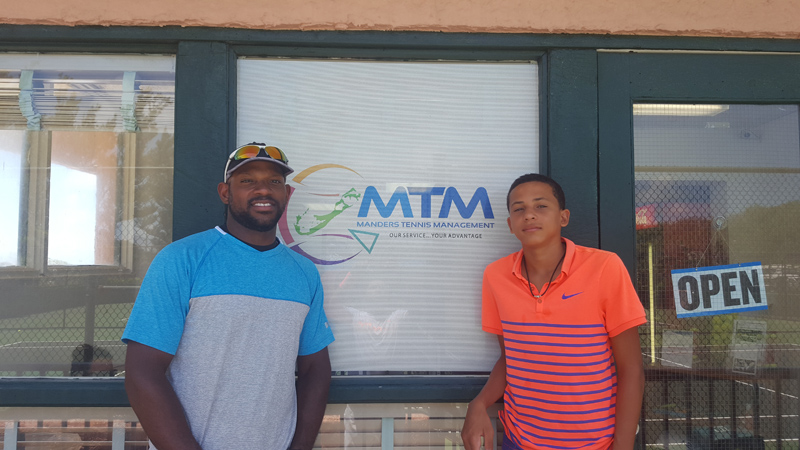 Mr Manders was very happy with the turnout, and thinks MTM have a formula to have the biggest and best tournaments locally.
"We are all about Bermuda tennis, and our main focus is to grow the game and raise the level of Bermuda tennis. There's not many of the top clubs that's main focus is local tennis anymore, but MTM will work with all the clubs that are still invested in the game locally to reach our goals," he said.
"It's a big event for me, as it's the first time that I directed a tournament, planned the bbq's, and played. It was quite a load to take on this week, but it was worth it, as not only did I win it to lock in my number one spot locally, and continue my undefeated streak in local tournaments for the year, but more importantly, it was a huge success for Bermuda tennis."
MTM had strong showing in their own event, with Mr Manders and Director of Tennis at Fairmont Jovan Whitter playing each other in the final of the Open Singles event.
Daniel Phillips, coached by Sam Maybury, who also trains with the MTM team, became the youngest player to win a Men's B event, since Jovan Whitter. Phillips continuing on his winning path after a successful tour through the Caribbean.
Mr Manders solidified his stronghold at the top of the local game with the win, and continues to dedicate his year to his late mother, Disa Oubella, saying, "Everything I do, is with her in mind, and she is the drive behind me right now. I would have loved for her to see me direct a tournament, and win it. I know she's up there smiling down at me."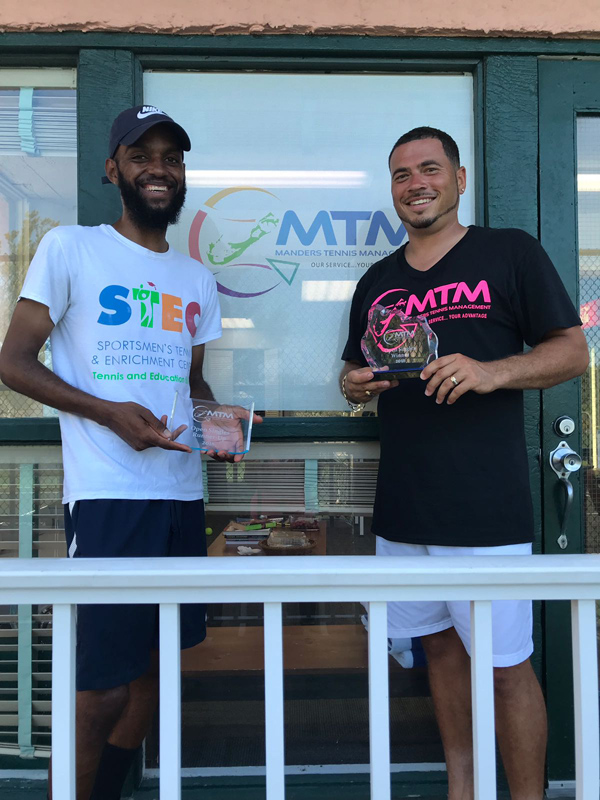 MTM will be hosting The Disa and GG Tennis Fun Day on September 2nd at Fairmont Southampton. The event is in memory of Disa Oubella [Gavin Manders mother] and George Jordan, [Jovan Whitters father] who both passed away in January of this year.
Manders and Whitter decided to name the event after their late parents to show their love for them, and to create a positive for Bermuda tennis from their loss. The event is for all ages and levels, and is a tennis fun day to bring Bermuda tennis together.
Finals Results
Open Singles Final – Gavin Manders defeated Jovan Whitter 7-6 [6], 6-2
Men's B Final – Daniel Phillips defeated Hugh Seymour 6-2 6-3
Open Singles Consolation Final – Daniel Phillips defeated Jaire Salaam 6-1 6-3
Men's B Consolation Final – Jaire Salaam defeated Andrew Phillips 6-3 1-6 6-1

Read More About