A total of 24 new recruits yesterday joined up for the Royal Bermuda Regiment's first summer Recruit Camp.
The rookie soldiers will spend the next two weeks learning the basics of military life in preparation for a choice of special roles at the end of their training.
Shosun Durham, who comes from a family which has served in the island's military for generations, said: "There is a sense of brotherhood and there's discipline.
"It's also a place where I can learn new skills."
The 23-year-old crewman on Longtail, a catamaran cruise boat based in Hamilton, added that the recommendations of friends helped convince him to join up.
He said: "It was mainly how highly my friends spoke of it.
The RBR's latest recruits line up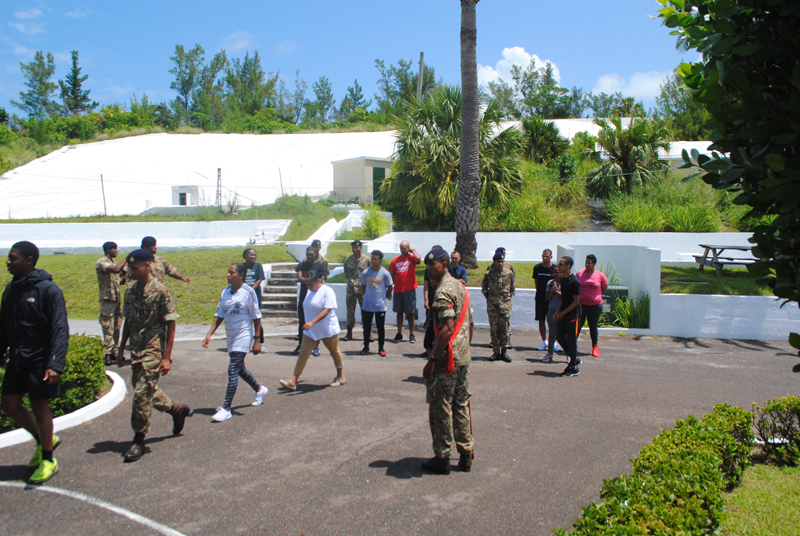 "I'm also big into fitness – I'm an exercise physiologist – so that side of the training really interests me. I'd like to continue my education here."
Andrea Warren , 31, from Devonshire, is one of eight women who joined up for the second Recruit Camp of the year.
Private Warren, a food service supervisor at the King Edward VII Memorial Hospital, said hse wanted to boost her management credentials.
She added: "I joined to further my leadership skills, help out the country and learn a new trade.
"I spoke to someone when I signed up about mechanics, but I don't know what else they have to offer, so we'll see what happens."
Vidal Papina – originally from 9000 miles away in the Philippines – said joining the military was a boyhood dream.
Private Papina, from Pembroke, who works for Hamilton's Supermart, added: "I heard about the Regiment and thought I would try my best.
"I play drums, so maybe I'd like to join the band, but I'll wait and see."
Sergeant Kenton Trott starts the process of turning civilians into a military unit.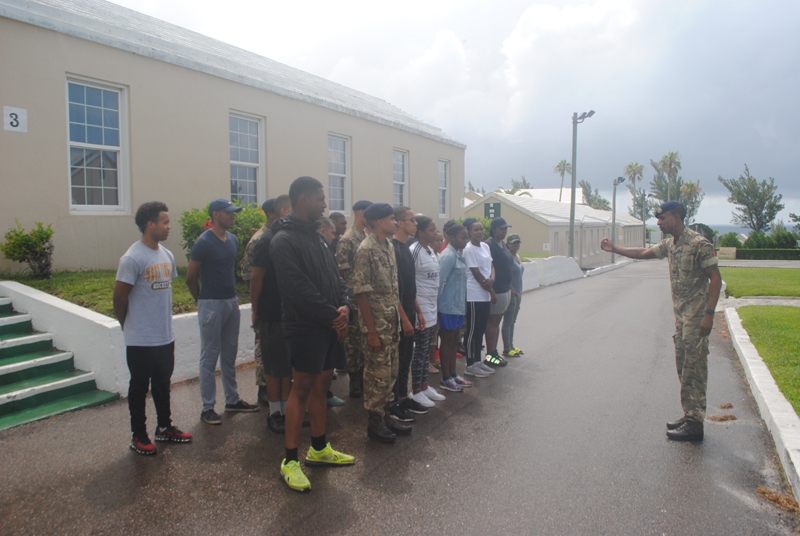 The 43-year-old, who has lived in Bermuda for several years, added: "I'm not nervous at all – I'm very excited to be here."
The recruits' first day was taken up with lectures on the high standard of conduct expected from soldiers and the issue of unfamiliar kit that will be like a second skin by the time they finish basic training in two weeks time.
Sergeant Major Jason Harrell said: "This Recruit Camp is built from the ground up and based on modern needs. It's an updated syllabus designed for modern soldiering."
He added: "The recruits will, for example, get more time on the weapons. They're not doing any more than before, but getting more time for lessons. The way we used to do it worked for our old rifles, but not for the new ones."
But he said: "Some things never change – the basic soldiering skills, discipline, teamwork and self-reliance."
RBR Commanding Officer Lieutenant Colonel David Curley added: "It's a great pleasure to see yet another intake of recruits, in a July Recruit Camp for the first time ever.
Recruits settle into the barracks that will be home for two weeks, with advice on how to make a bed military-style from instructors.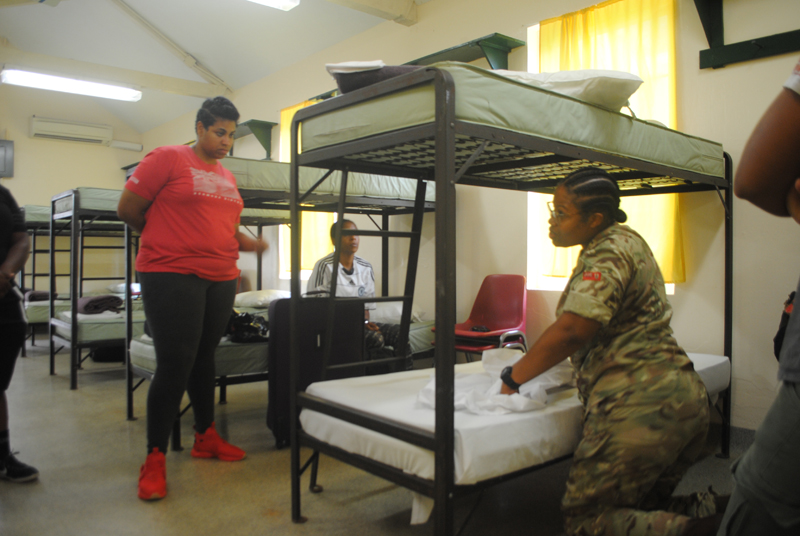 "It's nice to see them taking on the challenge of the military life. We're on the verge of issuing a strategic review which these soldiers will be introduced to – and they will be adopting these new training procedures throughout their careers.
Col. Curley added: "Our training team has shown a lot of zeal and energy in preparing from January for this.
"They're ready to roll and they will push this two-week programme out, which is streamlined to get recruits up to speed a lot faster.
"Our recruiting team did a lot to get these new soldiers through the door and we are grateful to them for all their hard work and dedication."
Colonel Curley added that the training schedule had been amended to take account of the latest thinking on instructional techniques and will also include an allowance for the summer heat.
He said: "This is a modern-thinking and changing organisation and our training system will evolve to keep pace.
"I personally commend all our soldiers, present and future, for their commitment to service to their country."
This camp takes place as the Defence Amendment Act 2018 — which seeks to abolish conscription — was recently passed in the House of Assembly.
Speaking in advance of the debate in the House, Minister of National Security Wayne Caines said the "Government and the Ministry of National Security have worked with the RBR, to ensure that when this Bill comes into operation the Regiment will be able to sustain the strength in volunteer numbers.
"The public will be aware of the success the Regiment has had in recent years in boosting volunteer numbers. The Regiment has gone from 10 volunteers in Recruit Camp 2013, to 42 volunteers in 2014, and 61 volunteers in 2015," the Minister said.
"Members opposite will recall the success of Recruit Camp 2016 – the first all-volunteer Recruit Camp, with some 50 volunteers. This past January, the first Recruit Camp of 2018, saw 37 privates – all-volunteers – pass out.
"This number stands to be bolstered by the addition of 25 soldiers who are scheduled to begin Recruit Camp in July. This will be the first time that the Regiment has run two recruit camps in a calendar year."

Read More About