BELCO said they are "extremely pleased" with the publication of the Regulatory Authority's Order as they can now compensate distributed generation customers "after a lengthy impasse during which BELCO was legally unable to compensate certain distributed generation customers."
"Once signed contracts are in place with those who do not currently have them, the outstanding compensation, which totals approximately $11,000 overall based on the Authority's defined feed-in-tariff rate of 17.36 cents per kWh, will be made as soon as possible," the company said.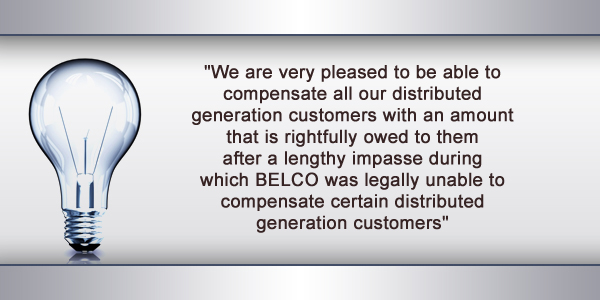 The company said, "BELCO is extremely pleased with the publication on 17 August of the Regulatory Authority's Decision and Order relating to the Standard Contract template.
"The Order followed the Electricity Amendment Act 2018 becoming operative three weeks ago on 30 July, and its publication means that BELCO is now able to compensate all distributed generators for the energy that they distribute to BELCO's electricity grid.
"We are very pleased to be able to compensate all our distributed generation customers with an amount that is rightfully owed to them after a lengthy impasse during which BELCO was legally unable to compensate certain distributed generation customers", states BELCO's Chief Executive Officer, Sean Durfy.
"For over a year, BELCO had been in discussions with the Regulatory Authority and the Government with respect to amending legislative deficiencies within the Electricity Act 2016  including to enable BELCO to legally enter into the Standard Contracts required under the Act and to compensate all customers wishing to engage in distributed generation."
"At one point, because we were unable to compensate certain customers without contravening the Act, BELCO proposed to the Authority that it would comply with any instructions from the Authority to remit payment to uncompensated customers after the legislative deficiencies were resolved."
"We were pleased when the legislative deficiencies were resolved by the passing of the Amendment and BELCO subsequently asked the Authority for the further order that was required by the Act before BELCO could pay those distributed generators who were not being compensated. The Order was welcomed by BELCO and was a required step within the overall regulatory process."
In compliance with the Order, BELCO will today issue the required 30-day notice of the necessary contract amendments for customers with existing contracts and thereafter contact any distributed generators without contracts to ensure speedy execution of the Standard Contract.
Mr. Durfy concluded, "Having received the Order, we are now in the process of reaching out to the impacted customers.
"Once signed contracts are in place with those who do not currently have them, the outstanding compensation, which totals approximately $11,000 overall based on the Authority's defined feed-in-tariff rate of 17.36 cents per kWh, will be made as soon as possible."
Read More About