[Updated: Bermuda win 3-1!] The Bermuda Women's U15 Football team is matching up against Antigua at the IMG Academy in Bradenton, Florida today [Aug 6] as part of the 2018 CONCACAF Women's U15 Championship, and you can tune in and watch live below.
Bermuda's team consists of Zakhari Turner, Terrine Trott, Koa Goodchild, Satia Burchall, Danni Watson, Zemira Webb, Jahde Simmons, Emily Cabral, Ramiah Brangman, Lara Backeberg, Azra Shakir, Marli Butterfield, Che Chulae Dowling, Shye Blair Paynter, Katelyn Medeiros, Adia Gibbons, Jahni Simmons and Katherine Bean Rosario.
Update 10.43am: Bermuda has started off very strong, and are leading 2-0 as of half time, with Che Chulae Dowling scoring in 16th minute and Marli Butterfield adding another goal in the 28th minute.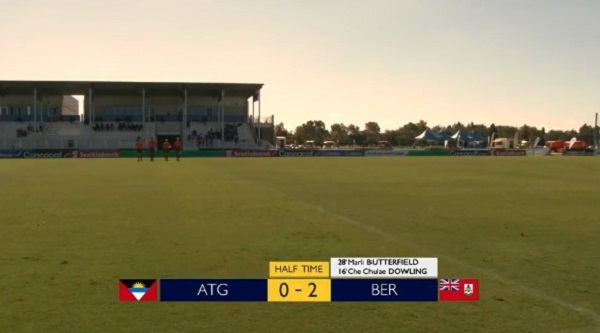 Update 11.17am: 63 minutes into the game, Antigua scored. Play continues, the score is now 2-1
Update 11.21am: Bermuda scored again, Adia Gibbons scores in the 66th minute. The score is now 3-1, each half is 35-minutes, so the game will end soon
Update 11.27am: Bermuda wins! Final score 3-1
Update: The live broadcast, which is courtesy of Concacaf, has concluded and the replay is below
Update 1.34pm: The video highlights are below, including all three Bermuda goals. 

Read More About