LOM Financial has committed to donating $50,000 to the Bermuda Zoological Society [BZS] over the course of the next 5 years, with the LOM donation set to specifically help support the BZS "Living Classroom" at Trunk Island and enable it to realise its potential as an Educational Outreach and Conservation training centre.
BZS is the support charity for the Bermuda Aquarium, Museum & Zoo [BAMZ] and funds public outreach and education programmes for children and adults. With approximately 6,000 experiences from the education programmes each year, students are encouraged to become passionate advocates for conservation.
Scott Lines, CEO of LOM commented, "Through making this gift, LOM is pleased to support BZS's vision for a 'Living Classroom' at Trunk Island that will not only give all children a true experience of Bermudian living, but also educate them on our island's diverse and rich eco-system. Immersive education experiences like this help to inspire our youth and foster a sincere interest in Bermuda's natural environment."
Richard Winchell [Vice President, BZS], Colin Brown [President, BZS], Dr. Ian Walker [Principal Curator, BAMZ], Scott Lines [CEO, LOM] and Malcolm Moseley [CFO, LOM]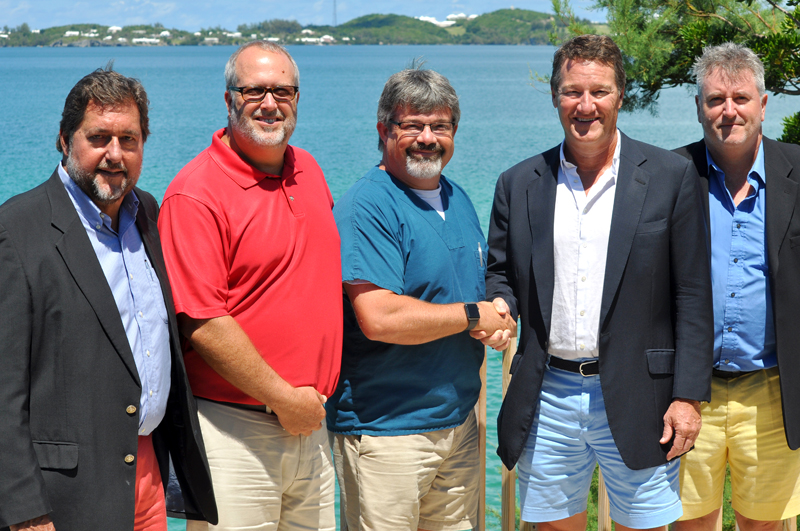 Principal Curator, Dr. Ian Walker, said "BAMZ's goal is to have every single upper primary and middle school student come to the island for an educational programme. We want to give every child a chance to enjoy and learn about this incredible place and hopefully develop a keen interest in our natural environment.
"The Trunk Island Programme allows students to see Bermuda in a way that they haven't seen it before. Our hope is that those students who go on to pursue related fields eventually come back to Bermuda and assist with research that is valuable to the community."
Miguel Mejias is one such student who experienced the BAMZ and BZS educational system, starting at the age of 14. He went on to complete a Masters in the breeding biology and migration of Longtails and is now pursuing a PhD in Orinthology, concentrating on song birds, at Memorial University in Newfoundland.
Reflecting on his experience at BAMZ, Mr Mejias said, "I started there as a shy, yet clownish 14 year old schoolboy who didn't know much about anything…except that I loved animals.
"It was at BAMZ where I truly started to learn how to make meaningful connections with both people and animals. And when the staff at BAMZ get whiff of a budding young environmentalist or conservationist, they run with it! They pool lots of resources into making sure those passionate individuals are given the tools they need to succeed, and I am forever grateful for that."
Dr. Walker added, "We are hoping to find Bermuda's next environmentalists who will champion these causes as David Wingate and Jeremy Madeiros have. So programmes like the one at Trunk Island are vital in sparking an interest in our natural environment from an early age.
"For this reason we are so thankful to LOM for their valuable contribution to BZS and look forward to the continued development of the 'Living Classroom' at Trunk Island."
For more information on BZS please visit www.bzs.bm or call 293-2727.

Read More About
Category: All, Environment, News