Between payments to the three providers, debt offset and projected future payments, the Government is set to provide approximately $3.6 million in financial supplements to MRI and CT scan providers for 2017/18.
Earlier this year, the Government confirmed they "granted financial supplements" to "help ensure CT and MRI services are readily available," and in providing updated figures today, the Ministry of Health said, "Brown Darrell was paid $139,161 for the period June 1, 2017 – March 31, 2018. Bermuda HealthCare Services was paid $680,966 for period June 1, 2017 – March 31, 2018.
"Further payments will cover April 1, 2018 – October 31, 2018 and any outstanding [if any] claims for period June 1, 2017 – March 31, 2018. It is estimated that Bermuda HealthCare Services MRI payments for 1 April to 31 October 2018 may be approximately $420,000.
"To date the Government has settled $1.8 million with BHB to off-set against a BHB debt to the Superannuation Fund. This covers the period 1st June 2017 to 31st March 2018. Subsequent payments are still being adjudicated so the amounts are not yet known, but are projected at approximately $600,000.
"All payments are based on actual utilization so the total paid will be confirmed after the 2018 fees take effect on 1st November 2018," the Ministry added.
In approximate terms, that is around a total of $3.6 million, with $1.2 million to Brown Darrell and BHCS, with $820,000 already having been paid and $420,000 projected, while the $2.4 million to the Bermuda Hospitals Board encompasses a $1.8 million off-set against a BHB debt to the Superannuation Fund, and subsequent payments projected at $600,000.
The financial supplements to Brown Darrell and BHCS appear to be actual payments, while the $1.8 million for BHB — which was phrased as "settled $1.8 million with BHB to off-set against a BHB debt to the Superannuation Fund" — appears to be a case of waiving funds owed to another area within Government.
Two of the three providers receiving payments, Brown Darrell and BHCS, are operated by Dr Ewart Brown, who previously said that it "was a settlement in the sense that there was court action pending," while the Health Ministry previously confirmed "that a letter before action was received in relation to the fee levels."
Speaking today, Dr Brown said that "as fees were slashed by the OBA, we sought relief from the Government, and the Government adjusted the fees and later paid the difference between the two. It is as simple as that."
"All providers, the hospital, Brown Darrell [which does CT] and Bermuda Health Care Services [which does MRI]  — who to date are the only providers of MRI and CT — were compensated."
"Despite the initial compensatory payment, the CT fees remained so low, we closed to avoid operating at a substantial loss. We are reopening the CT scan services at Brown Darrell as the Government has adjusted the fees which gives us a fighting chance at a viable business."
"The fees were previously cut as high as 87%, and remain reduced by approximately 30%," Dr Brown added. "The amount involved is not as much as the America's Cup, but it will allow Bermudians to have a choice in their health care."
The matter of scans was a key aspect of the lawsuit filed against Lahey Clinic — which was filed in early 2017 and dismissed by a Massachusetts Court in early 2018 – as it alleged that the U.S hospital conspired with Dr Brown and there were "excessive, medically unnecessary" MRI and CT scans were performed, and Bermudians "ranked among the most scanned patients in the world."
The Government had confirmed the payments earlier this year, saying that "Government has recently granted financial supplements to the Brown-Darrell Clinic [BDC], Bermuda Health Care Services [BHCS] and the Bermuda Hospitals Board [BHB] in order to help ensure CT and MRI services are readily available to the public."
"Both BDC, BHCS and BHB were affected under the previous Government by a downward adjustment to the fees which they were able to charge for CT and MRI services. These new fees were significantly lower than the technical recommendation.
"Reverting all diagnostic imaging fees to the pre-June 2017 rates would have increased all Bermuda residents' health insurance premiums by $23.03 a month, and cost the Government an additional $8.6 million," the Government said earlier this year, adding that "if premiums increase Government spends more on HIP, FutureCare, Subsidy, Financial Assistance and GEHI."
The cost of healthcare in Bermuda has long been a topic of discussion and concern, and in the 2018 Budget, the the Ministry of Health was allocated $190 million, the largest of all Ministries.
Chart from the 2018 Budget showing expenditures: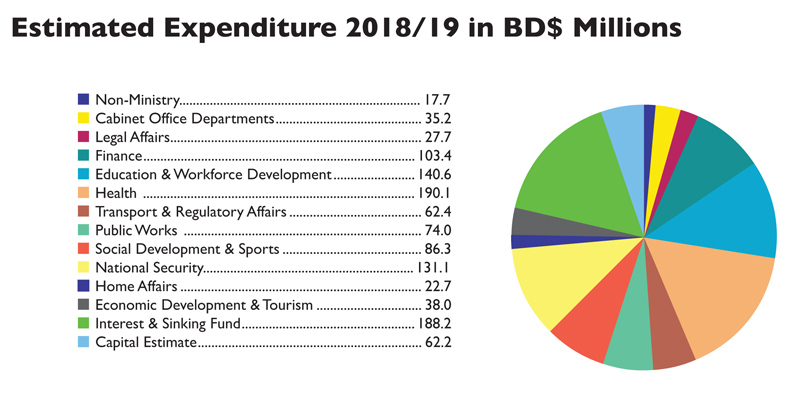 According to recent figures from the Bermuda Health Council, in financial year 2016, total health expenditure was $701.4 million, a 1.9% increase from the previous year, and health expenditure per capita was $11,362, an increase of 2.2%
27.4% [$192 million] of financing was from the public sector, 72.6% [$509.4 million] of financing was from the private sector, and health insurance premiums accounted for 62.3% [$436.7 million] of health financing.
Document released by the Government earlier this year about scan compensation [PDF here]

Read More About