A new application process is now open for businesses seeking to achieve National Service Standards Certification, "with 16 local businesses completing the official process of raising the bar on service" so far.
"Raising the bar on service sets Bermuda apart from its competitors," said Bermuda Tourism Authority COO Karla Lacey. "It's critically important in the visitor satisfaction equation."
A spokesperson said, "Once certified, businesses enjoy a collection of marketing benefits including:
Inclusion in Bermuda Tourism Authority social media and marketing content
Returned at the top of the list on web searches at GoToBermuda.com
Editorial coverage in visitor publications. Example: Destination Bermuda
Certification seal in the storefront and online to let visitors know they provide superior customer service
The team at Newstead Belmont Hills Golf Resort & Spa: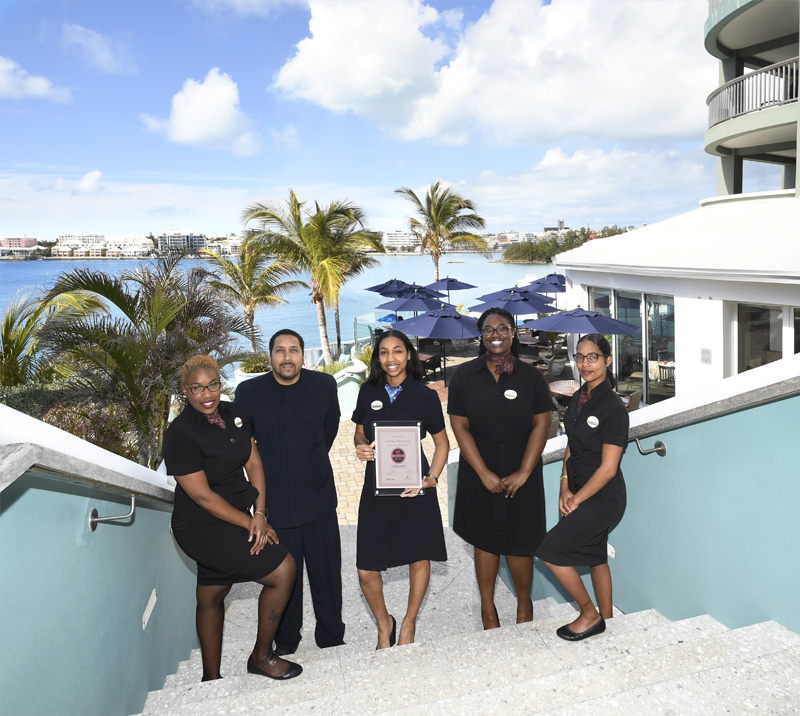 Ms Lacey said, "Ultimately, certification of National Service Standards is designed to lead to an increase in business not only because of the heightened marketing exposure but because customers will share positive reviews online about their experience if service expectations are met.
"Online reviews are the new word of mouth and positive reviews help businesses to grow – particularly in the travel space."
"In a new video series on social media, certified businesses are sharing their story of achieving certification and encouraging other businesses to do the same. In the first video, Russ Ford, Sr. of Bermuda Transit Services says he "100 percent recommends" National Service Standards Certification to other business owners.
"The National Service Standards application process will be open from September 7 to 28. Interested businesses can submit an application and get more information at service.bm."
Businesses Certified for National Service Standards include:
| | | | |
| --- | --- | --- | --- |
| Tobacco Bay/Beach Boys | The Bermuda Perfumery | Alexandra Mosher Studio Jewellery | Newstead Belmont Hills Golf Resort & Spa |
| Lili Bermuda | Chopstix Fusion | Bermuda Transit Services | Bermuda Bride |
| Fun Golf | Dolphin Quest | 27thCentury Boutique | Bermuda Queen Day Spa |
| Flanagan's Irish Pub | Tuckinn Rentals | PTIX | Inverurie Executive Suites |

Read More About