Premier and Minister of Finance David Burt is currently in Paris, where he addressed the [Organisation for Economic Co-operation and Development [OECD] Blockchain Policy Forum on "Distributed Ledgers: Opportunities and Challenges".
"The prestigious conference was hosted in Paris by the Director General Angel Gurría and chaired by the Senior Editor of the Economist, Anne McElvoy," a government spokesperson said.
"Premier Burt highlighted three turnkey initiatives, which give the island the most advanced position in comprehensive ICO and Digital Asset Legislation:
"In May, legislation governing Initial Coin Offerings in Bermuda was enacted, requiring potential investors and owners to meet the 'Bermuda Standard' on beneficial ownership and transparency, one highly regarded by regulators the world over.
"The Digital Asset Business Act, and related legislation, which is fully administered by the Bermuda Monetary Authority, is expected to serve as a global model of best practices for regulation of digital asset service providers.
"Bermuda amended its banking laws to created the Restricted Banking Act which allows banks to set up in Bermuda to service companies that provide digital asset services in Bermuda.
Photo courtesy of ABIR: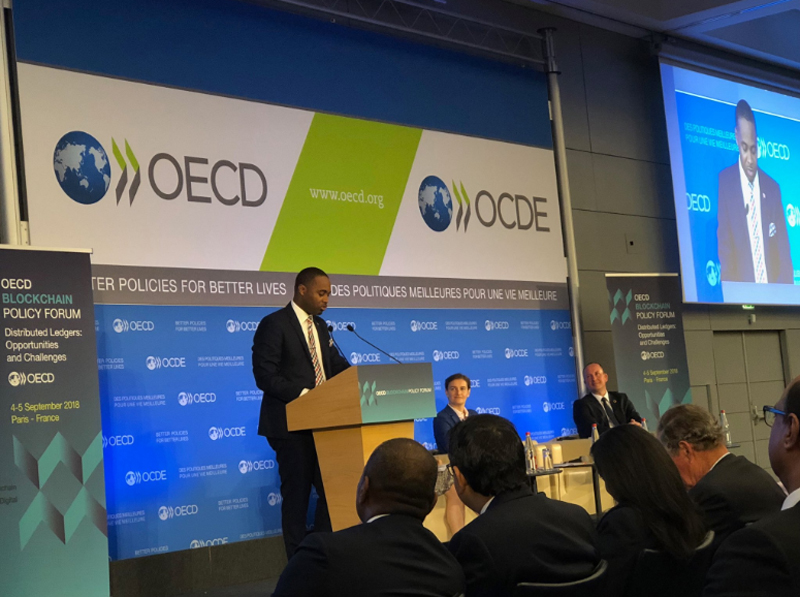 Referring to his address, after the Forum, Premier David Burt said, "We are already well known as the risk capital of the world, with billions of dollars in reinsurance claims being resolved from our pink sand shores.
"As the world's leading catastrophe market, we have contributed over $280 billion in claims to European Union & US policy-holders and cedents over the past twenty years."
And referring to "a future that continues to see many of the banked become unbanked," because of widespread derisking, the Premier set a challenge to international organisations including the OECD to "not only do the work to combat financial crime, but ensure that innovations like distributed ledger technology can make that fight more effective while not causing the collateral damage to citizens, business, and countries."
He continued, "Bermuda is a world leader in the FinTech regulatory environment. We are on track to introduce an E-ID programme [later this year].
"We plan to leverage our ability to be nimble, our experience in crafting and enacting quality regulation, and our business-friendly environment to continue to deliver to the world a prime jurisdiction for digital financial assets.
"The world's future will be fuelled by continued technological innovation of digital assets based on the trusted nature of Distributed Ledger Technology.
"Bermuda is committed to building a model platform that will prepare us for that future and we look forward to working with the OECD to ensure that Bermuda can serve as an example for how other states can help their populations achieve the OECD's mission of improving the economic and social well-being of people around the world."

Read More About