[Written by Don Burgess]
Lucinda Spurling's latest film has been nominated for five awards at the Southampton Film Festival.
The film, Maternal Secrets [it is also called the Mother of All Secrets], has been nominated for Best Director, Best Feature Screenplay, Best Leading Actress [Kate Mansi], Best Supporting Actor [Sean Stolzen], and Best Supporting Actress [Kelly McGillis].
The movie is competing against some industry heavyweights. Ms Spurling told Bernews, "It is a huge vote of confidence to be nominated alongside films made with bigger budgets, and stars, and shows that our cast really raised the bar in our small film, which is not just a plot-driven thriller, it has several delightfully ambiguous characters, so our actors had to play their parts on several layers."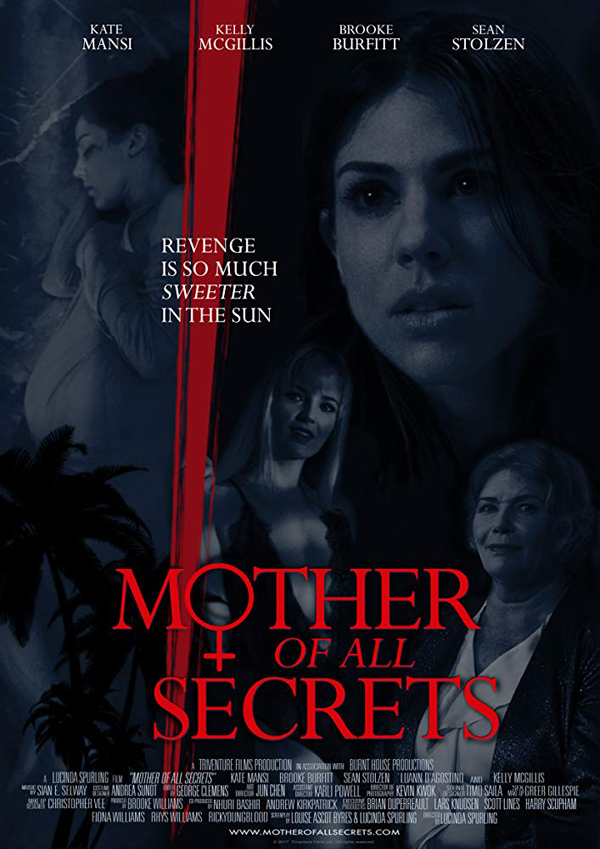 Maternal Secrets has been racking up awards and nominations since its launch, including a Special Mention for Directing, then Best Feature and Best Director at the Bermuda International Film Festival.
It received nods for Best Actress and Best Supporting Actor at the California Women's Film Festival and won an Award of Merit for Feature Film, and Women Filmmakers at both the Indie Film Festival and Accolade Competition.
Ms Spurling is pleased with all the accolades the movie has received to date.
"This was my first fiction/narrative film, and was certainly new territory especially in terms of how it would be received, where it would play well," she said.
"We built off of what I learned with my documentaries and the festival circuit to apply to film festivals that would be interested in a female-led thriller with a great cast and surprising twist.
"I am thrilled by the acceptances and awards, as it gives the film, a resume per se, exposure, which helps increase sales and our return to our investors.
"We were very fortunate to have had the support of the Bermuda Arts Council who supported our festival entries with a grant, and that has directly led to our Bermuda film playing in all these international film festivals."
Trailer for Mother of All Secrets
Producer Brooke Williams said, "To be acknowledged by prestigious film festivals is always flattering and a great testament to all the work by cast and crew on our Bermuda film. We are thrilled to be nominated for five awards at the Southampton International Film Festival and have our fingers crossed we will take home a prize."
She added it is difficult to pick the nomination that is the most satisfying but "Perhaps the nomination for feature screenplay is particularly exciting because that's where this project all began."

Read More About
Category: All, Entertainment, Films/Movies, News