[Written by Don Burgess]
Two charities are using the new Stars Wars movie to help Bermudian students get into college.
Beyond Rugby and the Bermuda School of Music will host the two of the first showings of Star Wars: The Force Awakens at Speciality Theatre on Thursday and Friday.
John Layfield, one of the co-founders for Beyond Rugby gives all credit to Inspector Scott Devine and Annette Cook for coming together to help Bermudian young people achieve their dreams of attending college.
"It is two different charities but with one common purpose — to send kids to college, Mr. Layfied said.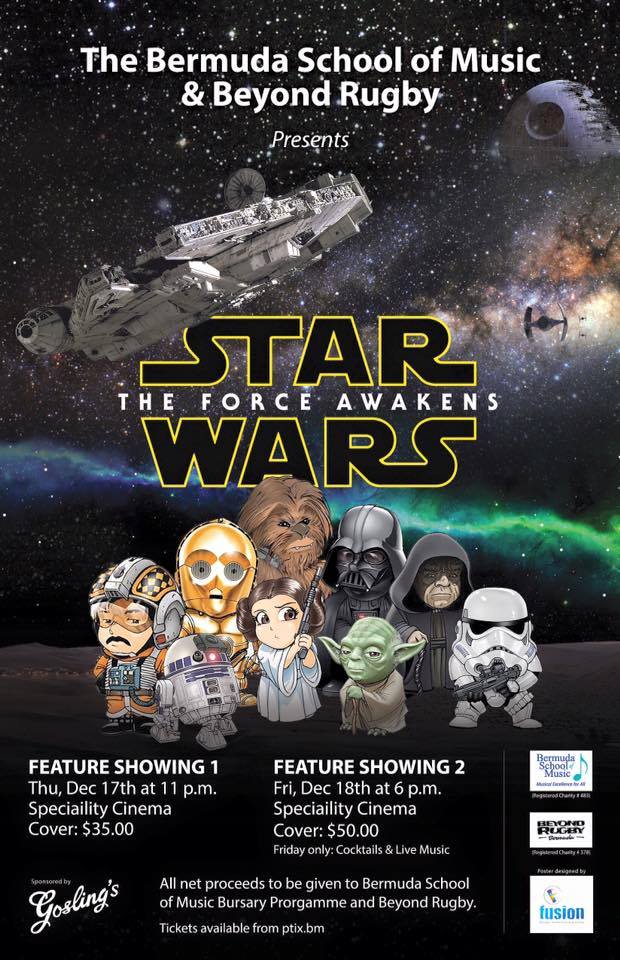 Mr. Layfield, who does TV commentary for both the WWE and FOX News, told Bernews that "We have found deficiencies in our kids in not taking the SAT [A US college entrance exam test]. Some of them are not very good at tests and need tutoring for it."
He said the money would go to both help prep students to pass the test and money to pay to take the test.
"All 100% of this money will go for the kids," Mr. Layfield added.
He said the Bermuda School of Music has also designated funds from this to help pay for college scholarships for their students.
The former WWE champ added having basically two of the first screenings of Star Wars: The Force Awakens should help boost ticket sales.
"This is perfect," he said. "To me this is the hottest movie of the year and because of that we'll do well."
Thursday's showing will be at 11pm and Friday's screening will start with cocktails and live music at 6pm before the movie is shown.
Tickets are $35 for Thursday and $50 for Friday and can be purchased online at www.ptix.bm.

Read More About
Category: All, Entertainment, Films/Movies, News