Earl Cameron was recently featured in the official UK Black History Month Magazine, with an interview by Bermudian Stacee Smith detailing the legendary actor's multifaceted and impressive journey taking place over his 101 years.
That honour comes alongside a video feature by the BBC which focuses on Mr. Cameron as the first black actor to ever appear in a British film, with the barrier breaking actor recounting some of his experiences acting and how those experiences were saturated by the racism of the time.
In describing the "Black Hollywood: "They've Gotta Have Us" documentary, the BBC says, "The film takes us back on a journey of discovery with three of the most revered and celebrated professionals to have graced the silver screen – Harry Belafonte [91], Earl Cameron [101] and Diahann Carroll [83] – sharing with us honest, candid recollections about what it was like to be a pioneer in a white world."
BBC features Mr. Cameron as the first black actor to appear in a British film:
In the UK, Black History Month is celebrated in October, and the magazine article says, "For decades the legendary British/Bermudian actor Earl Cameron CBE – who celebrated his 101st birthday on August 8th 2018 – graced the stage and cinema screens with his presence in films such as Pool of London [1951], Thunderball [1965], The Interpreter [2005] and Inception [2010].
"He journeyed along a path rarely trodden by black actors of his era, and this summer I had the honour [particularly as a fellow Bermudian] of meeting him and his wife Barbara in their English hometown of Kenilworth, Warwickshire.
"As we chatted over coffee in the Holiday Inn hotel lounge Mr. Cameron shared many interesting stories, including those of his early days in the U.K. He told me he arrived in London as a merchant seaman in 1939 at age 22, and that becoming an actor had never crossed his mind. In fact, he longed to return to the nice easy lifestyle in Bermuda, but due to the outbreak of the Second World War that unfortunately was impossible.
Article in the UK Black History Month Magazine, written by Bermudian Stacee Smith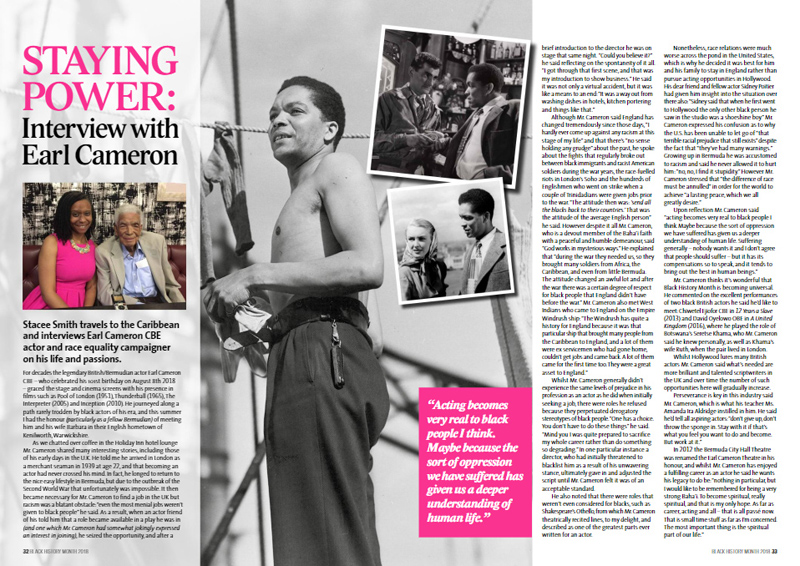 "It then became necessary for Mr. Cameron to find a job in the UK but racism was a blatant obstacle: "even the most menial jobs weren't given to black people" he said.
"As a result, when an actor friend of his told him that a role became available in a play he was in [and one which Mr. Cameron had somewhat jokingly expressed an interest in joining], he seized the opportunity, and after a brief introduction to the director he was on stage that same night. "Could you believe it?" he said reflecting on the spontaneity of it all.
"Whilst Mr. Cameron generally didn't experience the same levels of prejudice in his profession as an actor as he did when initially seeking a job, there were roles he refused because they perpetuated derogatory stereotypes of black people," the article by Ms Smith notes.
"One has a choice. You don't have to do these things" he said. "Mind you I was quite prepared to sacrifice my whole career rather than do something so degrading." In one particular instance a director, who had initially threatened to blacklist him as a result of his unwavering stance, ultimately gave in and adjusted the script until Mr. Cameron felt it was of an acceptable standard."
Read More About
Category: All, Entertainment, News