The Peace and Social Justice Ministry of the Roman Catholic Church of Bermuda will be hosting the final phase of its Anti-Racism Initiative on Friday [Nov 2] at 6.00pm at Mount St. Agnes Auditorium on Dundonald Street.
A spokesperson said, "This final phase comes on the heels of Phase I held in June 2018 – an awareness-raising workshop on racism for all parishioners of the Roman Catholic church community; and, Phase II, an evening workshop event [held in September 2018] with local experts, on Systemic Racism in Bermuda in the areas of Education and Employment.
"This final phase will feature an Anti-Racism conference with international experts on the subject. They are Dr. Edwin Olson, Diversity Consultant and Collegiate professor of the University of Maryland and Fr. Bryan Massingale, STD, international speaker on racial justice and senior professor of Theological and Social Ethics at Fordham University.
"Dr. Olson, author of 'And God created Wholeness…' will open the conference at 6:15pm with his talk 'Dismantling Racism by practicing Wholeness.' Fr. Massingale author of 'Racial Justice and The Catholic Church' will speak at 8pm on the topic, 'Racial Justice and the Challenge of Discipleship.' Both talks will be followed by a Question and Answer period.
"At the request of the Bishop, Wesley Spiewak, The Peace and Social Justice ministry extends a special invitation for church and interfaith communities of Bermuda to join hands with the Roman Catholic Church in solidarity and discipleship at this event.
"The Catholic Church is also hosting a special in-house meeting for the leadership committees of the Roman Catholic Church with Fr. Massingale, prior to the evening event, to look at how we can better serve through a greater understanding of the Social Justice teachings of the church as it relates to the sin of racism and racial justice.
"The evening event is free and open to the public to attend. A light supper will be served.
"For more information about this event please email peaceandsocialjusticeorcc@logic.bm or call 799-0108."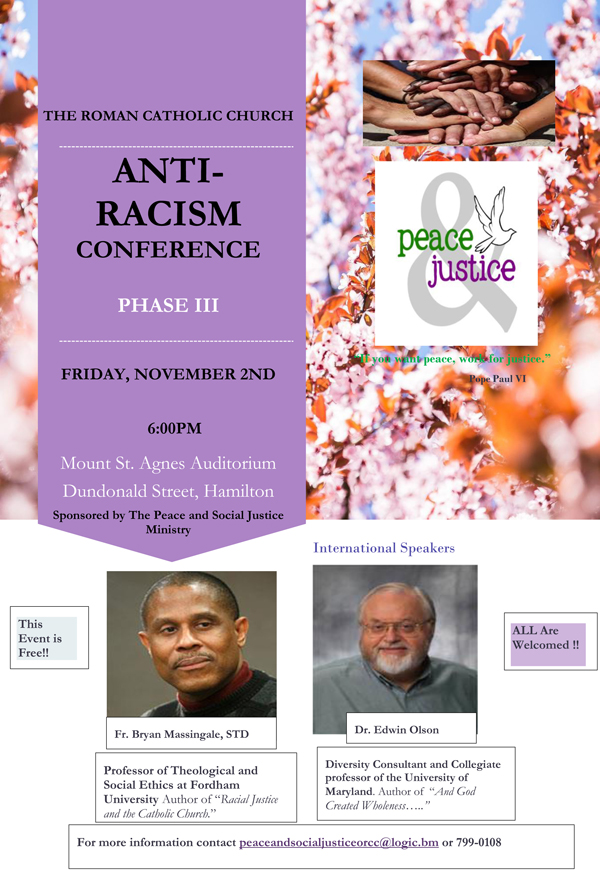 Read More About
Category: All