On Sunday afternoon, the Minister of Social Development and Sports Michael Weeks attended the closing ceremony for the Mirrors SuperCamp Senior Forum at Willowbank Resort & Conference Centre.
Last week, 33 young people, aged 14 to 19, attended the six-day camp.
This fully subsidized camp gave students an incredible opportunity to develop their socio-emotional skills, to build and maintain relationships with others more effectively, and gain neuroscience-based learning techniques to enhance their school performance.
Minister Weeks is pictured with Cohort 14 participants, onsite team volunteers, and facilitators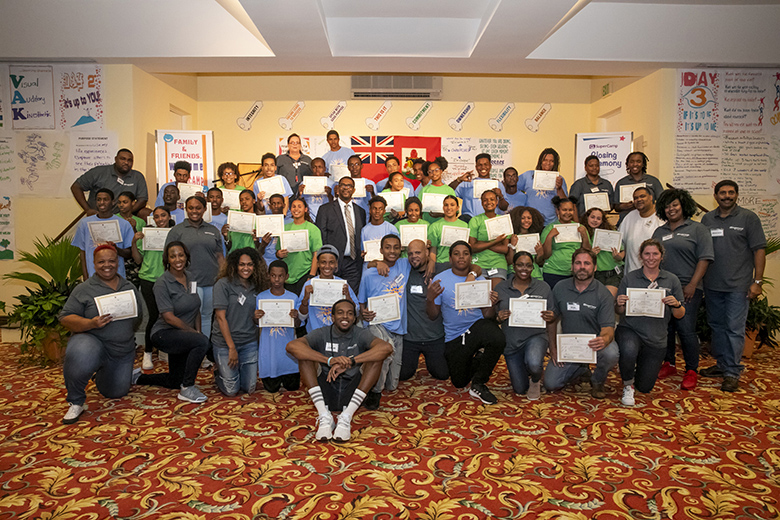 In speaking to those gathered on Sunday, Minister Weeks said, "We are here to celebrate the students of Mirrors SuperCamp Senior Forum, Cohort 14, who have now completed Phase 2 of the Mirrors Community Programme.
"They started with an intensive enrollment phase before coming to site and, after tonight's celebration, they will enter Phase 3 of their programme. Phase 3 is an eight month 'follow through' phase, where they will meet with their volunteer life coach to work on the goals they have set for themselves at camp.
"Young people, congratulations on a job well done this week and completing the second phase of your journey towards excellence.
"Continue to match behavior and values; learn from mistakes; speak honestly and kindly; make the most of every moment; make your dreams happen; take responsibility for actions; be willing to do things differently and live your best life!"
Mirrors SuperCamp uses Quantum Learning as their teaching methodology. Quantum Learning is a synergistic approach to the learning process which makes the learning experience engaging and exciting for students.
Minister Weeks added, "Volunteers, thank you for being available, for devoting 10 days of your life to support, empower and encourage these young adults.
"We look forward to working with you again as we transform our community, one person at a time. And to the life coaches, thank you for your service for the next eight months; thank you for being a life coach in support of our youth."
Prior to the closing ceremony, students had the opportunity to present their personal growth plans to those in attendance. Additionally, 36 parents completed a one-day workshop created especially for parents of the students.
To find out more about Mirrors Programme and what it has to offer, please visit www.mirrors.bm.
Read More About
Category: All