Shadow Finance Minister Nick Kempe is speaking with Bernews this afternoon [Oct 30], sitting down for a live interview with journalist Don Burgess, and you can tune in below.
In September of this year the OBA announced that Mr Kempe would rejoin the One Bermuda Alliance where he would serve the Party's new Senate leader, and he was also later announced as the Shadow Finance Minister.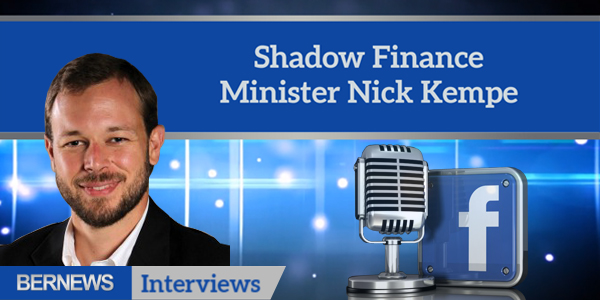 Mr Kempe, who previously served as an OBA Senator and as Party Chairman, resigning as Chairman back in November 2017, rejoined the OBA after Craig Cannonier was re-appointed as Opposition Leader, saying, "After a year of apathy and silence from the Opposition, I was pleased to see Craig Cannonier lead the Parliamentary group in into action. This gave me hope all was not lost. I am rejoining the OBA now after a year away because Craig agrees we must change course."
During this interview we plan to ask the Shadow Finance Minister about his views on the economy, taxation,  politics, the living wage and more, and you can tune in live below.
Update: The live broadcast has concluded and the 33-minute replay is below
If you want to listen 'on the go', you can also access the audio only version of this interview, and all our past interviews, in the podcast section of the Bernews app.
Read More About