[Updated] American political consultant Derrick Green's ties to the 'Jetgate' matter in Bermuda are in the New Jersey news, which follows after Mr Green was hired by New Jersey Governor Phil Murphy.
The article — titled "Murphy hired campaign aide who was part of investigation into secret Bermuda bank account" — details Mr Green's connections to the JetGate matter here in Bermuda.
File photo of Mr Green heading into the OBA's office in 2014: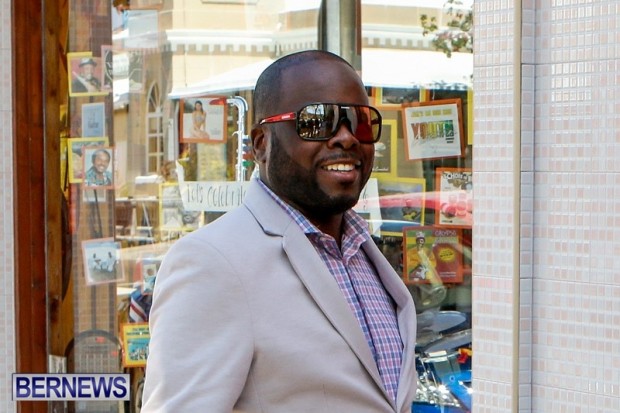 The story said, "Gov. Phil Murphy's campaign paid $2 million to a consulting company led by one of his top aides who at the time was tied to a campaign finance scandal under police investigation in Bermuda known as Jetgate.
"The scandal rocked the British territory and led to resignations and an investigation — probes separate from the police inquiry — into a secret bank account set up by Derrick Green, a longtime political operative in New Jersey and Maryland. The account received $350,000 from wealthy American businessmen.
"His firm, Green Consultants, was hired by the Murphy campaign to help get out the vote, the same kind of work it did in Bermuda.
"The $2 million Green Consultants received was one of the largest expenditures made by the Murphy campaign during the primary and general elections, according to Election Law Enforcement Commission records.
"During a Monday news conference in Newark, Murphy declined to comment on whether he was aware of Green's involvement in Jetgate, but said he expects to "get right to that."
Video of Mr Green being questioned by the media after leaving the OBA's meeting back in 2014:
"Green is not accused of criminal wrongdoing, but his own history in politics is blemished by the controversy.
"And there are many unanswered questions about his activities in Bermuda, mostly centered on the money funneled in from American donors and on his outreach activities, similar to the work he was hired to do for Murphy."
Read the full story here on the North Jersey website.
Update 4.15pm: An OBA spokesperson said, "The information contained in the article is dated and pertains to US political matters concerning political consultant Derrick Green and the Governor of New Jersey.
"The One Bermuda Alliance is focused on changing course and being the Opposition the country expects and the Government it requires. This OBA, under the leadership of Craig Cannonier, is focused on the current state of Bermuda, and on creating a viable future for Bermuda and its people."
Read More About