[Updated with OBA response] The Progressive Labour Party [PLP] is holding a press conference this afternoon [Oct 18] where they are discussing the 'JetGate' matter, and comments made by Opposition Leader Craig Cannonier. We will have additional coverage later on and in the meantime the live video is below.
Update: The live broadcast has concluded and the 9-minute replay is below
Update 1.50pm: A statement from MP Rolfe Commissiong said, "After 4 years, questions still surround the JetGate Affair. A scandal that saw the only Premier in Bermuda's history to resign in a corruption scandal. A scandal that is still under police investigation.
"When first appointed Opposition Leader on September 24th the former Premier Craig Cannonier said that when it came to the JetGate Scandal, 'There will be information coming forthwith.'
"After almost 3 weeks, no further information has been produced by Mr. Cannonier. In fact, instead of more information, Mr. Cannonier has provided contradictory information.
"In an interview with Bernews on October 10, 2018 he stated that the JetGate trip had 'nothing to do with gaming.' This contradicts what he said in an interview with Bernews on May 31, 2013 where he claimed that the meeting was about gaming.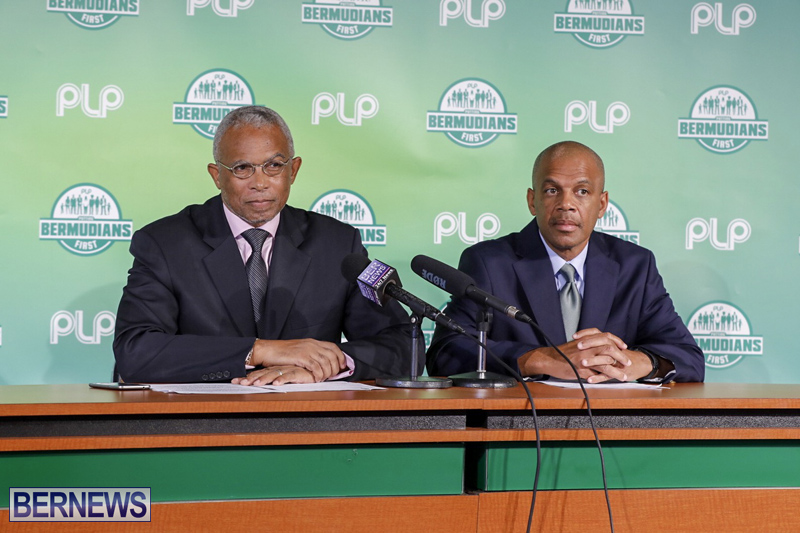 "Truth and honesty are the hallmarks of good governance. If we cannot get a straight answer out of the former Premier on what the trip was even about, how can we trust anything he says?
"There is one Premier that has been driven from office in disgrace in Bermuda's history and that is Craig Cannonier, and after 4 years, questions surrounding JetGate remain such as:
"The former Premier has claimed first that the JetGate trip was about gaming. Now he claims it was about 'infrastructure'. What exactly was the trip about?
"He claimed that Stephen DeCosta, his business partner, was just 'hitching a lift.' Yet he ended up attending meetings with the investors. Why was Mr. DeCosta on the trip and included in the meetings?
"Mr. Nathan Landow, the developer at the center of the JetGate scandal, has admitted that he sent $350,000 to the OBA via an entity called the 'Bermuda Political Action Club.' It was never revealed who this entity was or their relationship with the OBA, but the then OBA Chair Thad Hollis claimed that the OBA never received the money. What happened to the money?
"Recent international media coverage surrounding the JetGate scandal has damaged Bermuda's reputation and reinforced the need for the full story to be revealed.
"Mr. Cannonier promised that there will be information coming forthwith, yet the only information that has come out contradicts what he has said in the past and leaves many long-standing questions unanswered.
"There is one document that could shed light on the JetGate affair and possibly on the investigation being conducted by the Police Financial Crimes Unit; the report produced by the OBA from their internal investigation. A report suppressed by former Premier Michael Dunkley and a report that saw the OBA's then Chairman Thad Hollis resign in protest.
"Former OBA candidate Ray Charlton has been persistent in his questioning of Craig Cannonier's fitness for position due to Jetgate. And Michael Dunkley also articulated the need for Mr. Cannonier to release all details on Jetgate.
"It is time for the OBA to do the right thing and release the full, unedited report into their investigation into the JetGate Affair."
Update 2.03pm: Opposition Leader Craig Cannonier said, "Unlike Mr Commissiong I can read from a script and that script reads – increased taxes, increased health care costs, falls in every major economic indicator under this Government and no new jobs.
"So-called Jetgate is gone, it is in the past and I am focused on changing course for the OBA, concentrating on fiscal and social responsibility and holding this failing Government to account on behalf of every Bermudian, not just family and friends. I will not be diverted from this course despite the PLP's mud-slinging.
"What Mr and Mrs Bermuda really want to know is: why are they paying more in taxes, why the rich are not being taxed in the same way and why $1.2m was paid to a former PLP Premier – essentially robbing the poor to pay the rich.
"They want to know why there have been more than 400 bus cancellations this month alone, they want to know when Fintech jobs will actually be created, when the promised Fintech training will actually happen. Businesses want to see progress on immigration reform. People want to know why health care costs have risen despite a PLP pledge to bring them down.
"What Mr and Mrs Bermuda also want to know are the reasons for the Four Seasons trip.
"When I issued a statement asking to see a plan to address Bermuda's worsening economic situation, how did the Acting Premier respond? He chose to attack the messenger – not once did he address the core issue: that the economy is significantly worse under this Government.
"That the PLP wants to concentrate on so-called Jetgate shows that they are just using their tried and tired tactic of deflection, to deflect from their own broken promises and failings – failings to the people of Bermuda."
Update October 19, 10.20am: A PLP spokesperson said, "The only Premier in history to be driven from government in disgrace may say that Jetgate is over but the Bermuda Police Service apparently disagrees.
"The Opposition Leader asked many questions in response to our press conference, but still won't tell Bermudians why his Jetgate story keeps changing and he won't give voters all the facts.
"In his resignation speech, he said it was because of "a failure to be transparent". Three years later he hasn't learned his lesson – and still refuses to be transparent to the people of Bermuda.
"Why should any Bermudian trust an Opposition leader, that 3 weeks ago promised to tell all, and 3 weeks later can't keep that promise."
Read More About