Bermudian fashion consultant Shiona Turini is the subject of a recent New York Times article, with the piece focusing on her work as a costume designer for the hit HBO television series 'Insecure.'
The story said, "There is nothing subliminal about the aesthetic messaging of the HBO show 'Insecure.' The fashion takes a stance: T-shirts bear pointed political messages, the likenesses of black heroes adorn many outfits, and much of the wardrobe is sourced from black designers.
"It is no coincidence that Shiona Turini, the fashion stylist and consultant behind many music videos, including Beyoncé's 'Formation' and Solange's 'Cranes,' was behind some of this season's image.
"This was her first time working as a costume designer on a television show, and she joined midway through Season 3 [Ayanna James was the costume designer on previous episodes and seasons], but Ms. Turini said: 'I never want to turn down an opportunity just because I don't have all of the experience in it.' The characters of 'Insecure' already had established styles, but Ms. Turini pushed their sensibilities, and their statement-making fashion, even further.
Characters from the HBO Series 'Insecure'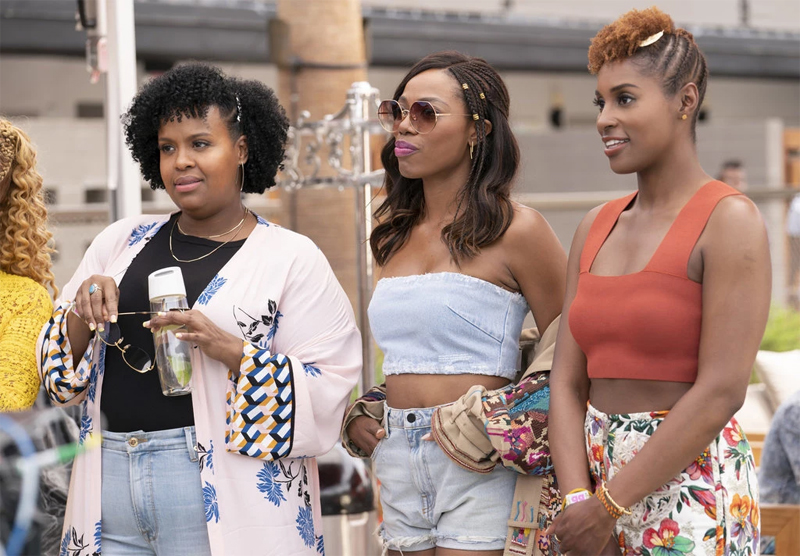 "Ms. Turini pulled inspiration from black television's golden era — the early 1990s, when characters on shows like "A Different World," "The Fresh Prince of Bel-Air," "The Sinbad Show," "Martin" and "Living Single" dressed in Afrocentric colors, jewelry and prints.
"Ms. Turini sees her appreciation and penchant for channeling '90s-era TV aesthetics as a direct response to what those "lifestyle and fashion choices on TV meant for culture, especially black community and black culture."
Read the full story here on the New York Times website.

Read More About
Category: All, Entertainment, News, Style & Beauty