Due to an "overwhelming interest in the 'Race and Resistance: Understanding Bermuda Today' Symposium, an additional theatre will be available at the College where the proceedings will be live streamed," the organisers said today.
A spokesperson said, "The public is welcome to register and watch the live streaming for the full day, or just a portion of the day depending on your availability. You will have an opportunity to meet the speakers during the breaks, and commune with attendees in The Marketplace area during the lunch hour. The event will also be live streamed in The Marketplace if you wish to visit during the day.
"The tickets for the main theatre are limited, however, when you register on the Eventbrite UK site your name will be added to the waitlist and you will be alerted if a ticket is made available and will automatically be reserved a seat in the 'spillover' area. Please note, if you have a ticket and think you cannot attend the event after all or for the day, please be sure to return it so that those on the waitlist can receive a ticket.
"Please can those interested in the live-streaming area kindly join the Eventbrite waitlist so that the organisers can get a sense of the numbers for complimentary refreshments throughout the day.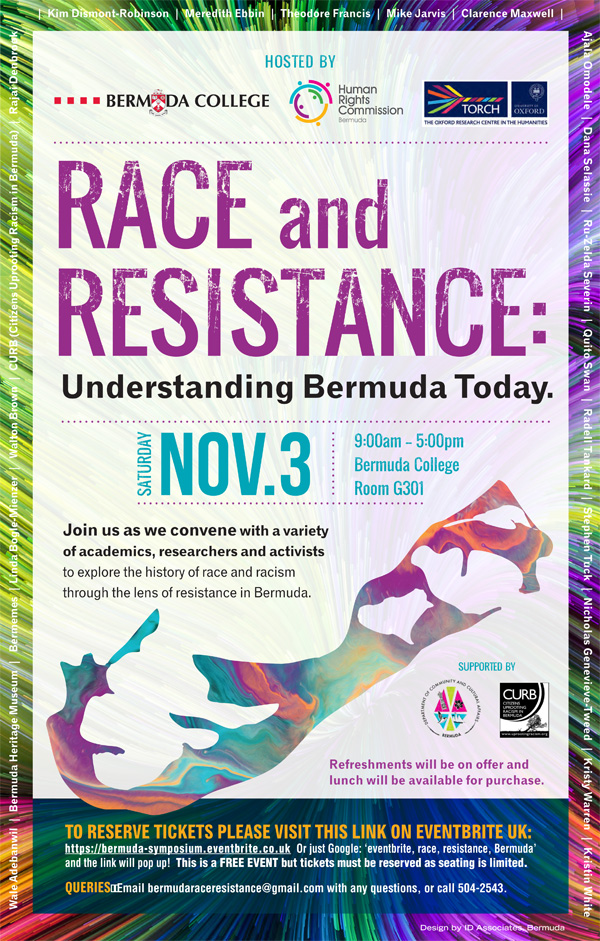 "Please visit Eventbrite UK here [or just search online with the words: 'Eventbrite, resistance, Bermuda' and it will pop up!].
"Lunch will be available for purchase at The Bermuda College Bookstore, though be advised that offerings may not cater to all dietary needs. The Marketplace will have seating for those that wish to relax and bring their own lunch.
"The Student Centre at the College will become a lively 'Marketplace' for the day, showcasing local literature, artists and community groups. The Marketplace will feature various groups and individuals in support of heritage, racial justice, the arts and community building in Bermuda, and provide an opportunity to commune, share knowledge and exchange ideas; to name a few that will be present: the Friendly Societies of Bermuda, Chewstick, Department of Culture and Community Affairs, the Bermuda National Library, CURB, the Bermuda Heritage Museum, the National Museum of Bermuda. If you wish to have your work or agency featured, please contact us at the number and email provided.
"The Bermuda College and the Human Rights Commission, in partnership with The Oxford Centre for Global History and The Oxford Research Centre in the Humanities [TORCH] Race and Resistance Network, will host a one-day symposium on Saturday 3 November entitled "Race and Resistance: Understanding Bermuda Today".
"The event is on Saturday 3 November at the Bermuda College, Room G3100 from 9am until 5pm. A 'spillover' theatre is also available for livestreaming viewing, as well as viewing in The Marketplace.
"While this is a free public event, any donations will be collected in support of the Chewstick Foundation www.chewstick.org.
"Please email: bermudaraceresistance@gmail.com or call with any questions: 504-2543."
The full Race and Resistance agenda follows below [PDF here]
Read More About
Category: All